Washington, D.C. rock iconoclasts Priests return on April 5th with a new record titled The Seduction of Kansas via Sister Polygon Records. They also have a world tour planned (dates below) and this video for the title track.
Entering their eighth year as a band, Priests—drummer Daniele Daniele, vocalist Katie Alice Greer, and guitarist G.L. Jaguar—remain an inspired anomaly in modern music. A band on its own label—jolting the greater music world with early releases by Downtown Boys, Snail Mail, Sneaks, and Gauche—they are living proof that it is still possible to work on one's own terms, to collectively cultivate one's own world.
Priests enlisted two primary collaborators in writing, arranging, and recording The Seduction of Kansas. After playing cello, mellotron, and lap steel on Nothing Feels Natural, multi-instrumentalist Janel Leppin (Mellow Diamond, Marissa Nadler) returned to breathe air into Priests' demos, serving as primary bassist and a fourth songwriting collaborator on The Seduction of Kansas. The band also found a kindred spirit in producer John Congleton (Angel Olsen, St. Vincent), recording for two weeks at his Elmwood Studio in Dallas. It marked the band's first time opening up their creative work to collaborate with someone outside of their DC-based community—a decidedly less hermetic approach. Priests found a third collaborator in bassist Alexandra Tyson, who has also joined the touring band. The songwriting process found the group once again analyzing the textures and scopes of albums as aggressive as they are introspective, like Massive Attack's Mezzanine, Portishead's Third, and Nine Inch Nails' Downward Spiral.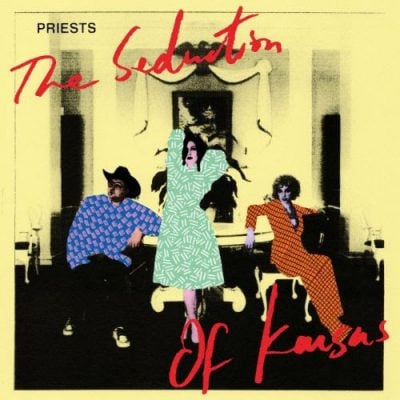 THE SEDUCTION OF KANSAS TRACKLISTING
1. Jesus' Son
2. The Seduction of Kansas
3. Youtube Sartre
4. I'm Clean
5. Ice Cream
6. Good Time Charlie
7. 68 Screen
8. Not Perceived
9. Control Freak
10. Carol
11. Interlude
12. Texas Instruments
PRIESTS 2019 TOUR DATES
Fri. March 8 – Savannah, GA @ Savannah Stopover Music Festival
Sat. March 9 – Birmingham, AL @ The Firehouse
Mon. March 11 – Fri. March 15 – Austin, TX @ SXSW
Sun. March 17 – Nashville, TN @ Exit / In
Mon. March 18 – Knoxville, TN @ The Pilot Light
Mon. April 15 – Philadelphia, PA @ Union Transfer
Tue. April 16 – Brooklyn, NY @ Elsewhere
Thu. April 18 – Cambridge, MA @ The Sinclair
Fri. April 19 – Montreal, QC @ Casa Del Popolo
Sat. April 20 – Toronto, ON @ The Garrison
Sun. April 21 – Detroit, MI @ El Club
Mon. April 22 – Chicago, IL @ Lincoln Hall
Thu. April 25 – Madison, WI @ High Noon Saloon
Fri. April 26 – Minneapolis, MN @ 7th Street Entry
Sat. April 27 – Omaha, NE @ Reverb
Sun. April 28 – Des Moines, IA @ Vaudeville Mews
Tue. April 30 – Bloomington, IN @ The Bishop
Wed. May 1 – Columbus, OH @ Ace of Cups
Sat. May 11 – Brighton, UK @ The Great Escape
Sun. May 12 – Bristol, UK @ Rough Trade
Mon. May 13 – Manchester, UK @ YES (Pink Room)
Tues. May 14 – Glasgow, UK @ The Hug and Pint
Wed. May 15 – Leeds, UK @ Brudenell Social Club
Thu. May 16 – London, UK @ 100 Club
Fri. 17 May – Lille, FR @ Aeronef
Sat. 18 May – Paris, FR @ Supersonic
Mon. 20 May – Brussels, BE @ Botanique (Witloof Bar)
Tue. 21 May – Cologne, DE @ Bumann & Sohn
Wed. 22 May – Munich, DE @ Import/Export
Thu. 23 May – Zurich, CH @ Rote Fabrik
Fri. 24 May – Heidelberg, DE @ Queer Festival (Karlstorbahnhof)
Sat, 25 May – Amsterdam, NL @ London Calling
Mon. 27 May – Aarhus DK @ Tape
Tue. 28 May – Copenhagen, DK @ Loppen
Wed. 29 May – Berlin, DE @ Kantine am Berghain
Thu. 30 May – Hamburg, DE @ Hafenklag (Goldener Salon)
Fri. 31 May – Hilvarenbeek, NL @ Best Kept Secret Festival
Sat. 1 June – Neustrelitz, DE @ Immergut Festival
Sat. June 15 – Washington, DC @ 9:30 Club
Sun. June 16 – Durham, NC @ The Pinhook
Mon. June 17 – Atlanta, GA @ Drunken Unicorn
Tue. June 18 – New Orleans, LA @ Gasa Gasa
Thu. June 20 – Houston, TX @ White Oak Music Hall
Fri. June 21 – Austin, TX @ Barracuda
Sat. June 22 – Dallas, TX @ Club Dada
Mon. June 24 – Albuquerque, NM @ Sister
Tue. June 25 – Phoenix, AZ @ Valley Bar
Wed. June 26 – San Diego, CA @ Soda Bar
Thu. June 27 – Los Angeles, CA @ Teragram Ballroom
Sat. June 29 – Oakland, CA @ Starline Social Club
Mon. July 1 – Portland, OR @ Polaris Hall
Tue. July 2 – Vancouver, BC @ The Bitmore
Wed. July 3 – Seattle, WA @ Neumos
Sat. July 6 – Salt Lake City, UT @ Kilby Court
Sun. July 7 – Denver, CO @ Lost Lake
Tue. July 9 – Kansas City, MO @ The Record Bar
Wed. July 10 – St. Louis, MO @ Off Broadway