The Mantles


All Odds End
Slumberland Records [2015]


Fire Note Says: Bay area band tighten up their sound – just a bit – on their third LP.
Album Review: If treading water made a sound (and I'm quite sure that it does) The Mantles may have nailed it on their third proper full-length, All Odds Ends. That may seem an unfair dig at the strident revivalists but I swear it's not. It just doesn't seem like Michael Olivares and crew are particularly interested in expanding upon the formula they hit with their eponymous 2009 debut and perfected with Long Enough To Leave. All the jangly guitar rock from New Zealand, the British Invasion and, of course, the Paisley Underground continue to inform them. All the while fitting in comfortably with the San Francisco neo garage bands that have made a bigger name for themselves than The Mantles. Yet still, unexpectedly, they stand out. Maybe it's the dogged refusal to infuse their songs with anything contemporary. Or maybe it's the steadfast commitment to their singular sound. Whatever it is, in spite of a complete lack of growth they remain extremely likeable.
Olivares mangles his vowels enough to obscure his nationality. He sings in a weird quasi-Bristish, almost speaking style but not exactly like anyone else. He has obviously consumed a lot of Flying Nun records and the cheesy keyboards which accent many of the songs go hand in hand with the sunny guitar tone – both electric and acoustic. But peer under the surface and this really isn't joyous stuff by any means. Though The Mantles appear to sequester themselves (they don't tour or do much to enhance their brand at all really) they are world wise watchers. The observations tell of the personal rather than big statements. All of which tend to wear the listener down. (Example: "To walk right through your world/Hand in hand with a clear day/Sunk below the sea") Dreary in a quiet, introspective way.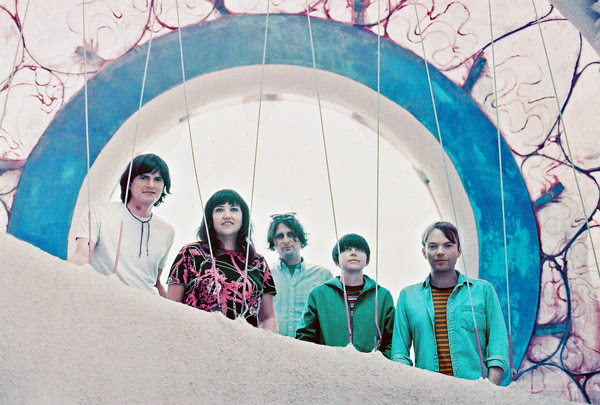 The songs on All Odds End run from the catchy sunshine pop of "Islands" (which is head and shoulders the best thing here) to the moody surf sounds of "Undelivered." Along the way there are precious few left turns. The uptempo power pop of "Police My Love" is another stand out but hardly varies from the main course of action. Ultimately what keeps this record from being an even stronger release are tracks like "Lately" which have trouble getting any momentum going or the closer, "Stay", a song so stiff that one could be forgiven for thinking it was a demo. There's nothing here that's likely to offend anyone but there's an equal chance that none of this album's ten tunes will stay on any playlist for too long.
I am really rooting for The Mantles. I really am. They've got a cool sound and excellent influences. After Long Enough To Leave I was sure they would record something with teeth, some hooks with legs. Maybe they still will. Just not this time. They have played it too safe and released a nice, unassuming album that I doubt I'll be reaching for too often. And that's a shame. I know they're better than this, "Islands" proves they have it in them. File under: close but no cigar.
Key Tracks: "Police My Love" / "Island" / "Undelivered"
Artists With Similar Fire: Sonny & The Sunsets / The Beets / Ganglians

The Mantles Website
The Mantles Facebook
Slumberland Records
-Reviewed by Scot Lade
Latest posts by Scot Lade
(see all)