Evans The Death


Expect Delays
Slumberland Records [2015]




Fire Note Says: Evans the Death enthralls with Expect Delays.
Album Review: London's Evans The Death has returned with their second album, Expect Delays, following up their 2012 eponymous debut. Band members include Katherine Whitaker (vocals and keys), Dan Moss (guitar), Olly Moss (bass), and James Burkitt (drums). Expect Delays is an incredibly ambitious album with a number of influences and sounds. This ambition speaks to the struggles that the band has faced to make ends meet while making music with one another. Their hunger pervades the LP, electrifying it from start to finish.
Not being familiar with the band's debut, I was taken aback by the first track on Expect Delays. "Intrinsic Grey" starts with Whitaker's soprano vocals and a simple acoustic guitar; those 30 seconds were a bit too pretentious for my tastes. But then….fuzzy guitars kick in and Whitaker's voice becomes a menace amidst the chaos of it all. The juxtaposition of grit and beauty in the song's two and a half minutes encapsulates the dichotomy that Evans The Death pulls off throughout the album.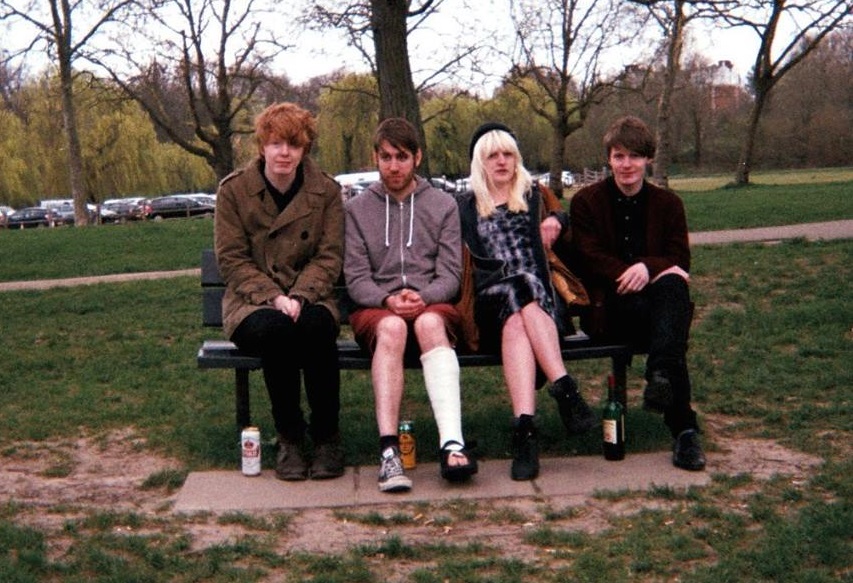 And we haven't even got to the best tracks yet. Following "Intrinsic Grey" is the hypnotic "Terrified," with a keyboard and guitar riff that won't quit. Whitaker's understated vocals match the nightmare vocals perfectly. "Terrified" is unrelenting and had me coming back for more. Burkitt's percussion gets the spotlight on "Idiot Button," my personal favorite on Expect Delays. It has a throwback feel to it that came straight out of the Spoon playbook; this is meant as a compliment. We've all felt like idiots when it comes to love; "Idiot Button" lets us beat ourselves up just enough to learn and move on with life.
The title track starts with overlaid sound bytes that are used on several occasions on the album. That detail gives the album a familiar feel that facilitates connecting with it – this band doesn't take itself too seriously. "Expect Delays" has a vocal hook that again becomes an earworm; it will grab you from the first listen. Each band member gets her or his chance to shine on Expect Delays, which makes the album sound fresh from beginning to end. Evans The Death has put out a spectacular album that is easy to miss because it hasn't gotten many write-ups. It would be a mistake to miss out on it.
Key Tracks: "Terrified" / "Idiot Button" / "Expect Delays"
Artists With Similar Fire: Florence + The Machine / Spoon / The Cranberries

Evans The Death Website
Evans The Death Facebook
Slumberland Records
-Reviewed by Matthew Heiner
Latest posts by Matthew Heiner
(see all)