Bird Nest Roys


Me Want Me Get Me Need Me Have Me Love
Captured Tracks/Flying Nun Records [2013]




Fire Note Says: Reissue compiles Aukland band's entire recorded output and reminds us of Flying Nun Records' enormous impact.
Album Review: I'll admit it right up front: I love Kiwi-pop. I love Flying Nun for all the great bands but, more importantly, for all the other great bands they inspired. So it is pretty awesome that of-the-moment imprint Captured Tracks (whose roster includes such acts as DIIV, Wild Nothing and Beach Fossils) has partnered with the seminal New Zealand label to reissue some of their vast and often amazing back catalog. And this is coming on the heals of Captured Tracks unearthing the Cleaners From Venus discography. Bravo! The first records to get the royal treatment are The Clean's epic debut, Vehicle, and this anthology from a very short-lived six piece band that has all but disappeared from the indie world's collective memory. Hopefully this eighteen track release will correct that.
During their brief tenure, they released one LP in 1987, one EP and a 7″. All are included here along with a cool live song tacked on at the end. The first thing one notes about Bird Nest Roys is, of course, the jangly guitars that signify the Dunedin sound. Opening track "Five Weetbix And Toast" sounds like something Tobin Sprout might have listened to in his formative years. The vocals are unique in that the Roys employed a dedicated backing singer and the quaint harmonies are spell-binding. "Alien" is next up and it is one of the few songs that has not aged particularly well – rock solid chors notwithstanding. "Loving Time" chugs along like an outtake from Wire's second album. The single "Jaffa Boy" has a terrific guitar hook and although I have no idea what a Jaffa Boy is I found myself singing along just the same. There's cow-punk ("Bided") and Mission Of Burma style post-punk ("Michael Jones"). The original LP ended with the Half Japanese nodding "Wads Of Pork Fat." That's a lot of territory to cover. And that is what really separates this band from its Kiwi breathren – diversity. Maybe because they were from the North Island and Christchurch and Dunedin are a long ways off on the distant South Island, but either way they possessed a greater depth to their sound than most.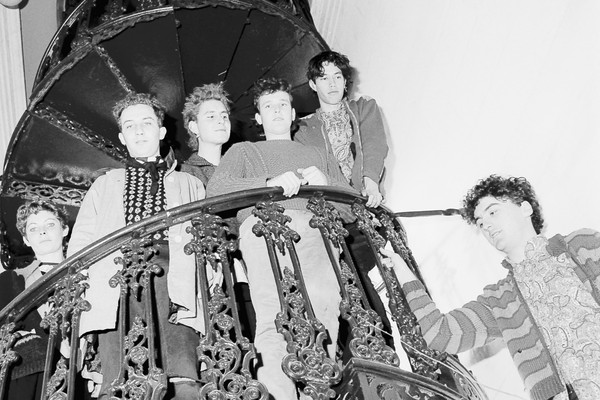 The B-side to "Jaffa Boy" is here and it's a rad version of The Hollies "Bus Stop" and a more appropriate cover is hard to imagine. 1985's "Whack It All Down" 5 song EP follows and it shows the band already in fine form. The melodies were bright and the playing inspired. The stand-out track is "Severed Days." The guitar lines predict Johnny Mars' brilliant work with The Smiths pretty accurately. In fact, guitar hero stuff was part of their legendary live shows where they would sport a four guitar line-up. Take that, Molly Hatchett!
Bird Nest Roys belong in the pantheon of great Kiwi bands alongside The Clean, The Chills and The Verlaines. This eighteen song retrospective is ample proof of that. Now go out and buy this thing. You'll thank me later.
Key Tracks: "Jaffa Boy", "Loving Time", "Severed Days"
Artists With Similar Fire: The Clean / The Chills / The Verlaines

Captured Tracks
Flying Nun Records
-Reviewed by Scot Lade
Latest posts by Scot Lade
(see all)