Port Isla


"Sinking Ship" b/w "Adventures" & "Moment of Trouble"
Turntable Kitchen [2013]


Nothing like some great recipes with your special 7-inch vinyl right? You bet. It is even better when the music is as solid as Norwich, England's four-piece indie folk band Port Isla. The group was featured in Turntable Kitchen's monthly pairings a few months ago which included two singles and an unreleased track all nicely packaged in this nice looking 7-inch complete with several recipes. This is a band that is on the cusp of breaking out as Port Isla was in the final eight of the Glastonbury Emerging Talent competition this past year and I wouldn't be surprised if they take off once a full length is released.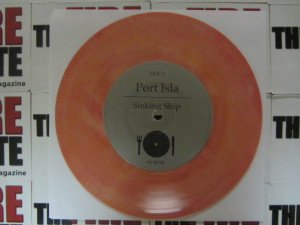 The A-side here is "Sinking Ships" which comes off as a rolling memorable number that is an upbeat foot tapper that combines the sounds of Edward Sharpe and Fleet Foxes into one nice sounding single. The track soars as the band harmonizes and its grassroots guitar riff supports the song upfront while some quickly paced piano playing takes you out. The B-sides here have the same folk-rock sound as "Adventures" has similar big harmonies while the piano once again plays an intricate part in the song and keeps the pace. It is another mid-tempo number that showcases Port Isla's talent. "Moment of Trouble" will be the track that fans back home will want to hear as it is special to this release. The song is a quiet 2 minutes of reflection from the band that has minimal instrumentation compared to the first two tracks and sort of plays in the background as it was recorded in a member's bedroom. The track makes you lean in with your ear as you follow it through every progression and it totally makes you want to hear more!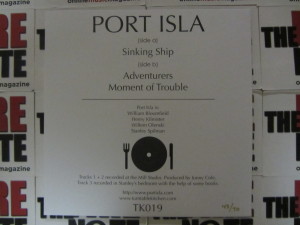 The jacket here is a normal cardboard cover with art on the front and the standard Turntable Kitchen design of info on the back. This 7-inch is part of the special edition hand-numbered pressing of 70 copies on "salmon colored" wax for gold club members. There also was a limited-edition, hand-numbered pressing of 400 copies on "translucent red" vinyl for regular members. If you want one I suggest looking on second hand sites as Turntable Kitchen sells out.

Port Isla Website
Port Isla Facebook
Turntable Kitchen

-Feature by Christopher Anthony
Latest posts by Christopher Anthony
(see all)