Cloakroom


Infinity
Run For Cover Records [2013]



Fire Note Says: Indiana's Cloakroom plays it slow and steady on an impressive debut.
Album Review: Having done a little bit of research before listening to Cloakroom's debut EP/LP (it clocks in at around 29 minutes, so I'm not sure what this is!) I fully expected a pop-punk record as singer Doyle Martin fronted the now-defunct Grown Ups – not that that's necessarily a bad thing. Grown Ups brand of emo was heavy on the math and full of ideas. Cloakroom has very little of that. The tempos are slowed way down to the point of this almost being a slowcore album. Martin's voice has changed markedly as well, now sounding much more like David Bazan than Joel Madden, thank God. And with only five songs Infinity is a clear departure for Martin and his co-conspirators Brian Busch and Robert Merkof.
From the first moments of the nine minute epic "Sedimentary" one hears a deliberate approach to a slow burning kind of post-rock. The song takes its time letting subtle ambience sink in. The guitar tones are warm, the production mercifully under-baked. Cloakroom may be shooting for celestial heights but when the distorted guitar kicks in at the 4:30 mark it's evident that they are taking a path less traveled. A minute later the bottom falls out as a solitary, effects-heavy guitar begins the extended coda. It's a pretty bold track to place at the front end of a debut but the singular vision these guys have is applaudable. The next song, "E," is a little sprightlier. There's a more traditional song structure at work as Martin really sounds like Bazan. Then halfway into the track it takes a dark turn into sludge and a stoner rock vibe sets in. The short "Dream Journal" sits right in the middle of the record and its two and a half minute run time feels too long. It serves as a reminder of how horribly wrong this thing could have gone.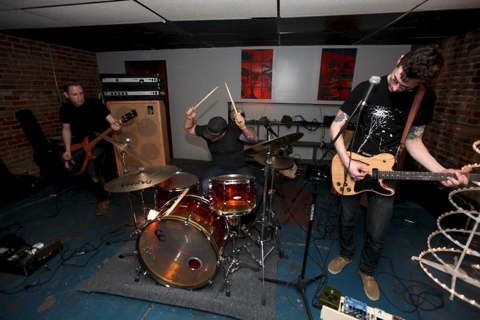 The two best songs are saved for last – with their more manageable run time and concise songwriting. "Bending" is the best example of what Cloakroom does really well. Although the same pattern of switching gears midway through is present, it is done with better melodies. The final track, "Mind Funeral," starts with a clean guitar sound that recalls Do Make Say Think. And as Infinity tends to do, the loud distortion isn't far behind – along with the reverb-drenched, haunting vocals. This is music that wants to go somewhere and yet isn't quite sure where exactly that is. Each song plays out like a journey. The tired dynamics of post-rock have been repurposed to create an original whole. The songs all bleed together making the record seem as one larger piece. And this was smart as Cloakroom is aspiring to something way more interesting than loud/soft. Here they go for big/small. That is much harder to achieve. But they have come close in this flawed but endearing debut. That Infinity was released by Run For Cover is in itself noteworthy as this label is on somewhat of a hot streak, having recently put out really good albums by Pity Sex, Basement and Koji. So we will be watching them almost as closely as we will this talented Indiana trio.
Key Tracks: "Mind Funeral", "Bending", "E"
Artists With Similar Fire: Codeine / Mogwai / Jesu
Run For Cover Records
-Reviewed by Scot Lade
Latest posts by Scot Lade
(see all)