Ra Ra Riot


Beta Love
Barsuk Records [2013]



Fire Note Says: Ra Ra Riot return with a kinetic, easygoing album that asks: "can robots love too?"
Album Review: Ra Ra Riot trades in strings for synths on their third album, a short but sweet set of eleven upbeat, optimistic tracks that barely breaks the half-hour mark. The strings aren't totally gone—they still appear from time to time, adding smooth organic textures that contrast the band's otherwise schizophrenic sonic overload. But the focus here is on hooks, hooks, hooks. Utilizing drum machines and keyboards, the band crafts three-minute pop confections that give you just enough time to get up and dance before it's on to the next track.
As its title suggests, Beta Love's songs frequently reference their new "robotic" transformation, and the band cites the influence of cyberpunk novelist William Gibson and futurist Ray Kurzweil on the album. But at their core, these are songs about loneliness, love, and sometimes both. Tracks like "Binary Mind," "Beta Love," and closer "I Shut Off" make technology a metaphor for relationships ("Why? Tell me why? / I want to read you with this binary mind," "In this city of robot hearts / Ours were made to be" etc.), and the vaguely futuristic lyrics fit the music well. "Beta Love" makes use of processed vocals and computer-like bubbly synths, while opener "Dance with Me" starts with some simple piano chords before launching into a guitar, keyboard and drum machine onslaught of syrupy dance-pop.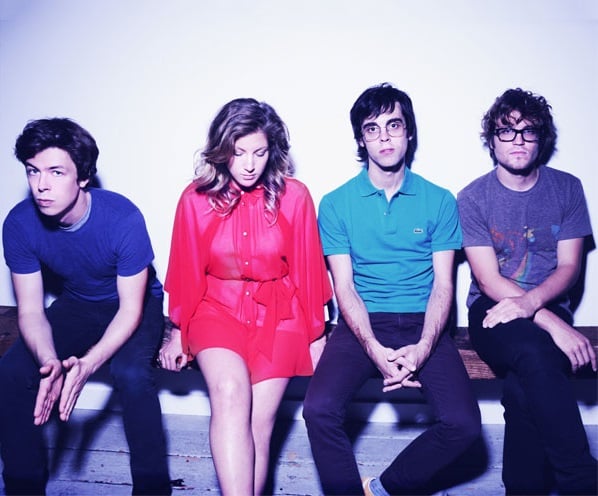 The melodies on Beta Love are extremely catchy, thanks in no small part to Wes Miles' vocals, which at times recall those of The Shins' James Mercer on a caffeine high. Take "Angel, Please," with its crunchy beat, disco strings, and falsetto backing vocals, or "When I Dream," where the keyboards and strings are nearly lost behind the massive, bass-heavy beat. Both songs are instantly memorable, but mostly because of the melodies and hooks themselves, not the arrangements. Some of the songs ("Dance With Me," for example) do threaten to overwhelm listeners with their danceable sweetness and straightforward lyrics ("Come and dance with me / You pretty, sweet fool / I wanna be your toy / I wanna be your toy"), but for the most part their short running time and overall production quality keep them from getting annoyingly gleeful.
While some Ra Ra Riot fans may be turned off by the extremely accessible nature of their new material, that same accessibility should gain them some new fans as well. These songs are happy, poppy, and danceable, but they're not exactly mainstream—you probably won't be hearing "Beta Love" or "I Shut Off" on the radio any time soon. That said, fans of catchy, bouncy pop with a bit of an electronic edge will find much to like in Beta Love, and existing fans of the band will probably find much to (beta) love here too.
Key Tracks: "Dance With Me", "Beta Love", "Angel, Please", "I Shut Off"
Artists With Similar Fire: fun. / Broken Bells / Electric Light Orchestra (ELO)
Ra Ra Riot Website
Ra Ra Riot Facebook
Barsuk Records
-Reviewed by Simon Workman
Latest posts by Simon Workman
(see all)