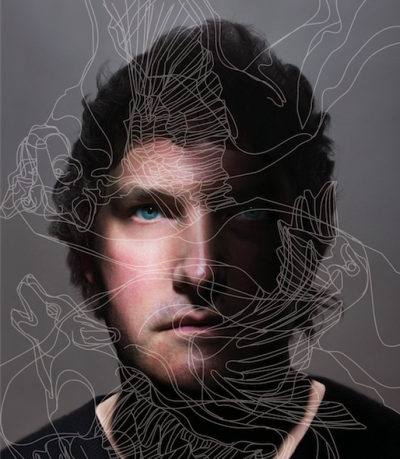 For the past six years, published poet, novelist, visual artist, and musician, Nathaniel Bellows has been writing libretti for the composer Sarah Kirkland Snider. In fact, their last release, Unremembered (2015), was inspired by 13 of Bellows' poems and illustrations.
Now back out front for his sophomore album, Swan and Wolf, Nathaniel Bellows offers a collection of ten new original songs. Today's premiere track, "How High," is from the new record and showcases the intricate complexity of Bellows art. One listen to Bellows deep sweeping voice and carefully thought out instrumentation, which features Timo Andres on piano, will keep your attention extremely focused. The song has a slow building catchy conclusion that ends with layered vocals of Bellows pleading "say how high."
Bellows music moves beyond the ear as each track from Swan and Wolf is paired with one of his illustrations that integrates the song lyrics. This gives the project a depth you won't find with many releases. Swan and Wolf will be released on March 30th and can be pre-ordered now on Bellows Bandcamp page HERE.

Nathaniel Bellows Website
Nathaniel Bellows Facebook
After spending the early 90's managing a record store, the mid to late 90's producing alternative video shows and 00's blogging about the music scene Christopher Anthony is always ready to hear new music.
Latest posts by Christopher Anthony (see all)