Kevin Morby


City Music
Dead Oceans [2017]


Fire Note Says: Kevin Morby changes the scenery and tempo for album number four.
Album Review: Kevin Morby broke out last year with his fantastic third LP, Singing Saw. The record was easily his best to date and rightfully earned the #3 spot on TFN Top 50 of 2016 list. His fourth album, City Music, builds on that confidence and now becomes his biggest musical outing to date.
Singing Saw was all about the solitude of Morby's quiet recording area so with that concept in mind, City Music is a much busier record that contains all the hustle and bustle you can imagine when the city never sleeps. On the opening track, "Come To Me Now," Morby sings "I can't wait for that moon to shine, she's my friend always been, you can see it in my eyes." The song smolders along with his laid back and low Bob Dylan like vocal but starts the fire burning which moves into the upbeat "Crybaby." At first, this track didn't connect with me but over time I find myself foot tapping and humming along when the chorus hits "And you cry crybaby, c'mon cry crybaby!" Right after that, you get a quick 1:48 running "1234" which is a tribute to Jim Carroll's "People Who Died," right down to the closing lines "Joey, Johnny, Dee Dee, Tommy / they were all my friends, and they died." This looser structure and more up-tempo is the backbone that supports City Music.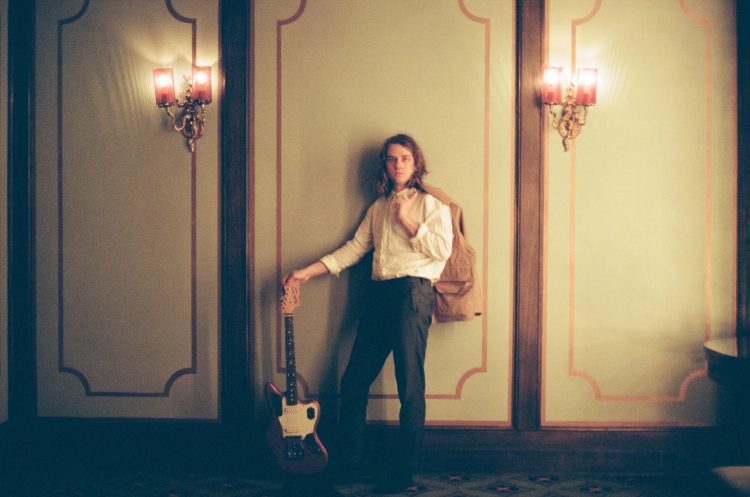 There are plenty of songs to keep Morby fans happy on this album and its sequencing builds City Music's strength, as some of the best songs are yet to come. The title track is a stand out as it pushes beyond the 6-minute mark and does not feature a vocal until you hit 2-minutes. It is a jazzy rock affair that pleases the ear with its breezy instrumentation that keeps the same mold but increases its tempo for the last third. It truly moves like a big town. "Tin Can" is another upbeat number that comes back to Morby's solitude from last year but now he is surrounded with stimulus that he can emerge himself into. He sings "I live high, oh my tin can up in the sky / all those people down below, oh that city that I long to know."
City Music does not quite reach the pinnacle sweet spot that the gospel-folk Singing Saw hit but it is still is a great record from Morby. It is an album that, just like the city, has plenty going on. From his Germs cover "Caught In My Eye," to the memorable and moving "Aboard My Train," and all the way to his own judgement on "Pearly Gates," Kevin Morby accomplishes taking his career to a new level. Where Dylan has been a good comparison for his earlier work, City Music finds his inner Lou Reed. It is this singer/songwriter swagger of confidence that sets Kevin Morby apart, as we can't wait to see where he goes next. With an already solid catalog under his belt, I believe that Morby has a bright future – and that is truly exciting!
Key Tracks: "Tin Can" / "City Music" / "Pearly Gates"
Artists With Similar Fire: Lou Reed / Bob Dylan / Kurt Vile

Kevin Morby Website
Kevin Morby Facebook
Dead Oceans
– Reviewed by Christopher Anthony
Latest posts by Christopher Anthony
(see all)