Straight Arrows


Rising
HoZac Records [2014]



Fire Note Says: Australian garage rockers with plenty of fuzz and lots of actual tunes!
Album Review: This Australian based band led by Own Penglis is guaranteed to jump to the head of the garage rock class with their sophomore album, Rising. Rising is kind of album that jumps out of your speakers and immediately calls attention to itself, and as the record plays, you realize that this isn't your ordinary garage rock album. Sure it's got the fuzz, the distortion, the guitars, and the attitude, but what it has more than anything else is tunes, and that is precisely what separates them from the pack.
Fittingly, "Introduction" opens the album, it's a quietly strummed guitar, with some hum in the background that continues to get louder before abruptly ending and exploding into "Fruit of the Forest". The album is sequenced beautifully, as one rock gem flows straight into the next. There isn't a dud on the album, at its worst it is very good, and at its best like on "Make Up Your Mind", "Breakdown", "Never Enough" and "Changing Colours" it becomes a record that is on the short list for top 20 album of the year territory. This is hazy, psychedelic music that sounds filtered through and old drive in speaker, in other words, it's perfect. This is the sound that other bands will be trying to recreate and capture from this point forward.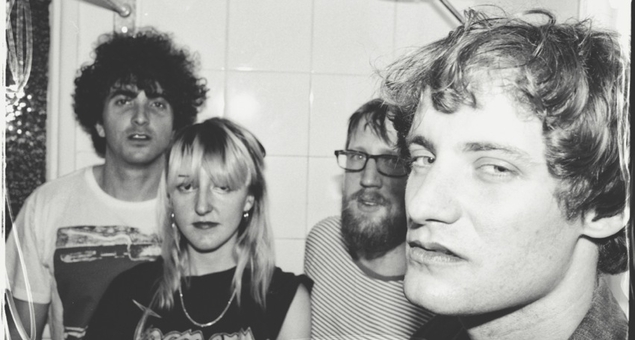 Rising is the kind of music that will shake you out of your humdrum life. It is music to move to, to dance to, to rock out to, to drink to, to raise a rock fist in the air out your car window as you are freedom cruising on your way home from work on a Friday afternoon. This is the good stuff, often imitated, but seldom duplicated. When a band is this good, just let the music do the talking. I could carry on endlessly about each particular song and why I like it, but why don't you just take my word for it and get yourself a copy.
Key Tracks: "Never Enough" / "Fruit of the Forest" / "Make Up Your Mind"
Artists With Similar Fire: White Fence / Ty Segall / Blank Pages

Straight Arrows Website
Straight Arrows Facebook
HoZac Records
– Reviewed by Kevin Poindexter
Latest posts by Kevin Poindexter
(see all)