People


3xaWoman
Telegraph Harp Records [2014]




Fire Note Says: People's 3xaWoman is a weird and wonderful clash of musical styles.
Album Review:
From the opening notes on People's LP 3xaWoman, you know something strange is afoot and you are in for something that does not stay on the path of convention. Experimental avant-garde jazz guitarist, Mary Halvorson leads this Brooklyn-based trio through a menagerie of sounds and styles.
Album opener, "Prolegomenon," is a stunning brass chamber piece. It lumbers about at the beginning a bit remorseful, and then shifts into a cinematic swell of hope and whimsy. I have not heard anything this beautiful in indie rock since Neutral Milk Hotel.
The second track loses me; it is a free jazz number that at almost 7 minutes long, overstays its welcome. Not to worry, track three bursts into a hardcore frenzy with "What's So Woman About That Woman." I was caught off guard by how punk People can sound. A magnificent punch in the gut.
"A Song With Melody And Harmony And Words And Rhythm" starts as a slow and melodic track, dipped in reverb and fuzz that builds to a dynamic crescendo of horns and guitar dissonance.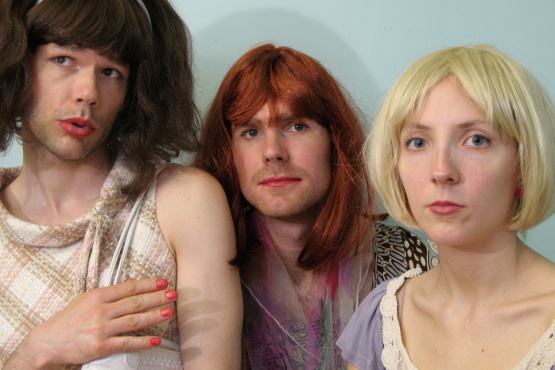 "Supersensible Hydrofracked Dystopia!!!" is 52 seconds of obtuse indie rock that could make Belly and Breeders fans quite happy. This is true of some of the more straightforward pop tracks that People offer such as "Interoperable Intertrigo" and "The Caveman Connection."
Track 9, "Piles for Miles" is my favorite track on 3xaWoman. It is fuzz soaked woozy pop song that bounces and wobbles along merrily, and is highlighted by an incredibly dirty guitar sound. "Piles for Miles" will be one of my most listened to and favorite tracks for 2014.
"The Lyrics Are Simultaneously About How The Song Starts And What the Lyrics Are About" is a clever track that is not afraid to be a bit goofy and reminded me of art rock that Fiery Furnaces used to give us.
3xaWoman is an original and rewarding album. It will not be for everybody with its ever-shifting styles and it may test your patience from time to time. I might prefer to hear a more streamlined sound from People in the future, one that sticks to their punk/pop influence, but with such beguiling results of 3xaWoman, who am I to question the music they deliver to us.
Key Tracks: "Prolegomenon" / "What's So Woman About That Woman" / "Piles For Miles"
Artists With Similar Fire: Neutral Milk Hotel / Breeders / Fiery Furnaces

People's Mary Halvorson Facebook
Telegraph Harp Records
– Reviewed by Daniel Taylor
Latest posts by Daniel Taylor
(see all)