Greys


If Anything
Carpark Records [2014]




Fire Note Says: Greys' debut LP bridges a gap between genres and offers a refreshing blend of heavy noise rock with pop sensibility.
Album Review: Last years' Greys 7" Drift was one of my favorite 7" releases for 2013. A really heavy noise rocker. I enjoyed it so much; it sparked me to getting my hands on anything I could from this Toronto-based heavy noise group. Once I listened to their 2012 EP, Easy Listening, it deepened my appreciation of their sound and how they approach their music.
If Anything will not disappoint current fans of the band. They have not changed much from their earlier sound. All the raw ingredients that were present in their earlier releases are on full display on their first LP. However, they let their pop side shine more on this album than on their previous releases. This should draw more listeners to them.
Greys have unique ability to assail you with sounds that would be welcome on any 80's or 90's hardcore album, but just under the surface there is something pop-like going on that gets your head nodding, and not just in a head banging way. This pop sensibility set them apart from just being another heavy music act. They share pieces of DNA with other noise rock icons like Sonic Youth and for me I hear some Polvo too.
The 11 track If Anything begins with the blistering "Guy Picciotto," a tongue in cheek reference to constant comparisons to Fugazi. This track is set to a feverish and furious pace with wailing guitar hooks and slams home the point that Greys are here to rock. It is all over in 90 seconds, but "Guy Picciotto" lets you know what is in store for your ears.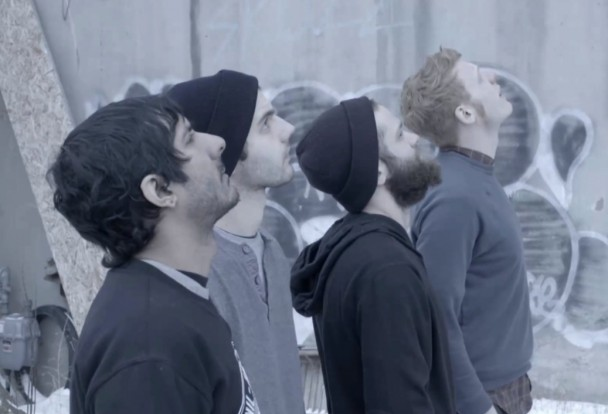 "Use Your Delusion" might be the best track on the LP. It has monstrous guitar noise, a driving beat, catchy power chords, and sonic crunch that remind me of the precision of Meantime-era Helmet. If you are dipping your toe into the Greys music pool, you should use this track to see if the temp is right for you.
"Adderall" is a hyperactive hardcore blast that shifts to a Nirvana chorus buried in the middle of the track. It is these little shifts and oddball dynamics that will keep you listening to this album. Greys don't play it safe; they want to keep you guessing what is going to happen throughout each track.
"Chick Singer," "Brain Dead" and album closer "Lull" are some more standout tracks. "Lull" really does bring to mind Fugazi (sorry guys) and around the 3:00 mark erupts into stunning indie guitar rock noise jam that would make Deerhunter jealous.
If you like heavy music that is smart, catchy and has more to offer than just slamming your fist into the air, give this LP a spin. Greys have struck a chord with me and if you are into contemporary heavier acts like Roomrunner, Dope Body and Low Fat Getting High, and older stuff like Fugazi, Polvo and Shellac, this should be an automatic purchase.
Key Tracks: "Guy Picciotto" / "Use Your Delusion" / "Brain Dead"
Artists With Similar Fire: Roomrunner / Helmet / Shellac

Greys Website
Greys Facebook
Carpark Records
– Reviewed by Daniel Taylor
Latest posts by Daniel Taylor
(see all)