Somos


Temple Of Plenty
Tiny Engines [2014]



Fire Note Says: Somos unearth a genre on their pop-inflected emo punk debut.
Album Review: When you get to a certain age the saying "what was old is new again" seems to become a more common occurrence which just is a nod to my experience! Sure! Take the debut from Boston's Somos for instance. To most young kids, spinning Temple Of Plenty will sound fresh with its melodic, pop-inflected emo punk style but if you lived through the late 90's early 00's you will instantly start thinking about bands like Get Up Kids, The Promise Ring, Braid and Pinback. It is a sound in 2014 that is not that prevalent but these young lads sounded like they lived it.
The energetic approach on Temple Of Plenty is exactly how Somos pull of this engaging record using these older tactics because I will be honest – there is nothing ground breaking here. Singer Michael Fiorentino sells every track with his soaring vocals and quiet reflections. Somos also succeeds by playing right along with Fiorentino because on more than one occasion the group grinds their guitars in the most hush vocal moment. This clash of tone works well for Temple Of Plenty as it lays down an undertone of intensity. You can hear this dynamic on "Lives of Others" when Fiorentino's voice is isolated singing "I guess it's something I could never understand" and the band crashes in with their duel guitar riffs. "Dead Wrong" finds the band at the top of their game with its short sharp hooks and its draining thoughts of going through the motions in a 9 to 5 job. Lines like "Shirt tucked in, shaking hands; till your arms fell off, till your arms fell off" and the closing "a pattern crystalized; same 9 to 5; 16 to 65" really has you wanting to hit the time clock for the last time.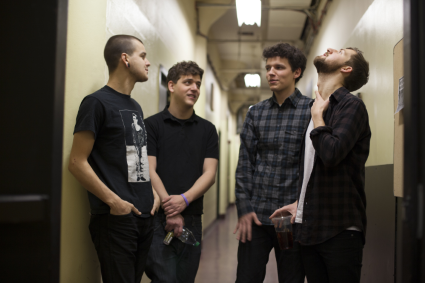 At a nice compact 28 minutes Somos never tire as their tracks have the ability to settle into memory. They are a true mix of early emotive pop punk with a burning 2014 edge. I appreciate the honesty and clean sounding production throughout Temple Of Plenty because Somos could have easily tried to go more hardcore in sections of this album but instead layered their vocals and built the intensity with tight musicianship. Somos (meaning 'We Are' in Spanish) gets the job done on Temple Of Plenty and not only puts life back into this genre but earn respect and back up the English translation of their band name.
Key Tracks: "Familiar Theme", "Dead Wrong", "Distorted Vision"
Artists With Similar Fire: The Promise Ring / Pinback / Polar Bear Club

Somos Website
Somos Facebook
Tiny Engines
– Reviewed by Christopher Anthony
Latest posts by Christopher Anthony
(see all)