Yellow Ostrich


Cosmos
Barsuk Records [2014]




Fire Note Says: Yellow Ostrich reach for the stars and release a truly stellar album.
Album Review: Every great album has to have a great back story or at least something to enliven the press release. The story of Cosmos, Yellow Ostrich's fifth album and third for Barsuk, goes like this: singer/songwriter/guitarist Alex Shaaf moves into his Brooklyn practice space, reads a lot of Carl Sagan, artificially recreates day and night, and for nine months works on the songs for what would turn out to be his finest hour (well, his finest thirty-seven minutes.) Though not a concept record, most of Cosmos' ten tracks are united by astronomy in some way. Listening to this album is like watching Jodie Foster as Dr. Ellie Arroway in the film adaptation of Sagan's novel Contact. As she gets whisked through numerous wormholes via that alien machine gizmo, the beauty of the universe overcomes her and she can only mutter: "No words, no words." Similarly, Shaaf cannot express the wonder he feels and knows it must be experienced firsthand. He as much as admits this on "In The Dark" when he sings: "I can't wait/Can't wait 'til you see it all."
Throughout Cosmos the recurring themes of space and Man's ultimate puniness is mirrored nicely by a band who has now matured into a four-piece. Drummer Michael Tapper has been along for the ride since 2011 breakout LP The Mistress, but both Jared Van Fleet and Zach Rose are new to Yellow Ostrich and they fit in perfectly with a rare ability to add textures without becoming distractions. The focus here is, as it has always been, on Shaaf's quiet and slightly quavering vocals. It is an instrument that shares much with Kelcey Ayer of Local Natives. The similarity is even more pronounced when he adds a harmony track as in "Neon Fists" which sounds like it could have come from the "Hummingbird" sessions. The actual recording was engineered by Beau Sorenson (Death Cab, Superchunk) and mixed by Paul Kolderie (Radiohead, Pixies.) No surprise then that this has a big budget sound.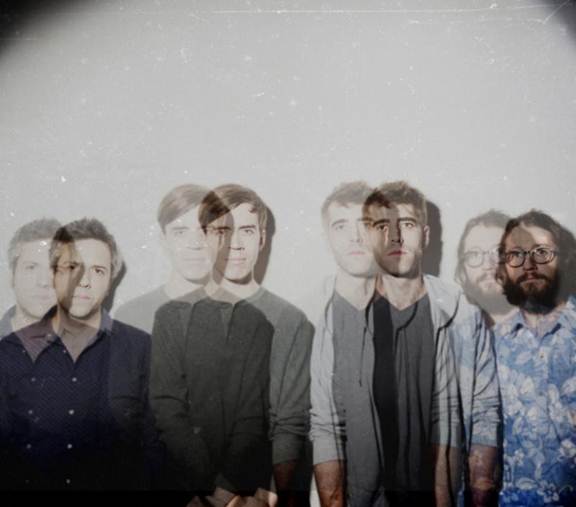 The arrangements and instrumentation both display growth from previous Yellow Ostrich records. There is great subtlety in the use of synths and, fortunately, Shaaf has not foresaken the guitar like too many of his Indie brethren. There are also unexpected touches throughout Cosmos which make it a fascinating listen. From the polyrhythms in the first half of "Things Are Fallin'" to the noisy dissonance at the end of "You Are The Stars" there is much to take in – like the wonder and awe to be felt in the presence of the infinite. But not everything is free of Earth's gravitational pull. Some songs are squarely grounded on terra firma. "Shades" has a spine built from guitar grit and seems to be more about inner rather than outer space. Closer "Don't Be Afraid" begins with a Mission Of Burma riff and ends up playing out like a hymn.
There are no aliens or UFO's to be found in the lyric sheet. But neither do we encounter God. During album highlight "Any Wonder" Shaaf states that he wants to be small and then follows it up with what might not be a rhetorical question: "Don't you?" It's as if he cannot fathom otherwise. Our place in the universe, our status in this world, our very existence, all appear insignificant through the wrong telescope. What Yellow Ostrich is trying to do is turn that fucker around and help us realize that it's really okay to be ugly, insignificant, invisible. There is more. So much more. And taking the time to appreciate that the stars at night are all suns for other planets or are perhaps whole galaxies of alien suns can put things into perspective. Your job might still suck and your credit cards are maxed out and your wife is frigid but those concerns don't need to be so overwhelming. Maybe they don't matter at all. It's an intoxicating vision and it shows Shaaf has come a long way since dropping an EP based on the life of Morgan Freeman. (Seriously.) That Barsuk signed an unknown from Wisconsin in 2011 proved he had potential. With Cosmos he has finally delivered on that promise.
Key Tracks: "Any Wonder", "Shades", "Things Are Fallin'"
Artists With Similar Fire: Oberhofer / Local Natives / Generationals

Yellow Ostrich Website
Yellow Ostrich Facebook
Barsuk Records
-Reviewed by Scot Lade
Latest posts by Scot Lade
(see all)