St. Vincent


St. Vincent
Loma Vista Recordings [2014]



Fire Note Says: St. Vincent returns with a bold sense of confidence. What does that mean for you?
Album Review: "I wanted to make a party record you could play at a funeral," says Annie Clark a.k.a. St. Vincent of her new self-titled album. Being interesting is one piece of the puzzle. But being interestingly-gifted—now that's an easy outlet for potential. This rings true for Clark, who has played for the Polyphonic Spree, collaborated with The National and Sufjan Stevens, and released a record in 2012 with the one and only Dave Byrne. 2012's Love This Giant starkly underutilized Clark's guitar talents; but it still earned my praise, largely for Byrne being Byrne and Clark's sultry vocals that led right into brass-fed hooks. So what happens when Clark under-utilizes herself?
Coming off 2011's Strange Mercy—a fantastic album—St. Vincent reemerges bolder, focused, and confident. The cover of the new album shows her with a look and style that say "impress me," and while that look conveys the grandeur of a queen greeting her royal subjects, she ultimately ends up playing the jester as well. St. Vincent's songwriting remains consistent and strong: "Birth In Reverse" aside from showcasing some of my favorite guitar work, has the added bonus of containing this lyrical gem: "Oh, what and ordinary day / take out the garbage / masturbate." My initial reaction was "Did she just say that?" This isn't to say that St. Vincent is the new Neko Case, but the album's lyrics add a new edge. When Clark isn't dropping gems she's treating her self-titled like a journal. Songs like "Rattlesnake," "Psychopath," and "Huey Newton" all have stories behind them. "Rattlesnake" depicts a naked St. Vincent reenacting the Garden of Eden and being chased by a snake. "Psychopath" is about a date she once had with someone who is now a friend. Finally, "Huey Newton," named after the co-founder of the Black Panther party, relates what happened after she took a sedative to relieve jetlag while on tour in Helsinki. They all give listeners a glimpse into Clark's mind and provide the album with a personal touch.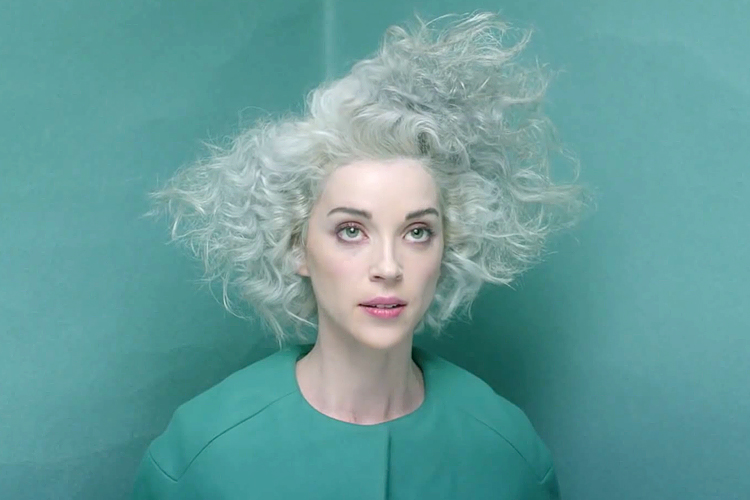 With all these positives, what diminished my enthusiasm? St. Vincent writes some pretty fantastical songs with grandiosity in mind, but do they feel like St. Vincent? That seems harder to determine. While I wasn't looking for Strange Mercy II—or Actor II for that matter—I felt those works were more hook-laden thrill rides. Songs like "Cruel," "Surgeon," and "Year of the Tiger" all caught me at first listen. With her self-titled, I find myself wanting. Like I said before "Birth In Reverse" offers up fantastic, unexpected interludes. "Prince Johnny" is tender with beauty and grooves like an R&B slow jam, and "Digital Witness" showcases a shaky techno-funk ala the Talking Heads. But for some reason, a lot of the album just doesn't stick like the previous ones.
Confidence doesn't always pan out in the way we want. The writing process for this self-titled began just 36 hours after the Love This Giant tour ended, and theoretically St. Vincent could have capitalized on the energy and made magic. But I feel like what happened here was similar to the Atoms For Peace situation. So much originality and talent inexplicably underutilized in some key points. While I applaud St. Vincent for her reinvention, her refined structure seems to harm her. If I could go for a 3.75 then I gladly would but because I cannot hack the system, a strong 3.5 is much more deserved then a weak 4. Other early reviews of this record gave it high praise, and maybe I missed something; but I urge you to go through multiple listens to form your own opinion.

Key Tracks: "Birth In Reverse," "I Prefer Your Love," "Severed Crossed Fingers"
Artists With Similar Fire: Joanna Newsome / tUnE-yArDs / Dirty Projectors
St. Vincent Website
St. Vincent Facebook
Loma Vista Recordings
-Reviewed by Christopher Tahy
Latest posts by Christopher Tahy
(see all)