The Rebel Set


How To Make A Monster
Burger Records/Silver Hornet [2014]



Fire Note Says: The Rebel Set revel in paying tribute to the Surf Rock kings of yesteryear.
Album Review: Surf-rock in landlocked Arizona? Sure, why not? Remember: JFA was from Arizona too and did a fantastic job of combining The Ventures with The Dead Kennedys. The Rebel Set (not to be confused with the Dayton band of the same name) has taken a similar approach: surf-rock's basic sound married to the lo-fi asthetic of garage punk. From the reverb-heavy Fender Telecaster guitars to the vintage Hammond organs, the vibe is very Safaris or Dick Dale. Just look at that album cover! It's a very life-like representation of the twelve songs therein. They take that formula and super-charge it with brisk tempos and frenetic playing. Front man Joe Zimmerman is no Brian Wilson vocally but he carries the load with tuneful, unassuming joy.
The songs on How To Make A Monster (the band's second full-length, following 2010's Poison Arrow) sure do make a racket but don't deviate too far from the Duane Eddy template. There are a couple of true stand-outs though. "Riddle Me This" kicks things off with a Ramones meets The Monks fury. It's a powerful track that the rest of Monster struggles to keep up with. Instrumental "Planet Katy" plays out like a true artifact from a time when America was obsessed with the idea of California and surfing and the music that became a soundtrack to that sixties ideal. "Ghost Writer" incorporates more of a punk stance and although I have no earthly idea what Zimmerman is singing about the hook of "Can't get a hold of your heart" is one of the few times his voice rises up over the mix.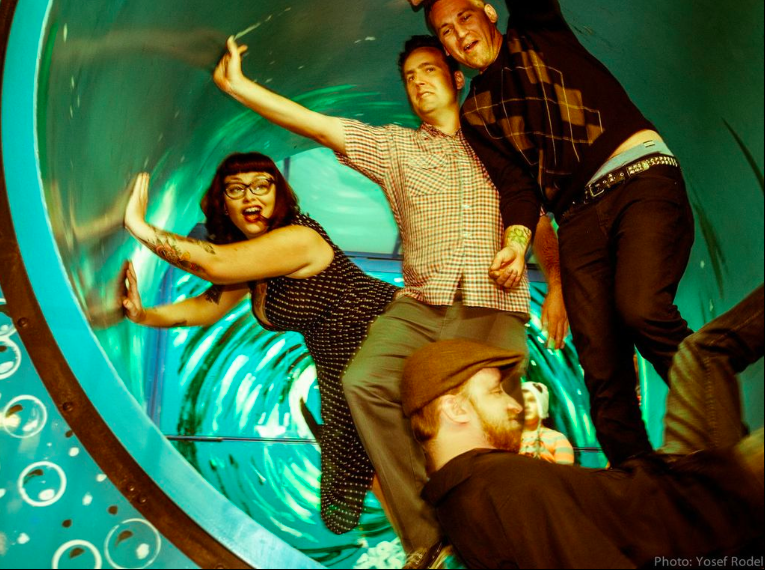 I'm not a big believer in the necessity of studio gloss or high tech production values but a little sheen might have buffed these songs into something a bit more memorable and in synch with the era they are attempting to channel. The cavernous sound is fun in doses but as the record progresses it starts to wear on the listener's patience. I get the feeling that they have something to say but I'll be damned if I can suss it out.
Still, How To Make A Monster is a good time record that has brought a little sunshine into my dreary winter. Thoughts of Annette Funicello and Frankie Avalon frollicking on some long since over-developed beach somewhere back in time are quite welcome as the mercury drops but there's more to The Rebel Set than that. Next time around I'd like to see them explore a little more. I've seen Beach Blanket Bingo too many times before and I keep the remote close at hand for a good reason. If Zimmerman and cronies Jeff Doing (as Moon Dog), Katey Trowbridge (as Pajama Girl) and Brandon Goehner (as Big Lunk) can recast themselves as slightly more contemporary characters then the sequel just might be really bitchin'.
Key Tracks: "Ghost Writer", "Riddle Me This", "Planet Katy"
Artists With Similar Fire: The Ventures / Dick Dale / Duane Eddy

The Rebel Set Website
The Rebel Set Facebook
Burger Records
-Reviewed by Scot Lade
Latest posts by Scot Lade
(see all)