Mode Moderne


Occult Delight
Light Organ Records [2014]



Fire Note Says: Mode Moderne's Occult Delight is dark and catchy.
Album Review:
Mode Moderne is a neo-New Wave band based out of Vancouver. When I think of Vancouver I think of the Pacific Northwest – a little dark and rainy but also progressive. This description fits Mode Moderne's aesthetic well, and with an album title like Occult Delight, it should. The band's members include Phillip Intilé (vocals), Clint Lofkrantz (bass), Sean Gilhooly (drums), and Rebecca Gray (keyboard). Someone's playing guitar, rest assured, but (pseudo-)exhaustive Internet sleuthing didn't provide me with an answer to that mystery.
Mode Moderne's synth-pop gets off to a luscious start with album opener "Strangle The Shadows." It meanders into focus with an unmistakable New Wave feel that is hazy – Intilé's vocals maintain that distance and play well with the rest of the band. The song's dreaminess is juxtaposed with the starkness of following track "Grudges Crossed." The violence inherent in both song titles is subdued in the previous track but clear in "Grudges Crossed." Intilé's vocal style here, and for most of the album, sounds like he is channeling Paul Banks of Interpol. His low, enunciated style evokes a cool remove from the lyrics. While singing about being a victim of a lover's unconditional love, Intilé sounds like he saw it coming and stayed away to avoid the damage.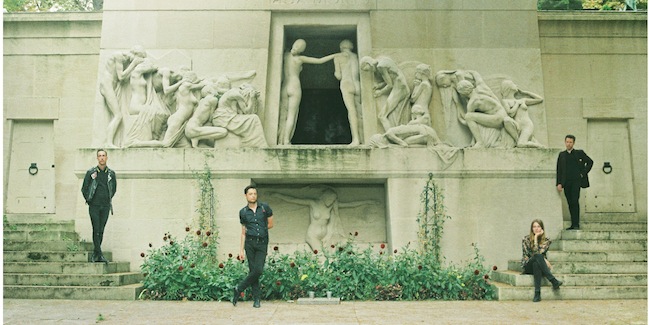 I'm a sucker for a great pop song and the syrupy "Baby Bunny" filled that role on Occult Delight. You'd think the song is a joke with its title but actually speaks of mismatched love and personal accountability in a relationship. The music is bright and fresh, making the lyrics stand out even more. "She, Untamed" is about a woman who recklessly hurts other while having fun. Again, Intilé seems to be an impartial observer to this wreckage and that can make it difficult to fully connect with the song. The track is plenty catchy though.
Mode Moderne has a clear idea of who they are and the type of music they want to create. They execute that style well but I would've liked to have connected more with each song. Occult Delight is a fun listen but didn't leave a lasting impression; a little work in the future could make that more likely.
Key Tracks: "Strangle the Shadows," "Baby Bunny," "She, Untamed"
Artists With Similar Fire: Interpol / The Smiths / Wild Nothing

Mode Moderne Website
Mode Moderne Facebook
Light Organ Records
-Reviewed by Matthew Heiner
Latest posts by Matthew Heiner
(see all)