Jack Name


Light Show
GOD?/Drag City Records [2014]



Fire Note Says: Jack Name creates a musical funhouse with Light Show.
Album Review: In a time where anything goes, Jack Name aka John Webster Johns aka touring guitarist for White Fence aka Fictional Boys etc. etc.—you get the idea: unidentifiable and prolific. Described by White Fence front man, Tim Presley as a "Stubborn genius," Jack Name's new album, Light Show could be interpreted as the work of such. It could also be the work of a man bouncing from wall to wall in the confines of his own mind. Anyway you look at it, Light Show is a blink of an eye album that can go by too fast if you let it. But listen after listen can offer more and more rewards each time—the listener just has to be willing to put forth the effort.
Though Light Show is a spasmodic, blink of an eye album, that seems to be done purposefully. Reading quotes from Name, Light Show is supposed to be semi-conceptual. Proposing a world where "chemical imbalance" isn't wrong or a form of medication, but allowed to flourish with individuality, it's a motive that I can appreciate (especially since I was prescribed A.D.D. medication for so many years). Light Show is definitely a flourish of individuality, but does that make it good? That's the question to ask here. At first, I was overwhelmed at the directions, character, styles presented, but after a few listens things began to come into focus.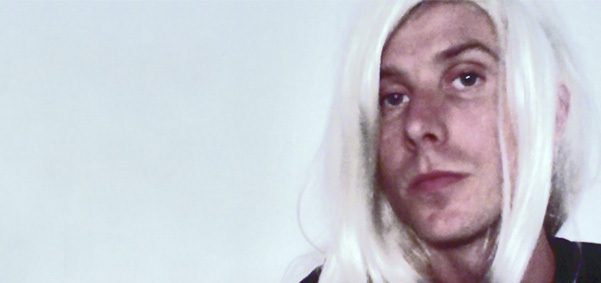 Other reviews have docked points for Light Show's conceptual heady-ness. But, as soon as you hear "My Own Electriclady Land" with it cascading, twinkling lo-fi sensibility you'll know that John Webster Johns didn't have mass appeal in mind when putting this album together. Much like a Pollard-ian experiment—Acid Ranch, Psycho and The Birds, Nightwalker, Superman Was A Rocker, (no offence Uncle Bob's prolificacy does have its pitfalls)—the songs don't always work. Shorter compositions such as "It's Right There" and the title track do get a little indulgent/weird for their own good. When Light Show delivers a song, though, its true tendencies can be felt. When the psychedelic sheen of "Pure Terror" kicks into high gear influences from contemporaries like Ty Segall and Presley can be easily felt. Changing gears on "Do The Shadow," Name imitates a rapidly miniaturized Thee Oh Sees thrown into a time stretch that's all good fun. "Puffy Cheek Town" blossoms with a spacey brass ambiance that adds impression to Name's subdued vocal dynamics.
Equally cool and weird are the three end tracks that all pose something to appreciate. "Trans America" goes subdued again but with the flutter of flute and guitar. "Out Of Sight" becomes catchy immediately with its bouncy beat and repeating keys. The final track, "Killing A Shadow," possess every angle of the album in one single track, difference is progress. It's funny because the more I listened the more I saw this as "Me, the album." Spastic, appreciative, cyclical, positive, confused, yet charming at the same time, Jack Name's Light Show does require a bit of work—but if it wasn't art, would that be any fun? Do yourself a favor and form your own opinions about this one. It's definitely different even if it doesn't stick all the time.
Key Tracks: "Do The Shadow," "Pure Terror," "Out Of Sight"
Artists With Similar Fire: Cascading Slopes / Thee Oh Sees / The Olivia Tremor Control

Jack Name Website
Drag City Records
-Reviewed by Christopher Tahy
Latest posts by Christopher Tahy
(see all)