Terry Malts


Nobody Realizes This Is Nowhere
Slumberland Records [2013]



Fire Note Says: San Francisco scuzz-punks return with a short reminder of why punk still matters.
Album Review: With the demise of Brit-pop sound-a-likes Magic Bullets (from which all three members of Terry Malts sprang) vocalist Phil Benson, guitarist Corey Cunningham and drummer Nathan Sweatt took a left turn away from The Smiths and headed straight to The Ramones. They refer to their music as chainsaw pop and that's pretty accurate. The garage fuzz the Bay area has become synonymous with is in full effect here. But what separates Terry Malts from hundreds of like-minded acts is the ability to craft catchy tunes amidst the sonic assault. Perhaps this is a hangover from all that Morrissey/Marr worship going on in their previous incarnation. Whatever. This is their second album as Terry Malts and it is even better than 2012's solid Killing Time.
To these ears, too many bands today cannot hear that they've overstayed their welcome. Creeping sameness cannot occur when you put out "albums" with running lengths under thirty minutes. Instead of feeling cheated I have trained myself to accept it as an artist's desire to leave the listener wanting more. Either way, they get the point across with a barrage of guitar, bass and drum. The tempos remain quick and the musicianship surprisingly spry. The brisk pacing makes the album seem even shorter than it is, in fact. Phil Benson's deadpan, deep monotone is a little much at times, though. They happily throw Cunningham a bone – allowing him lead vocals on the welcome "Buy Buy Baby." Later they slow things down with the acoustic strumming of "Comfortably Dumb." Positioned near the end of Nobody Realizes it gets the listener ready for the last two tracks. Unfortunately neither one lives up to the promise of earlier songs.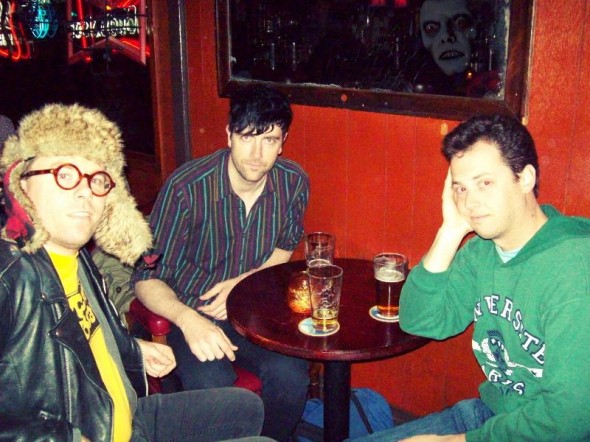 In an era of exceedingly short attention spans it does make sense to front-load an album if trying to gain a larger audience and Nobody Realizes is a prime example of that. The first three songs are indeed the best of the lot. Opener "Two Faces" begins with an old-school alarm clock going off and Benson quickly gives you a good idea of what most of his lyrics are about: "I don't wanna go/To my work no more/Cuz they've got two faces." Next up, "Life's A Dream" races by at 1:11 and we're told that "Life's a dream and I don't want it." Then there's a darker side which pokes up on "Human Race" and this is really the main difference between this record and the debut. Benson is still a spiritual cousin to Wavves' Nathan Williams (without the surf board or spliff, I imagine) but he's now getting cynical about his lack of ambition and the world that frowns upon such slackness.
Still, Nobody Realizes is far from being a heavy trip. It is, in fact, pretty damned silly at times – bringing In The Red artist The Intelligence to mind. Example: "They're Feeding" repeats the title phrase no less than 52 times. (Yes, I counted.) Despite all of that, Terry Malts is striving to be a band that cuts through the clutter and distortion. The songs here are (by and large) memorable and the sound is vigorous yet devoid of vile. It's a record that makes you want to drink, pogo, drink some more. Good old fashioned punk rock? Sort of. It's great fun and I'm seriously excited about what they're capable of in the future./br>
Key Tracks: "Two Faces", "Life's A Dream", "They're Feeding"
Artists With Similar Fire: Ramones / Wavves / The Intelligence

Terry Malts Bandcamp
Terry Malts Facebook
Slumberland Records
-Reviewed by Scot Lade
Latest posts by Scot Lade
(see all)