Shearwater


Fellow Travelers
Sub Pop Records [2013]



Fire Note Says: Jonathan Meiburg's latest re-works the songs of tourmates past and present.
Album Review: Ah…the dreaded covers album. From David Bowie to Nick Cave, The Ramones to Ozzy, Tori Amos to Nada Surf, it seems sooner or later every artist gets the itch to record an album's worth of material they grew up loving. Sometimes this can shine additional light on that artist's influences but more often than not they are merely quickly recorded vanity projects that always seem to fail commercially. That this one has a slightly different angle (these are all songs by artists with whom Shearwater has toured) gives it a better chance of not being awful, right? It also helps that Shearwater's output to date has been uniformly pleasant. So is this a mere stop-gap between albums or something better?
All the typical Jonathan Meiburg signifiers are present and if you're a fan of his operatic vocals and the band's ornate detailing then it's a safe bet that Fellow Travelers will satisfy. Choosing to open with Xiu Xiu's best ever song (Jesca Hoop's "Our Only Son" acts as an intro) Meiburg clearly isn't afraid to tackle difficult material. In this version of "I Luv The Valley OH!" the manic stylings of Jamie Stewart get a pop makeover. And that's really the thing with covers in general – how true does one stay to the original, how far should one, in fact, stray? As an early indicator, the Xiu Xiu track answers that with an emphatic shrug. The status of a song or artist seems to inform just how much the songs get recontructed. The Coldplay track "Hurts Like Heaven" loses its stadium pretensions and becomes just a really good song. Lou Barlow's sole hit, Folk Implosion's 'Natural One", is a prime example of not wanting to mess with the template and gets played more or less straight up and suffers as a result.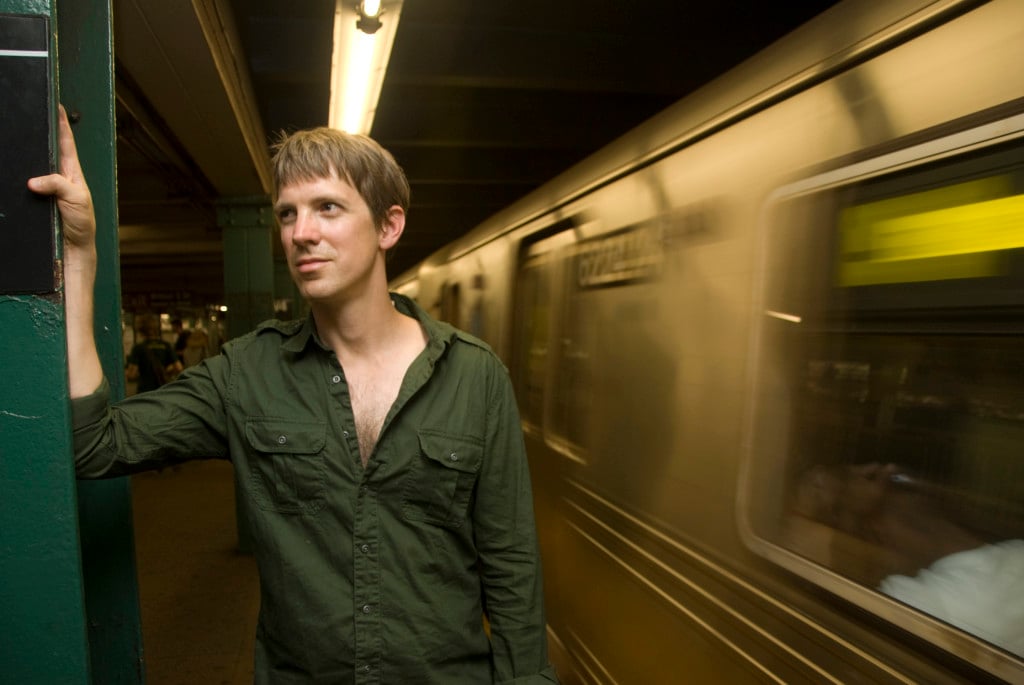 There aren't too many surprises to be found but one is certainly Meiburg's treatment of St. Vincent's "Cheerleader." Stripped down to an alt-country tune, it loses none of the power of the original even if a guy singing about not wanting to be a cheerleader is a little strange. Another surprise is how "Tomorrow" from Clinic's Do It! LP sounds so great away from the oppressive oeuvre of its creators. Devoid of context it has caused me to reassess Clinic and their music. And this is what a covers album can do – when done right. Force the listener (who is undoubtedly already somewhat familair with much of what's being covered) to hear things a little differently. Nowhere is this more the case than with Wye Oak's "Mary Is Mary." That Meiburg has no qualms about singing songs written for the female voice already having been established, this little gem off their underrated seconf album, The Knot, was way too long and way too reliant on reverb. Here it is presented as it should have been in the first place – a simple song of great beauty. And sometimes that's more than enough.
At only 33 minutes Fellow Travelers does feel slight and the inclusion of "A Wake For The Minotaur", a duet with Sharon Van Etten that was already released as the b-side of a Record Store Day 7″ (the A Side being a cover of Tom Petty's "Stop Dragging My Heart Around") doesn't help shake the impression that Meiburg wasn't all in on this thing. But that's okay, really. Shearwater is a band whose qualities are as undeniable as they are intangible. I'm tempted to write this off as noncanonical (as one should last year's instrumental album Shearwater Is Enron) but that would be a mistake. Every Shearwater realease since Will Sheff's departure in 2006 has taken them further from Okkervil River and closer to the vision Meiburg had for this one-time side project. And eight (or nine) albums in it still sounds like he's restlessly searching for perfect beauty in rock music. Looking at other artists for that ideal isn't a bad place to measure where you're at and given the evidence in the form of Fellow Travelers it's been a road well worth traveling.
Key Tracks: "I Luv The Valley OH!", "Tomorrow", "Cheerleader"
Artists With Similar Fire: Okkervil River / Great Lake Swimmers / Midlake

Shearwater Website
Shearwater Facebook
Sub Pop Records
-Reviewed by Scot Lade
Latest posts by Scot Lade
(see all)