New Swears


Funny Isn't Real
Dirt Cult Records [2013]



Fire Note Says: Ottawa's New Swears throw a party and we're all invited to come over and break some stuff.
Album Review: Funny Isn't Real, the new album from New Swears, has so much swagger it can barely be contained on wax. This Ottawa band is the real deal, this is jangly/trashy guitar pop that is guaranteed to make all of the pleasure centers in your brain light up. These guys exude coolness from every pore in their bodies, and you can almost smell stale beer and ashtrays in the background as the album plays. Originally released on cassette earlier this year, Dirt Cult has now issued this fine album on vinyl and will hopefully bring it to a larger audience.
"Jon's Coke" blows the roof of right from the start. It is a barely over two minute long rush of jangly power pop. It comes on like the Flamin Groovies on steroids and sets the perfect mood for the entire record. The band is loose and fast, this isn't the kind of power pop where every note is perfectly in place, this is the kind that is full of "don't give a shit" attitude, none of the roughness has been polished away, these guys are still rough around the edges, and it suits them perfectly. Shockingly, it just gets better from here, "Good Girls", while cut from the same cloth, raises the bar even higher, with it's gang vocal singalong chorus helping to take it to another level. If you like these first two songs you are going to love the rest of the record, the band slows it down a bit on 'Paradise", but lose none of the effectiveness, before charging back into it with the barely over a minute long "Cerveza".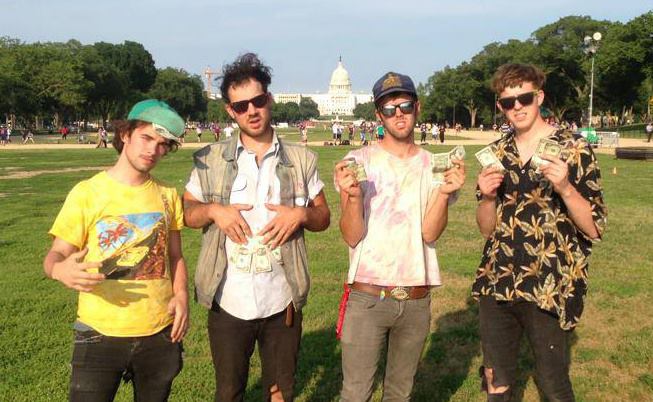 What I really like about this band is that they are able to consistently mix the tempos up. That keeps Funny Isn't Real sounding fresh and exciting, never dull. So many bands who do this kind of music, keep the pedal to the metal for the entire album, and it can become tiresome. New Swears have done a great job at avoiding that. They mix it up nicely on this album. This is shaping up to be quite a year for Dirt Cult, who now have at least 4 albums that a firmly entrenched in my top 20 for 2013. Let's hope New Swears make it to the US soon, because I need to experience this band live!
Key Tracks: "Cerveza", "Two Darts", "Good Girls"
Artists With Similar Fire: The Nils / FIDLAR / Heartbreakers
New Swears Website
New Swears Facebook
Dirt Cult Records
-Reviewed by Kevin Poindexter
Latest posts by Kevin Poindexter
(see all)