Adam Franklin & Bolts Of Melody


Black Horses
Goodnight Records [2013]




Fire Note Says: Ex-Swervedriver front man consistently delivers and Black Horses may be his best solo work yet.
Album Review: For those of us who still worship at the altar of Oxford shoe gazers Swervedriver the mere fact that Adam Franklin is still active is cause for celebration. The fact that his recorded output since the demise of his main band has been steady and damned solid is shocking only to those who haven't been initiated. This is his fourth proper album with the Bolts Of Melody and probably the best of them all. Combining recurring motifs, elements of soundtrack composition and a healthy dose of swerviness, Black Horses holds together much better than say 2010's I Could Sleep For A Thousand Years. It feels like a concept album but despite some shared melodies and overall reflective mood, each song is self-contained.
The record begins with the sampled voice of Bollywood star Asha Bhosle on the appropriately named "Asha." The dense production and American indie vibe reminds me that Swervedriver was equal parts Husker Du and Jesus And The Mary Chain. Only the last Swerve album (the underappreciated 99th Dream) descended into a Brit Pop hole. Besides that minor misstep, Franklin has always sounded quite trans-Atlantic. The following track, "When I Love You (I Love You All The While)", might open with acoustic guitar but Oasis is a very long ways off. The centerpiece song is next and the title gives away the central idea of the album – "I Used To Live For Music." The emotion is raw and honest and given his long track record of disappointments, label troubles, etc., it is especially moving. Musically the main theme makes its first appearance and then is slowed down as if to prolong the agony of all the what-might-have-been's. This melody reappears in two other songs later on and each time is reconfigured in such a way that one might not notice right away. It comes back dressed in psychedelic guise and then as a jazzy riff. It's all pretty crafty stuff.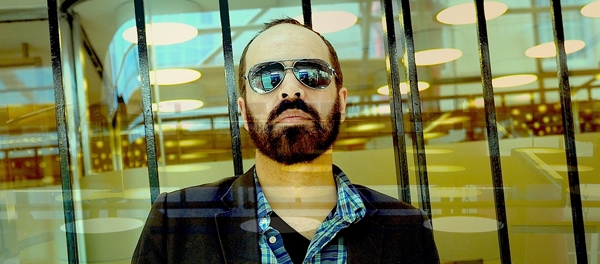 There are flashes of Mezcal Head pop ("Boocat Leah") and a little bit of Ejector Seat Reservation's counter-point ("Passenger Train, Warped By The Rain") but by the time closer "Long Way Home" has worked its way into your brain it's obvious that Franklin has actually gotten better at his chosen profession. The songwriting is sharp and there is clear purpose here that was somewhat lacking in his earlier solo efforts. It is also interesting to hear some of the bands Swervedriver influenced now coming back and influencing Franklin. I detect some Deerhunter, A Place To Bury Strangers, The Pains Of Being Pure At Heart. And the wheel keeps turning round and round. Too bad so few know who was instrumental in getting it rolling in the first place. Here's hoping that a North American tour and support from Brooklyn's Goodnight Records will enlighten the cool kid masses and throw some belated praise this guy's way!
Key Tracks: "Asha", "I Used To Live For Music", "Long Way Home"
Artists With Similar Fire: Swervedriver / Grant Hart / Medicine
Adam Franklin & Bolts Of Melody Website
Adam Franklin & Bolts Of Melody Facebook
Goodnight Records
-Reviewed by Scot Lade
Latest posts by Scot Lade
(see all)