Vacation


Candy Waves
Don Giovanni Records [2013]



Fire Note Says: Vacation's sophomore record takes you on a punk fueled trip!
Album Review: Cincinnati's Vacation comes at you with their style of loud rowdy rock on their sophomore record Candy Waves that immediately will get you going. The album has a raw flare and venom of 70's punk like the Sex Pistols but is polished with an earlier 90's pop-punk of a young Green Day. This combo does not break any new musical territory but with this type of record you don't care.
What makes Candy Waves a good listen is that Vacation does not mess around with production as the album sounds a bit rough and the distortion feels natural. The drumming is superb as each of these tracks snap with the provided rhythm. "Straight To My Head" is the perfect example of this tight dynamic as both the guitar and drums work overtime while Jerome Westerkamp delivers a very new wave type of talking vocal that gives the song a modern swagger. On the title track Vacation toss in a little distortion to the harmonized chorus as the guitar chords remind me of Joan Jett's "Bad Reputation." "Everyone Loves The Sun" is like a surf track just met the Ramones as it blends the genres and rocks away while the closing and longest song on the record, "Horny Politicians" is a final reminder of how this trio can take a simple formula and turn up the amps as its feverish guitar playing and repetitive chorus provides a solid conclusion to a solid and fun record.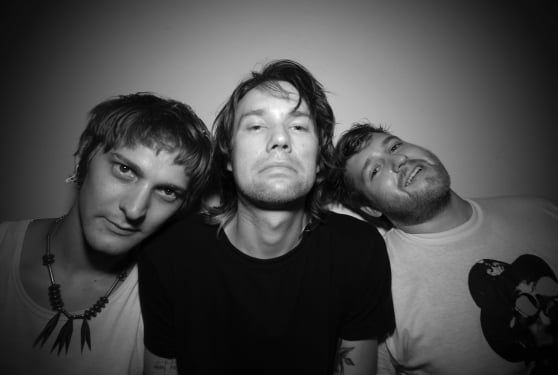 Like I stated before, Vacation is not resetting the music scene here but where they stick out is their unique utilization of punk history. You can hear and feel the different components as you move through Candy Waves. From the punk strength of "SFA" to the simple but catchy chorus on distorted opener "Pyro Hippies," Vacation will impress you around every musical bend. Candy Waves is an album that is perfect to rock the rest of this summer out with and for Vacation is a great step forward as they have secured themselves as a band to keep watching!
Key Tracks: "Make A Mess", "Straight To My Head", "Horny Politicians"
Artists With Similar Fire: Bad Sports / Sex Pistols / Wavves
Vacation Website
Vacation Facebook
Don Giovanni Records
-Reviewed by Christopher Anthony
Latest posts by Christopher Anthony
(see all)