The New Amsterdams


Outroduction
Nightshoes Syndicate [2013]



Fire Note Says: Who knew an album of outtakes and B-sides could work so well?
Album Review: The New Amsterdams were one of those bands I always meant to check out, because they sounded like my kind of thing (at least up to a point): acoustic-based indie rock with a folky/alt-country vibe (the "alt-country" part being what I can only handle up to a point). So Outroduction is a bittersweet moment of sorts—I finally get to check out The New Amsterdams, but it's their final album, and a collection of B-sides and unreleased tracks at that. I enjoy these types of collections, but usually only after I've become well-acquainted with a band's work. How good could an album like this be as—ironically—an introduction for a new listener like me?
Well actually, quite good. The instrumentation is just the type of folk-rock I enjoy: shuffling acoustic guitars, plaintive vocals, fat bass, and some excellently melodic electric guitar and pedal steel work. The album starts off with "Guitarkansas," an instrumental track that nonetheless is the perfect way to begin, with some fantastic pedal steel and just the right amount of harmonica combining to create the sense that you're driving through the plains on a warm summer's day. Next up is "Dear Lover," a prime slice of piano-based pop with just a tiny bit of twang, featuring a catchy melody and sincere lyrics. "Ex's and Oh's" sounds a lot like Rocky Votolato (in a good way), with some surprisingly effective mariachi horns in the background, and "Too Many of a Good Thing" brings the piano back to the forefront and joins it to a driving beat, though the melody is a bit pedestrian compared to the strength of the previous tracks.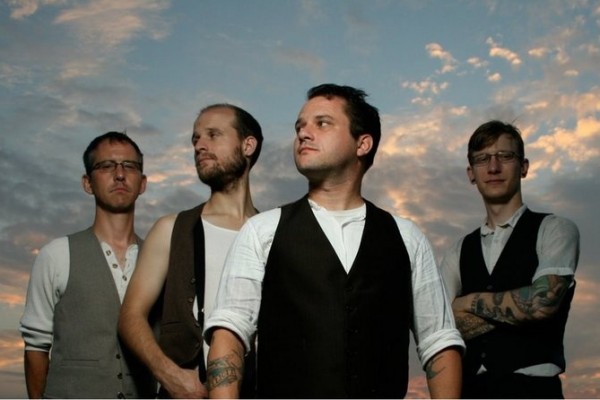 "Stand Here and Bleed" strips things down to just guitar and harmonica, and shows that singer/guitarist/songwriter Matt Pryor's chops are strong enough to stand on their own, despite the track's short length. Pryor's wry sense of humor comes through on "Whatever You Say," and "A Mile in Your Shoes" brings back the deep bass/chiming guitar combo in a more downbeat, mellow setting, which works just as well as it does on the sunnier songs. One of the most unique tracks here is "Heaven Sent," with it's trebly piano and interesting chord changes making for one of the most poppy—but at the same time most memorable—tunes on the album. I noticed early on how much Pryor's voice sounds like Mae's Dave Elkins, but "Heaven Sent" further cements that comparison.
"The Ballad of Mike and Beth" is another folky mid-tempo number, and while the melody and chord progressions aren't particularly original, the "dreamy" sounding guitars and vocal harmonies make it a satisfying experience. "Your Look Gave You Away" continues in a similar but more upbeat vein, contrasting nicely with the experimental "Old Enough to Know Bitter," a piano-based track with a Beatlesque flair, which is continued a couple tracks later on the slightly more straightforward "Suit Sacrifice." Ending the album is "The Connoiseur," a gentle guitar and piano ballad that places the emphasis on Pryor's vocals to good effect.
Even though Outroduction is a swan song of sorts, it's a great place to check out The New Amsterdams' brand of folky indie rock. While the band may be no more (though Pryor is apparently going solo), these are songs worth hearing, and the fact that these are leftovers only makes them that much more impressive.
Key Tracks: "Guitarkansas", "Dear Lover", "Old Enough to Know Bitter"
Artists With Similar Fire: Rocky Votolato / Mae / Ryan Adams
The New Amsterdams Facebook
-Reviewed by Simon Workman
Latest posts by Simon Workman
(see all)