Casey Black


Lay You In The Loam
CatBeach Music [2013]



Fire Note Says: Casey Black crafts a deep album that tightens its grip with each listen.
Album Review: Casey Black's fourth LP Lay You In The Loam faced an uphill battle with me. Black has a baritone voice that is distinct and either one you love or hate – I found myself both hating and loving his voice. In fact I heard a lot of Johnny Cash in the almost spoken tone that many of the songs of Lay You In The Loam use. Steel guitar and a rootsy feel also evoked an alt-country sensibility to this album. Then there's a storytelling tendency that had a Spingsteenian feel to them. This is not the music to which I naturally gravitate.
While I can't say that I am in love with this album I sure as hell appreciate it. Black sings with an emotional intensity that would shame anything on top 40 radio right now. "The Idiot" exemplifies this quality to a tee. While it does have some of the queasy spokenness to it that I don't dig, when Black gets to belting out the chorus he is tenacious. The vocal hook in the song also stings with bile and bitterness – "I love you is the same as saying I pity you." That's a great line for the disillusioned set.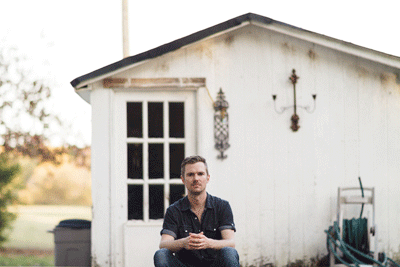 Album opener "Fire Fire Fire Fire" has a similar grower quality. The song opens with Black's baritone – you know what you're in store for right from the jump. The buildup is a slow tidal wave that cannot be escaped. While the payoff doesn't quite hit all the right notes it does satisfy nonetheless. "Dig" changes the pattern with female backing vocals that serves to soften Black's big voice. Black describes the album as one of rebirth and growth; thus this track serves as the climax of Lay You In The Loam.
Much like Daughn Gibson's latest album, some may find it difficult to engage with Casey Black's distinct voice. Initially this was the case for me but after 2-3 more listens the album wrapped its tentacles around me and I didn't fight the sensation. Give this album a chance and you could notice its warm embrace as well. Black's album is an alt-country gem with indie rock elements that work very well as a whole.
Key Tracks: "Fire Fire Fire Fire", "The Idiot", "Dig"
Artists With Similar Fire: Steve Earle / Johnny Cash / Bruce Springsteen
Casey Black Website
Casey Black Facebook
CatBeach Music
-Reviewed by Matthew Heiner
Latest posts by Matthew Heiner
(see all)