Eddie Spaghetti


The Value Of Nothing
Bloodshot Records [2013]



Fire Note Says: The Value of Nothing is the perfect mix of punk attitude and outlaw spirit!
Album Review: What do you get when you mix garage punk, rockabilly, and the hell raising side of country music? The answer is Eddie Spaghetti's new album, The Value of Nothing. The lead singer of The Supersuckers sounds as good as he ever has on his new solo record, which incidentally is his first of all original material. The story goes that Spaghetti had hired Jesse Dayton (Willie Nelson, Johnny Cash, Waylon Jennings) in the hopes of making an authentic country sounding record. It turns out, Dayton had other plans, he was looking to make a big rock record, so what they ended up with, is a healthy dose of both. It's not a rock record, it's not a country record, and it sure as hell isn't an alt country record. What we have here is one helluva beer drinking party record!
Album opener "The Value of Nothing" is cow punk stomper, that showcases Spaghetti's unique worldview and sense of humor. When he sings "You know the price of everything don't you honey, you know the value of nothing", it's a classic kiss off moment. "If Anyone's Got the Balls" besides being the best song on the record, also reminded me instantly of the Stevie Nicks classic "If Anyone Falls", that share the same melody in the chorus. This is probably the catchiest song about balls since AC/DC's "Big Balls", only where that was a witty double entendre, Spaghetti makes no bones about showing his testicular fortitude. "Waste of Time" is another hellraiser that conjures up the best of Bobby Bare Jr. There isn't much better than an unapologetic song about being apathetic and only wanting to have a little fun, all the while having a sense of humor about it. "Fucking with My Head" is straight up punk rock with attitude, raise your fist in the air and bang your head along to this one! "People are Shit" pretty much sums up how Spaghetti feels about humanity, it's more fun than it sounds though. He makes the line "people are shit and life is pain" actually sound like a mission statement for how to live your life. What sounds completely negative almost comes off as life affirming the way he sings it.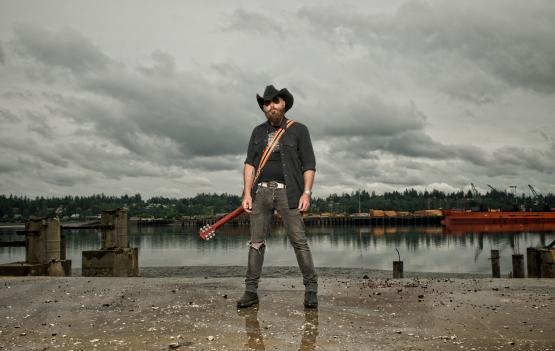 "I like getting lucky, cause getting good's too hard" from "Waste of Time" pretty much says it all about the spirit of the record. Here's the thing though, with The Value of Nothing, Spaghetti is both lucky and good, and that's a winning combination for us listeners! Grab a cold one and turn this one up, because it's the perfect mix of punk attitude and outlaw spirit that is just right for this time of year!
Key Tracks: "Waste of Time", "The Value of Nothing", "Fucking With My Head"
Artists With Similar Fire: The Supersuckers / Bobby Bare Jr. / Waylon Jennings
Eddie Spaghetti Website
Eddie Spaghetti Facebook
Bloodshot Records
-Reviewed by Kevin Poindexter
Latest posts by Kevin Poindexter
(see all)