Cian Nugent And The Cosmos


Hire Purchase 7″
Matador Records [2013]


Cian Nugent is a guitar player and composer from Dublin, Ireland who has a multitude of influences. His music boasts an orchestrated and fully instrumented sound that is smooth, playful and even eerie at times. Over the last several years Nugent has toured with people such as Jack Rose, Glenn Jones and James Blackshaw throughout Europe and the United States and has a debut studio album, Doubles, which was released in 2011 on VHF Records.
Side A on this 7-inch features "Hire Purchase (Part I)" that has a very sophisticated groove to it that also has a little bit of jam band/western flavor as Nugent flawlessly strokes his guitar. It is an instrumental song that is easy to get into and sounds as peaceful as the 7-inch jacket cover. The B-side is a continuation of the track with "Hire Purchase (Part II)" that keeps the same vibe going and is a little more spaced out as it also slowly concludes with Nugent hitting some very strong notes before fading off into the sunset.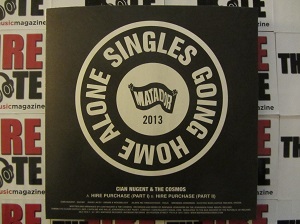 The 7-inch comes in a full artwork cardboard jacket and plays at 45 RPM. The vinyl is a transparent green wax and is limited to 750 copies. This 7-inch is part of the 2013 Singles Going Home subscription series from Matador and is still available through their website. I thought that Nugent was a very bold artist selection from Matador for this series and it represents the exact reason you should sign up. Nugent is a talented artist that we would have probably missed if not for this release!
Cian Nugent Website
Cian Nugent Facebook
Matador Records
-Feature by Christopher Anthony
Latest posts by Christopher Anthony
(see all)