The Thermals


Desperate Ground
Saddle Creek Records [2013]



Fire Note Says: Six albums in, The Thermals continue to do no wrong.
Album Review: The new album by Portland post-pop-punk trio The Thermals begins with the following salvo: "I was born to kill/Made to slay, unafraid to spill/Blood on the land, when you command/I will." With that, any questions about the band going soft after 2010's more-polished Personal Life are quickly dispelled. Now don't get me wrong, I loved the musical growth and cleaner sound of that record. It was, however, not well-received by Thermals faithful who will forever long for another The Body, The Blood, The Machine. That record casts a gigantic shadow over everything done since by Hutch Harris, Kathy Foster and (drumming on his second Thermals album) Westin Glass. They can change labels (from Sub Pop to Kill Rock Stars and now Saddle Creek) or producers (from Brendan Canty to Chris Walla and, on this one, John Congleton) but they can never live down the impact of their 2006 masterpiece. And to be fair, they haven't really tried – until now.
Desperate Ground not only harkens back to the streamlined sound of earlier Thermals records (think 2004 sophomore record, Fuckin A) but also a central unifying theme is employed. The Body dealt the religious Right in America; Desperate Ground tells the story of a soldier sick of violence and his reaction to it. In the wake of wars in Iraq and Afghanistan it feels particularly timely, if not exactly original. But this doesn't dampen the joy as great punk rock never needed to be original – just sincere in documenting life's injustices. So what if the press release's summary that the album "tells the (murky) tale of a lone rogue in the night. One man, one path, one sword. An unceasing urge to destroy. A never-ending battle against the forces of nature. A destiny impossible to avoid" sounds like some pretty well-worn territory. The ten songs that fly by in under a half hour are all classic "three chords and a cloud of dust" Thermals. And they are all good.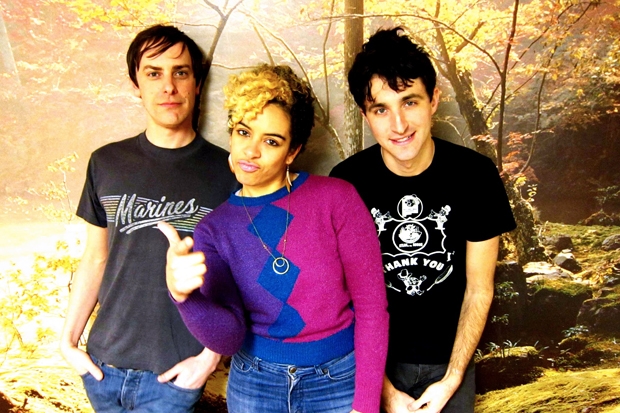 For all the bluster, especially in side one tracks such as "Born To Kill" and "The Sword By My Side," the real concern involved here reveals itself during the record's more emotional second half. From the penultimate song, "Where I Stand" comes this: "I will love you when I can/Until they kill me where I stand." And in the closer, "Our Love Survives" Harris explains: "Our love is true/It's why we fight." The Thermals have always excelled at taking big issues and making them feel local. This working on both sides of the brain thing also applies to their overall aesthetic – hooks as big as Green Day cloaked in a lo-fi blanket, a singer who is more John Darnielle than Guy Picciotto, the punk band spawned by a Pacific Northwest coffee house folk duo. The Thermals always have something interesting to say. Though by reaching backwards in their catalog they have also lost some of the colors in their paint box. And going back through that discography in anticipation of this record reminded me of how great a run they've been on for the better part of a decade. Desperate Ground, though certainly not their best work, is another fine entry in the canon of one of the most underappreciated bands in America. Maybe it's time they get their due.
Key Tracks: "Born To Kill", "The Sunset", "Our Love Survives"
Artists With Similar Fire: Titus Andronicus / Superchunk / The Mountain Goats
The Thermals Website
The Thermals Facebook
Saddle Creek Records
-Reviewed by Scot Lade
Latest posts by Scot Lade
(see all)