Fol Chen


The False Alarms
Asthmatic Kitty Records [2013]



Fire Note Says: The False Alarms has a detached coolness to it that sounds beamed in from another planet.
Album Review: Fol Chen is a synth pop band, formerly cloaked in secrecy, but now with the addition of vocalist Sinosa Loa, the band has a face to go with the name. Julian Wass and Samuel Bing, the producers behind Fol Chen, produce icy sonic soundscapes that alternate between being coolly detached and extremely angular and experimental. The addition of Loa on vocals is important because it gives these soundscapes a much needed dose of humanity. Much like a group such as The Knife, this isn't feel good dance music. While the music can be uptempo at times, it is often distant and soulless.
At its best, The False Alarms is clever dance pop. The title track gave me the same feeling of wonder that I got the first time I heard Kid A. It sounds like it was beamed in from another planet, a caught radio transmission that I wasn't meant to hear, or the soundtrack to some cool European party that I wasn't invited to. It's great track, but the momentum is lost just as often as it is found on the rest of the record. "I.O.U." is a fascinating listen, its trippy beats and washed out vocals go well together, but by the time of "Tourist Town" I find myself getting a little weary of the sound. The album stays stuck in the same rut until "Boys in the Woods", which immediately perked my ears up. It features a very minimal and quirky arrangement, and has a cool "distant" vocal.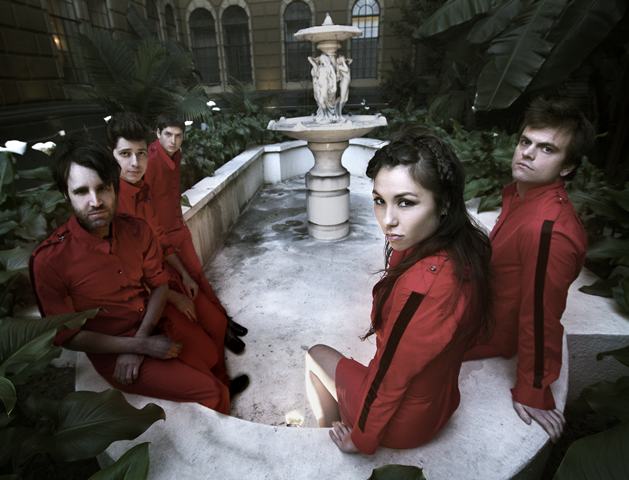 Overall the record, although it has some real high points, feels like it is keeping me at arm's length, almost like the band doesn't want to pull the listener in. It gets really close a few times, but then it pulls away. It's proved to be very elusive record to me and one that I have a hard time getting into. The record itself sounds impressive, particularly closing track, "The Place is on TV" which is a haunting 6:02 piece. The tracks I like, I rank very highly, I just don't feel like there are enough of them for me to whole heartedly recommend this record. It's half really good, and half not so good.
Key Tracks: "The Place is on TV", "The False Alarms", 'Boys in the Woods"
Artists With Similar Fire: The Knife / Fever Ray / Björk
Fol Chen Website
Fol Chen Facebook
Asthmatic Kitty Records
-Reviewed by Kevin Poindexter
Latest posts by Kevin Poindexter
(see all)