Popstrangers


Antipodes
Carpark Records [2013]



Fire Note Says: Popstrangers Antipodes is an unconventional album that gives back if you're willing to put in the time.
Album Review: Who knew that of all places, New Zealand could surprise and give us more talent? They've brought us Ruban Nielson, Unknown Mortal Orchestra's front man, and now they give us a trio of unconventional music makers Popstrangers. Formed in 2009 Joel Flyger, Adam Page, and David Larson literally bring us the sound of New Zealand's underground on their album debut via Carpark Records. Antipodes was recorded in the basement of a 1930's dance hall and its an album of strange shifts, steely dissonance, quirky chord voicing's, large noise waves, and some of the most claustrophobic melodies recorded. It's an album that takes time, but with more listens there is appreciation to be found.
"Jane" opens with its classic organ warble, a gentle bouncing bass, and thrown over top is a stress inducing riff that pleads into the unknown. It brings the feeling of climbing a rollercoaster and as you get to the top all hell breaks loose. Popstrangers shows you what they are all about by plunging you into a noise enveloped, frenzy haze as Flyger's shadowy vocals battle with the swell. "In Some Ways" might be my favorite track on the whole record. It takes some of the most off kilter, melted, dissonant chords at the beginning and turns them into quite the melody that last the entire song. The bass bouncing back and forth and the sinister slink guitar riff adds even more to the moody vocals by Flyger. "What Else Could They Do" starts out constructing a steely guitar wash then continues to something a bit more standard. It's a little past that half way mark where an interesting breakdown is grinded out and develops into a very catchy moment. "Full Fat" brings with it an almost broken harpsichord mimic effect that then turns into typical guitar. It was just a neat beginning that really caught my ear.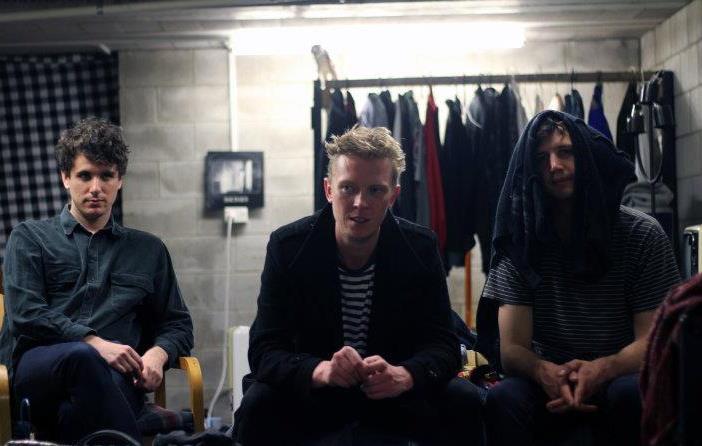 It seems as the album winds down a bit of the creativity does too. What seemed to make the album so brilliant in the beginning shows its self less and less as the album progresses. All is not forgotten though as one stand out "Roy Brown" creates a light hearted spacey guitar vibe that I can associate with the stylings of Incubus' Mike Einziger. The dreary drone of "Occasion" brings the album to a fitting close as vocals and guitar float off into the ether.
Popstrangers debut Antipodes creates some of the most interesting melodies I've heard in quite some time. It may lose a bit of the magic as it nears the end, but don't let that deter you. Even the most curious of ears should give this a listen as it my leave some wanting more. If you put enough time into this album there is defiantly something here to appreciate and I cannot wait to see what blend of bitter sweet garage, punk, and noise Popstrangers comes up with next.
Key Tracks: "In Some Ways", "Cat's Eyes", "Roy Brown"
Artists With Similar Fire: Radiohead / The Chills / Street Chant
Popstrangers Website
Popstrangers Facebook
Carpark Records
-Reviewed by Christopher Tahy
Latest posts by Christopher Tahy
(see all)