Interpol


Turn On The Bright Lights (Tenth Anniversary Edition)
Matador Records [2012]



Fire Note Says: Turn On The Bright Lights at 10 sounds even more fresh and innovative today!
Album Review: I can't believe that 10 years has already passed since Interpol released Turn On The Bright Lights. Some may say that it is too early to celebrate its greatness but this packaging by Matador will convince you otherwise. Turn On The Bright Lights is now fully remastered with a deluxe hardbound book that contains unreleased photos and a second disc of bonus tracks. The set also includes a DVD that includes all three music videos and live footage from a 2000 Mercury Lounge performance and a 2002 show at the Troubadour.
This anniversary edition is all about the extras and how they showcase the development of a spectacular record. At this point it should be understood that regardless of the new remastering here the original album extremely shines no matter how you spin it; either through a private sitting with headphones or cranking up the volume past 10. With that said you get 17 bonus tracks here on the Tenth Anniversary Edition that includes one previously unreleased song, four previously unreleased demos, eight B-sides and pre-album EP tracks, and lastly four peel session tracks. The bonus demos really pulled me into the record deeper because they show a true progression into the final product. "PDA (First Demo)" is a prime example as it just comes off OK and has no glow to it. From the lack of kick in the opening drums to singer Paul Banks sounding somewhat flat during the chorus the album stand out track never reaches a peak level. It just shows listeners why there is a process in making a record and how little tweaks can make or break you. When you get to the "NYC (Third Demo)" you start to hear where the band is going and know they guided it in for a perfect finish.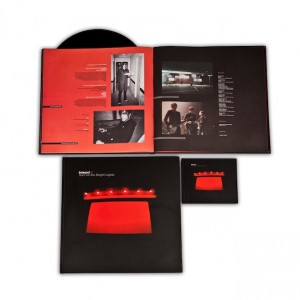 The final question to answer here with the Tenth Anniversary Edition of Turn On The Bright Lights is should you pick this up if you already own the original release? For Interpol fans I think it will be an enjoyable addition to your collection. The book, the demos, the early DVD footage is all worth the price of admission. For casual fans it may be a bit much but if you don't have the album or are new to Interpol because you were 10 years old when this record was released – I say go for it! Turn On The Bright Lights continues to excite me when I play this album and it has aged well. I honestly can't ever foresee diminishing returns as this record ages and predict I will feel the same in 2027 when Turn On The Bright Lights turns 25!
Key Tracks: " Gavilan (Cubed) (Third Demo)", "PDA", "Obstacle 2 (Peel Session)"
Artists With Similar Fire: Echo & The Bunnymen / Joy Division / Psychedelic Furs
Interpol Website
Interpol Facebook
Matador Records
-Reviewed by Christopher Anthony
Latest posts by Christopher Anthony
(see all)