Black Marble


A Different Arrangement
Hardly Art Records [2012]



Fire Note Says: For those who want (slightly) more 'joy' in their Joy Division.
Album Review: Influences can be a tricky thing, especially if you wear them on your sleeve as plainly as Brooklyn duo Black Marble does. Chris Stewart and Ty Kube's debut LP A Different Arrangement takes the post-punk sound of Ian Curtis and Company and runs with it, content to use the insular, claustrophobic sound of that Manchester quartet as a blueprint for their own. This might be a problem if you're one of those constantly searching for totally unique sounds, but Black Marble's songs can stand on their own merits—if you can overlook the obvious nods to the past.
And Joy Division is truly more than an "influence" here—this band wouldn't exist without them. The icy synths, stabbing guitars, robotic drums, and baritone vocals obscured by layers of hazy reverb all owe a debt to the late 70s post-punk scene for which Joy Division became the torch-bearers. Tracks like opener "Cruel Summer," with its steady, echo-drenched electric drums, discordant guitar, and obliquely somber lines ("Draw the windows / Draw the windows"), or "Pretender," with its repetitive up-and-down synths providing a rhythmic base for Stewart's sluggish vocals—which sit somewhere in between Ian Curtis and The National's Matt Berninger—feel like they could have been Unknown Pleasures outtakes. But it's the songs that meld this influence with others that are the most interesting, and keep the album from becoming a collection of clichés.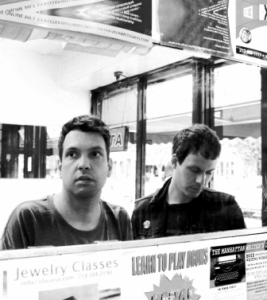 Following "Cruel Summer" is "MSQ No-Extra," which opens with a "tick-tock" drum pattern, melding "ghost-like" synths with steady Peter Hook-esque bass lines. The sound itself hints that the band isn't completely wedded to a single sound, a realization that is quickly backed up by the melody, which is primarily in a (gasp!) major key. The band is also noticeably more synth-heavy than Joy Division, almost as if Ian Curtis had somehow been resurrected to lead New Order. Tracks like "Limitations" and "UK" are just as indebted to new wave and synth-pop acts like Depeche Mode and Orchestral Manoeuvres in the Dark as they are post-punk; the latter, which sounds the most like an actual band is playing it, even incorporates some of the trademark "soaring" melodies of early 80s U2 tracks like "Gloria" and "New Year's Day."
Other tracks make use of even more disparate sources of inspiration, like the vaguely "surfy" guitar breaks on "Static" or the chugging, train-like electronics that open penultimate track "Safe Minds." But the biggest surprise comes with the aptly titled closer "Unrelated," an instrumental that begins with artificially created "natural" noises reminiscent of Brian Eno's Ambient 4: On Land, which then drift into a minor key melody that could almost be called "space rock." Guitars, keyboards, and electronic blips blend together under waves of echo, flanger, and distortion. It's the track that makes you wonder what the band will do next, and reinforces the fact that when they want to, Black Marble can step out of their forerunner's shadow.
Key Tracks: "MSQ No-Extra", "UK", "Unrelated"
Artists with Similar Fire: Joy Division / New Order / The National
Black Marble Website
Black Marble Facebook
Hardly Art Records
-Reviewed by Simon Workman
Latest posts by Simon Workman
(see all)