Midway In Wake


We Will Remain Sedate
Lowatt Records [2012]



Fire Note Says: Midway In Wake take you on a well crafted Bedroom Pop journey.
Album Review: We Will Remain Sedate is the debut album from El Paso's Midway in Wake.  Greg Reynaud is the creative force of the band, writing, recording, and playing all instruments on the debut lp, out of necessity rather than a desire to record on his own. Reynaud now resides in South Korea, and finding like minded musicians to work with would seem to be a bit of a challenge!
One of the main strengths of the record is that it doesn't sound like a one man band. Reynaud is able to handle himself quite well on multiple instruments, and it is indeed complex stuff. He is weaving multiple melody lines on guitar and keyboards into a giant tapestry of sound. His bass and drumming also add lovely accents to the mix.  "They Couldn't Fill a Book" is a nice example of this. As his guitar is strumming away, he adds an acoustic lead guitar line, and then brings a keyboard in to add even more fills.  "Requiem For The Masses" is the most impressive song on the record from both a sonic standpoint, and a lyrical one as well. Reynaud is clearly hoping for the reawaking of a society that has grown complacent, and this song, on one hand is signaling the death of that society, yet on the other hand is hoping that a change can indeed take place.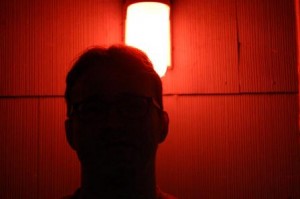 I should also add that the album is sequenced really well too. It has peaks and valleys, faster and slower songs all mixed together in such a way that makes the album very easy to listen to. Couple that with the fact that he has a pleasant voice and writes nice hooks, and you have an album that rewards repeated listening. Here's hoping Reynaud can put a touring version of Midway in Wake together and play some live shows soon!
Key Tracks: "Requiem For The Masses", "Urban Vermin", "They Couldn't Fill a Book"
Artists With Similar Fire: Elliott Smith / Portastatic / M. Ward
Midway In Wake Website
Midway In Wake Facebook
Lowatt Records
-Reviewed by Kevin Poindexter
Latest posts by Kevin Poindexter
(see all)