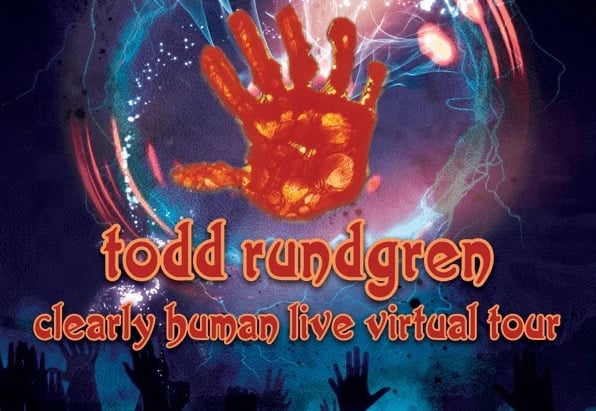 Todd Rundgren: Clearly Human Live Virtual Tour; Cleveland, OH (via Chicago, IL) – Monday, February 22, 2021
Anyone who's paid attention to the technology of live concert touring, would not be surprised to learn that long-time early adapter, rocker, and producer Todd Rundgren would be one of the first people to reimagine live music experiences for the social and physical distancing required in the age of the COVID pandemic. No doubt, hard core music fans have relied on their libraries of concert DVDs to help manage their jones for live music experiences in these hard, mean times, and numerous acts have started doing intimate Facebook live streamed concert sessions, with the hope that fans will also visit their virtual tip jars. A few have offered pay-per-view concert experiences, an idea that Rundgren has taken to the next level; as using technology to enhance his human connections with his fans has long been his M.O.

So, the 25 date "tour" broadcasts from a theater in Chicago, where there are 19 in-person socially distant tickets available per show, with their seats sprinkled in-between monitors from fans who paid extra to Zoom into the event so that Todd and the band could see and interact with them, while each night the concert is targeted to a specific metro area market. The night we watched the focus was on Cleveland, so when Todd said "Hello, Cleveland" early in the show it wasn't a Spinal Tap or old-timerz moment. But, truth be told, anybody from anywhere can buy the $35 ticket to any show on the schedule, with as many folk sharing the experience as they care to squeeze into their living rooms.

So, Monday night, the 6th show of the tour, we hunkered down, and I bought the access to the live feed on my iPhone, which airdropped the signal to our TV and entertainment center, and right from the start the internet connection felt a bit iffy, enough to make someone not entirely comfortable with the "miraculous" nature of digital wi-fi connections a tad bit anxious, as the show got started a few minutes late due to unknown issues… and when once it burst on, the band was already a minute into the opening number, "Real Man" before all the connections were made and we could hear and see Todd and his great back up band on our TV screen.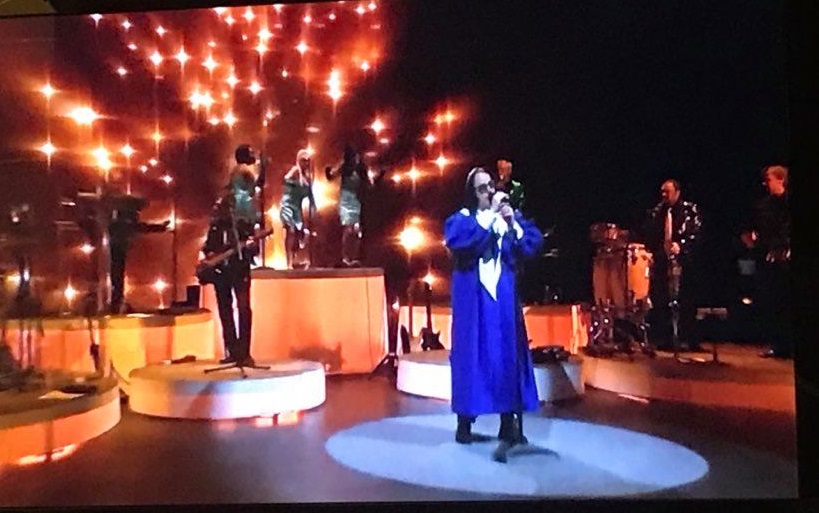 And once we had a secure connection it was indeed wonderful to see a live music concert after all these months of deprivation. After the first number, Rundgren served up another of his hits, "Love for the Common Man," which displayed the talents of his very capable backing musicians, many familiar from recent tours, and bassist Kasim Sultan going all the way back to Rundgren's early days with the band Utopia. Drummer Prairie Prince has been with Rundgren dating back to his early days with The Tubes, he also played with Todd briefly in The New Cars and has toured with Todd these last couple of decades. These long-time Rundgren veterans had been joined more recently by guitarist Bruce McDaniel, two keyboard and synth players, Eliot Lewis and Gil Assayas, Bobby Strickland on sax and flute, Steven Stanley on trumpet, trombone and percussion, and a trio of female background singers led by Todd's wife Michelle Rundgren, with Mia Jones and Grace Yoo. Together, these fine players gave Rundgren just the kind of big band he'd need to perform the R&B flavored music from his 12th solo album, the 1989 release, "Nearly Human," which found the singer songwriter paying tribute to his "Philadelphia sound" roots.

But before he turned his attention to the album that gave the tour it's name, Rundgren strapped on an electric guitar for a Utopia number that leans toward R&B, "Secret Society," where he revealed his stellar soloing skills after asking the crowd, "Do you remember fun? Let's do something fun." And then, gave a soulful R&B rendition of "Something to Fall Back On," a song originally performed without instruments for his 1985 album, "A Cappela." But the show's set up, from the staging to the glittery suits on all the players, was that R&B era, so when the modest live crowd responded with vigorous applause, Rundgren thanked them for their enthusiasm and said he'd reward them with "something depressing," which led into "Parallel Lines," which acknowledges that "some things never come together."

Now, up until this point, the technology had been working great. Rundgren has always tried to deliver a visually entertaining show, so the stage had creative lights, and plenty of great camera angles, so you really felt like you were able to follow the action, and the signal, the picture and sound were pretty amazing once we got over the hurdle of the challenging sign-on issues. Rundgren strapped on his green strat to play guitar on another song from "Nearly Human," "Unloved Children," as song Rundgren said he'd written for the 1988 Olympics, but the committee hadn't used it. It was a big rocker, and Rundgren's guitar playing was fabulous, with a booming baritone sax solo by Strickland at the song's end. But a couple times during that song, the sound cut out entirely for a few seconds, an issue I hoped would repeat itself but it did it again in the next song, a sign of things to come.

Again, responding to the applause, Rundgren joked with the crowd, saying he recognized some of the folk Zooming in to be seen, including a guy in a Cincinnati sweatshirt, so not everyone was from Cleveland. Then referring to his strat, he said, and since "this big green ass" is out here, "we're here to rock," launching into the opening licks of another Utopia hit, "Love In Action," which included a big false stop, of course right after the repeated line, "you can't stop!" After a brief silence, Todd conversationally added, "at least that's what I believe, but apparently you can stop, because we just did," before the song's big ending.

Sending in his guitar off for the duration of the show, Todd turned hard toward the show's intended R&B focus, this time offering up "Compassion," from his 1981 album, "Healing," suggesting another focus of this tour, the human need to support one another with grace and kindness in this era of pandemic fear and fervor. "Can't Stop Running," from "Nearly Human," was next, a rocker that required guitarist McDaniel to do the heavy lifting, and he rose to the occasion masterfully. That set Rundgren free to focus on his lead vocal chops, showcasing the early influences of vocalists like Stevie Wonder and Eddie Levert of the O'Jays, progenitors of that Philadelphia sound that so moved folk like Rundgren and fellow city of brotherly love mates, Hall & Oates, who Rundgren also produced. But yes, again here and on the next track, "The Waiting Game," more of those annoying sound glitches.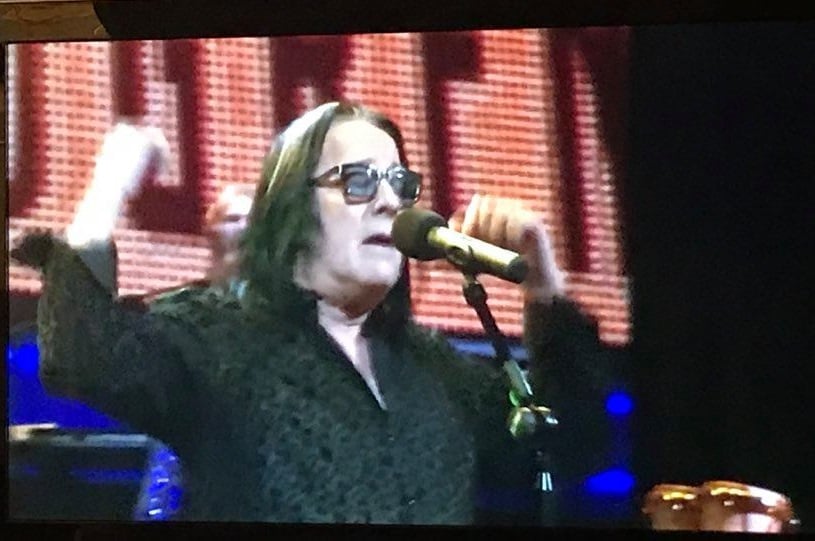 Introducing, "The Smell of Money," Rundgren described writing this for a Broadway musical, and while it allowed him to show off his full vocal range in an over-dramatic delivery quite suitable for the musical theatre, the band surrounded him with lush synth orchestra strings and Strickland playing the flute. Similarly, "God Said," offers Rundgren a chance to take on self-righteous religious impulses, with the clear directive to "get over yourself," performed with a cool jazzy vibe. Then, announcing that there's not enough "Booty shaking funk music," in the world, Rundgren offered his own answer to that, "Love Science," which featured Strickland again, this time on alto sax, and like "The Smell of Money," came from the 1991 album, "2nd Wind."

One striking thing about this style of performing, with Rundgren not playing guitar throughout, is that the music consistently focused on his singing ability, and for 72 the guy is in fabulous voice. In "Feel It," the sophisticated R&B feel that drew out the consistently strong harmonies from the trio of female background singers, along with the male voices of his band, while the lyric reinforced the idea of embracing reality. The next song, "Sweet" from the 2004 album "Liars," had a similar message, because "the truth is sweet." What wasn't sweet was the return of the sound glitches, and they were getting worse, not better… to be honest a tad bit exasperating.

Next up was "Change Myself," again from "2nd Wind," about the desire to change the world and recognizing that it starts with learning to love one's self. Again there was a glitch or two, but then as Rundgren started the biggest song of the night, his hit "Can We Still Be Friends," the connection dropped out entirely, leaving those in his internet audience with a "Thanks for Watching" message. But not giving up entirely, in a couple minutes the signal reappeared, so I scrambled to send the signal again from my phone to the TV, and when everything returned so I could see the rest or the set, they were playing the slower song, "Lost Horizon." Then, acting like nothing had changed – which it likely hadn't at their end of the transmission – Rundgren leaped into another big rocker from Utopia, "Rock Love," which featured a keyboard solo from Eliot Lewis which segued nicely into a smoking guitar solo by McDaniel, with Rundgren running around the stage, jumping and screaming as he led them into a big, intense synced ending.

For the penultimate song of the concert proper, the floor of the stage fill with dry ice fog, as Rundgren sang the dramatic "Hawking," a song no doubt inspired by the scientist, asking us to have pity on each other, and the world that sustains us. Then to close out the set, the opening track of "Nearly Human," the disc's only airplay hit, "For the Want of a Nail," a big R&B rave up driven by fun piano playing, with the singer pacing the stage and closing with a long vocal scream.

For what it's worth, a real wait followed the band leaving the stage, while the small in house audience and Zoomers all applauded, until they returned for the expected encores, once Rundgren had introduced the players in his band. One of Rundgren's biggest radio singles, "Hello, It's Me" followed, as Rundgren invited all his fans tuning in to sing along. And then donning a blue church choir's robe, launched into the final track of the "Nearly Human" album, "I Love My Life," with Rundgren taking the role of the rockin' Pentecostal preacher declaring the promise of happiness and peace, telling the crowd to "reach out and you will feel it.

So as experiments go, this virtual concert experience was a lot of fun, it was great to hear live music, see a band putting on a world class rock & roll show, and as a long-time fan of Rundgren I can confirm that he was in fit, fine form, and his voice sounded as strong as ever, which was just great. The advance word on the technology end of this challenging venture was that the first night of the "tour," the show sent off to Buffalo," came pretty much without a hitch. But the chat from other folk who were watching the show I saw were just as frustrated as I was by all the glitchy moments and massive frustration of the thing failing entirely as he was beginning one of his most memorable songs. Aauuggghhh… I mean, as someone said in the chat, we paid good money for this. But then again, it was only $35 and there were 3 of us watching, which is a pretty cheap concert ticket… and in a few weeks, I may just want to watch again and hope that they've worked out all the technical kinks, because it's going to be a while yet, before we're back at live in-person concerts.

-Brian Q. Newcomb

Latest posts by Brian Q. Newcomb
(see all)