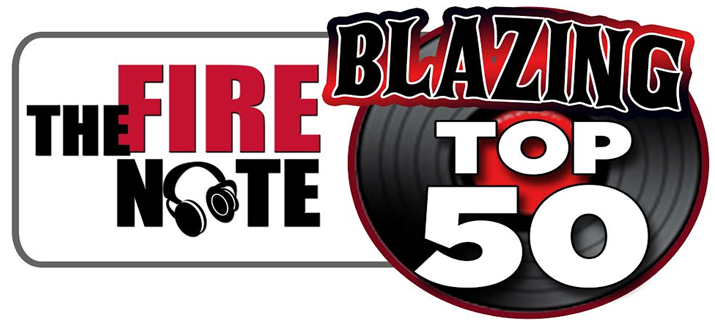 #50
Steve Gunn


The Unseen In Between
Matador Records [2019]
Steve Gunn is a well-known industry talent that really took a step forward in 2016 with his Matador Records debut Eyes On The Lines. Now on his sophomore album for Matador, Gunn evolves his sound even farther as the production was seamless and he delivered multiple disciplines that ranged from psych to folk to even some blues. The Unseen In Between is an album to absorb and understand. It rewards with each listen and you will pick up different pieces on each spin.
Steve Gunn: The Unseen In Between [Fire Note Review 1/24/19]
#49
Redd Kross


Beyond The Door
Merge Records [2019]
Arriving in the 80's along-side Material Issue, Jellyfish, and a host of bands influenced by the hooky melodicism and raw punk energy of Cheap Trick, Redd Kross played their first gig as teenagers opening for no less than the iconic Black Flag. They returned in their 40th year with Beyond The Door which is a potent of a party album as you are hoping for. Built on familiar guitar hooks, this album has plenty of fun lyrics, punk aggression and energy. It's all golden and no filler from start to finish.
Redd Kross: Beyond The Door [Fire Note Review 8/22/19]
#48
Bad Religion


Age Of Unreason
Epitaph Records [2019]
If there ever was a political environment for punk veterans Bad Religion to storm back – 2019 was it for sure. Political lyrics were a given and musically, Age Of Unreason delivered the expected melodic punk anthems that Bad Religion are known for while also giving some diversity. What takes this record up a notch is Greg Graffin's passionate and controlled vocal assault that sounds refueled and ready to rally. It is always a good thing when a veteran band steps up – here is hoping the new generation takes notice!
Bad Religion: Age Of Unreason [Fire Note Review 6/11/19]
#47
Gary Clark Jr.


This Land
Warner Records [2019]
Gary Clark Jr.'s third record, This Land, is full of raw and fiery guitar theatrics as he delivers the goods. Clark clearly wants to be seen and heard as a songwriter and refuses to limit himself to any one musical style here for very long. It's impressive that he's able to pull off so many different sounds over the course of an album. This Land makes a strong case for Clark as the results are artful, engaging, and pleasantly surprising if you've thought he was only going to play the blues.
Gary Clark Jr.: This Land [Fire Note Review 2/22/19]
#46
The Scaners


II
Dirty Water Records [2019]
The Scaners returned quickly with album number II after their debut came out just last year. The band does not do much to shake up their style on these new 12 tracks with their slice of punk rock which sometimes reminds me of the Lookout! Records days. The band plays quick, tight and sharp which is why II is an addictive listen along with call outs that typically repeat the title of the song. At the end of the day, The Scaners rock this record out and it is the perfect pick up if you are looking for something new and in this genre.
The Scaners: II [Fire Note Review 4/1/19]
#45
Kevin Morby


Oh My God
Dead Oceans [2019]
The title of Kevin Morby's fifth record lets you in on the spiritual concept of the album right up front. The gospel choruses that pop up throughout the record can transcend you to other places but Morby the storyteller takes over track after track and his drawn out, sometimes haunting, mood driven vocals grab you. Morby never works in a contained genre as he is driven by the inspiration of his surroundings. Oh My God is better because of it with its jazzy and intricate flow that can quickly turn into a two-minute rocker.
Kevin Morby: Oh My God [Fire Note Review 5/7/19]
#44
Black Pumas


Black Pumas
ATO Records [2019]
Austin's Black Pumas were another bright spot on the retro-soul scene in 2019 as the duo of Adrian Quesada and Eric Burton offer up ten passionate tracks on their self-titled debut. It only takes the first two songs into the record to realize the groups talents. The harmonizing on the choruses especially pulls out the groups nod to classic Motown. The duo clearly is a group to watch because there are moments here that the soul scorches out of your speakers and gives you plenty of reasons to come back for another listen.
Black Pumas: Black Pumas [Fire Note Review 9/9/19]
#43
Truth Club


Not An Exit
Tiny Engines [2019]
Truth Club sound completely inspired on their debut record Not An Exit with songs that build and brood. Truth Club do it over and over as you get the soft powerful vocals up front that transcend into a very crunchy guitar filled buzz frenzy with turn on a dime transitions. Truth Club use the different musical tweaks to their advantage during each song as they quickly turn up the amps and utilize synths as exchange points. They are a band that has plenty of room to grow and should only trend upwards from here!
Truth Club: Not An Exit [Fire Note Review 6/13/19]
#42
Thom Yorke


Anima
XL Recordings [2019]
Thom Yorke has been making music some time before the 1990's and his solo career started with 2006's The Eraser. Yorke's latest, Anima, isn't just a good album, it's a good Thom Yorke album. It packs a lot of the focused song constructions of The Eraser and mixes that with the moments of free-form beauty from Tomorrows Modern Boxes. Yorke has struck a great balance here between blooming beauty and nervous dystopia. It's these concepts that make Anima more than just a good album.
Thom Yorke: Anima [Fire Note Review 12/6/19]
#41
Bob Mould


Sunshine Rock
Merge Records [2019]
Bob Mould makes a determined effort on his 14th studio album to turn from the darkness toward the light on Sunshine Rock. The album is a burst of positivity that he spells out with unusual lyrical clarity and the same buzz-saw attack on the guitar. Even with this choice to emphasize the positive, Sunshine Rock is still a Bob Mould record with plenty of aggressive rockers. Not that there was any doubt but Sunshine Rock proves that Mould is still one of indie music's bright shining stars.
Bob Mould: Sunshine Rock [Fire Note Review 2/18/19]
#40
The Budos Band


V
Daptone Records [2019]
The Budos Band returned with a riff roaring horn fest on V that represents their most aggressive music to date. It has been five years since they released their last full length, Burnt Offering (2014), and the band continues to evolve, even after playing together for two decades. The Budos Band have successfully combined all of their history on V with elements of rock, jazz, acid psych, surf and fuzz that only could have been created with the group's maturity and experience.
The Budos Band: V [Fire Note Review 4/17/19]
#39
WIVES


So Removed
City Slang [2019]
Right off the bat on the opening track, you will instantly connect to the coolness of WIVES. All the instruments on So Removed grind with a sophisticated grit that is driven from guitar. Every note sounds like it is in the right place, while at the same time you never quite know where WIVES are going. That anticipation combined with some of the swirling Sonic Youth moments gave So Removed a high replay value. Basically, if you were looking for a new band that was exciting to hear in 2019, WIVES was a good choice!
WIVES: So Removed [Fire Note Review 10/3/19]
#38
Khana Bierbood


Strangers From The Far East
Guruguru Brain [2019]
Last year saw the rise of the Guruguru Brain record label, which was driven from excellent releases from psych-rockers Kikagaku Moyo, Sundays & Cybele and Minami Deutsch. Khana Bierbood's debut LP, Strangers From The Far East, was the labels first release of 2019 and it is another rolling psych adventure. The surf guitar blending with traditional Thai morlam music was a catchy mix. Khana Bierbood was another great find this year and offered up something just a bit different.
Khana Bierbood: Strangers From The Far East [Fire Note Review 5/19/19]
#37
The Raconteurs


Help Us Stranger
Third Man Records [2019]
Jack White has not ever disappeared but his Raconteurs have been dormant for 11 years until 2019 with the release of their third record Help Us Stranger. The record is a full-blown rock album that not only revives the Raconteurs early spirit, but surprisingly plays a bit like a modern-day Tom Petty and the Heartbreakers. The Raconteurs rock showmanship is not a surprise either and Help Us Stranger has the timeless sound you love and the rock you need today!
The Raconteurs: Help Us Stranger [Fire Note Review 6/24/19]
#36
Orville Peck


Pony
Sub Pop Records [2019]
Orville Peck's debut Pony was a surprising 2019 release as the Canadian country singer, who hides his face behind a be-fringed black leather mask, crooned his way onto the scene and into the hearts of thousands with plenty of sold out shows. From his haunting baritone to his masterful songwriting, Orville Peck is operating on a different level. Pony is a thrilling debut that signifies the arrival of a masked wonder who deserves to win the hearts of every indie and alt-country fan on this side of the Mississippi. Yeehaw!
Orville Peck: Pony [Fire Note Review 8/23/19]
#35
Kneeling In Piss


Tour De Force
FAH-Q/Anyway Records [2019]
One of the best band names in 2019 for sure, Kneeling In Piss brings plenty of charm and spirit in this lo-fi album. There are poignant and weirdo songs nestled between the handful of punk-influenced tracks. Kneeling in Piss have constructed an album that does not just do one thing well, they hit a lot of different territory without sacrificing cohesion. Comparisons to The Fall and Pavement may be apt, but Kneeling In Piss are looser and more playful than either of those two bands with their kooky charm that is relentlessly catchy.
Kneeling In Piss: Tour De Force [Fire Note Review 9/4/19]
#34
Ty Segall


First Taste
Drag City Records [2019]
Ty Segall has been pushing his limits on every release since his earliest days. He loves new sounds and doesn't want to make the same record twice which you can easily hear by just stepping backwards into his catalog. First Taste was no different as Ty lost the electric guitar here. Without a guitar, Segall took a more world route but the planning behind the album showed as Segall is completely focused. The tracks on First Taste still have an indie rock rush to them as once again, Ty maintains his quality output.
Ty Segall: First Taste [Fire Note Review 8/6/19]
#33
Mike Krol


Power Chords
Merge Records [2019]
Power Chords instantly gives you a noisy blast of energy and is full of fuzz and distortion right from the beginning. Mike Krol's zeal and penchant for noise-laden power pop are relentless throughout the entire LP. When Mike Krol ups the tempo, he is at his best. The faster paced tracks were favorites and really get the blood pumping, but there really isn't a bad track on Power Chords. Mike Krol gives you 11 tracks that will satisfy you, but keep you coming back for more with his fuzz-laden hooks.
Mike Krol: Power Chords [Fire Note Review 2/13/19]
#32
Whitney


Forever Turned Around
Secretly Canadian [2019]
Three years is a long time for a band like Whitney to release their sophomore record but where some bands might try to wow everyone with something completely different, Whitney settled into their core. Forever Turned Around is much like the perfect continuing story as the album once again showcases Whitney's knack for warm harmonies, joyous sounding horns and streamlined guitar lines. Forever Turned Around is musically tight and has plenty of hum along moments which holds up to repeat listens.
Whitney: Forever Turned Around [Fire Note Review 9/11/19]
#31
Young Guv


GUV I
Run For Cover Records [2019]
You can never keep a great power pop record down and Young Guv's first part GUV I, of a two LP series, hit all the right notes. With eight songs running a total of 23 minutes, Young Guv seriously gave you a memorable melody on each and every track. This record was a timeless and flawless first act for Young Guv which offered plenty of sweet perfect power pop and had you thinking Teenage Fanclub, Fountains of Wayne and Superdrag all rolled into one.
Young Guv: GUV I [Fire Note Review 8/1/19]
#30
Jay Som


Anak Ko
Polyvinyl Records [2019]
If you have been a fan, you already had a sense that Jay Som's best work was to come. Melina Duterte's soft but direct vocals emerge even more on Anak Ko and of course are the real star of the album plus the added help of several talented guest artists. Anak Ko's blend of indie rock and modern experimental rhythms puts Jay Som's talent right with artists like Snail Mail and Mitski and is a record that you can hear progression from her previous recordings as the songwriting and structure are more mature.
Jay Som: Anak Ko [Fire Note Review 12/5/19]
#29
Deerhunter


Why Hasn't Everything Already Disappeared?
4AD [2019]
This album was released in January but maintained its staying power to land on this list. Bradford Cox's Deerhunter toned down the guitars a bit but still are a rock band. Deerhunter has never been content to stay in one place for too long and that restless spirit is here. Whatever these guys choose to do it is clear that Deerhunter has a special magic that nothing can derail. This may not be their best LP but it is certainly up for debate because everything that makes them such an exciting band is present and accounted for.
Deerhunter: Why Hasn't Everything Already Disappeared? [Fire Note Review 1/17/19]
#28
Ex Hex


It's Real
Merge Records [2019]
Right from the beginning of It's Real you know that Ex Hex were back and going to knock you out. Catchy up-front guitar riffs, isolated vocals from the powerful lead of Mary Timony and then the sing along call outs chime in make for a solid trip. This formula sets up Ex Hex's sophomore outing that gives you all the Cheap Trick meets Joan Jett you can get your ears on. The riffs are heavy and sharp as It's Real simply grows on you with each listen with its classic rock pulse.
Ex Hex: It's Real [Fire Note Review 3/27/19]
#27
DIIV


Deceiver
Captured Tracks [2019]
The third record from DIIV seemed to be always in somewhat jeopardy as front man Zachary Cole Smith has had a very public battle with his sobriety. That being said, Deceiver does not sugar coat addiction and definitely does not point to a happy ending of recovery. It does this with the most aggressive shoegaze rock that DIIV has recorded. Deceiver is honestly one of the best shoegaze records released this year with its guitar and swirl of sound as DIIV's angst was the perfect return for a band on the edge.
DIIV: Deceiver [Fire Note Review 11/5/19]
#26
Honey Radar


Ruby Puff Of Dust
What's Your Rupture? [2019]
Ruby Puff of Dust continued to demonstrate Honey Radar's love for 60s era psychedelic-tinged pop blended with the lo-fi aesthetics of 90s era Guided By Voices, Strapping Fieldhands and Grifters. Its upbeat tracks reign supreme with their pulsating groovy vibe slung over driving beats, hypnotic melodies and breathed vocals. The more you listened to Ruby Puff of Dust the more you discovered. If you miss the days when lo-fi was more accessible, Honey Radar helps fill that void nicely.
Honey Radar: Ruby Puff Of Dust [Fire Note Review 8/21/19]
#25
Vampire Weekend


Father Of The Bride
Columbia Records [2019]
In this current music climate, six years between records is a long time for any group. Well, Vampire Weekend did just that with the release of Father Of The Bride. Vampire Weekend returned much looser compared to previous albums but still delivered songs that had a real capability to sink into your head. The album also took some different approaches that included a psychedelic flamenco jam and the additional vocals from Danielle Haim. Those tweaks to the formula moved Vampire Weekend up the list.
Vampire Weekend: Father Of The Bride [Fire Note Review 5/9/19]
#24
King Gizzard & The Lizard Wizard


Infest The Rats' Nest
Flightless Records [2019]
If you are a fan of King Gizzard & The Lizard Wizard then you already know that being surprised is an actual key element of the band. For a group that seems to work tirelessly, they still have not ever churned out the same record over 15 studio albums in this short seven-year span. Infest The Rats' Nest easily does not break that pattern because the Australian outfit went full on METAL. Infest The Rats' Nest is a tight and thundering album that leaves you with the perfect feeling of just being run over!
King Gizzard & The Lizard Wizard: Infest The Rats' Nest [Fire Note Review 8/19/19]
#23
Swervedriver


Future Ruins
Dangerbird Records [2019]
Back with their sixth record, Future Ruins, Swervedriver continued their storied career and brought another fresh batch of shoegaze-based rockers. What was great about Future Ruins is that Swervedriver absolutely didn't conform to any sort of "current" state of music. They sound like a band driven from what they know and they deliver. Future Ruins is a Swervedriver album all the way through as its different textures are revealed with multiple listens and the waves of sound engulf you.
Swervedriver: Future Ruins [Fire Note Review 2/15/19]
#22
Sharon Van Etten


Remind Me Tomorrow
Jagjaguwar [2019]
Remind Me Tomorrow from Sharon Van Etten was another January release that held strong all year. The album is a synth-soaked, mid-tempo collection of songs that conjures plenty of emotion and plays on the same level with artist like Arcade Fire and The National. It's a record too theatrical to be defined by its authenticity and too confident to be defined by its vulnerability. The record was not a total reinvention of the wheel for Sharon Van Etten, but it was a welcome evolution that finds her at the top of her game.
Sharon Van Etten: Remind Me Tomorrow [Fire Note Review 1/28/19]
#21
The National


I Am Easy To Find
4AD [2019]
At this point in their career it would be very easy for The National to grow content and avoid all musical risks. Fortunately, I Am Easy To Find pushes them and is daring and unexpected. I Am Easy To Find is the longest and most sonically complex record the band has produced to date. The inclusion of many talented female guest vocalists changed up lead singer Matt Berninger's delivery and gave this record a burning spark. If I Am Easy To Find easily keeps The National as a relevant band in today's world.
The National: I Am Easy To Find [Fire Note Review 5/22/19]
#20
Kishi Bashi


Omoiyari
Joyful Noise Recordings [2019]
There is nothing better than when music and art work together and create something special. That is exactly what Kishi Bashi accomplishes on his fourth studio record Omoiyari. The record is an art composition that dives into this country's past internment of Japanese-Americans during WWII and explores the parallels between 40's America and the current US administration's actions. Kishi Bashi took this important subject matter and created a lush musical environment, that at many times was upbeat and all of it memorable!
Kishi Bashi: Omoiyari [Fire Note Review 6/6/19]
#19
Paul Orwell


SMUT
Heavy Soul! Records [2019]
Sixties influenced London rocker Paul Orwell returned with his third record SMUT; a loud, brash, barn burner of a record. Orwell's British invasion song structure comes off naturally and the 12 songs on SMUT have a modern-day Rolling Stones punch to it with some classic Animals influence. Paul Orwell once again brings the 60's to the present here and the blood, sweat and attitude on SMUT makes repeat listens just as entertaining as his timeless attack here is addicting.
Paul Orwell: SMUT [Fire Note Review 11/27/19]
#18
GA-20


Lonely Soul
Karma Chief/Colemine Records [2019]
I know if you are into indie music you might not be searching the blues charts for new tunes but on occasion bands cross over and become a must listen with their style and groove. Boston's GA-20 is one of those bands. Their approach is simple – two guitars, vocals and drums which makes Lonely Soul raw foot stomping good. This is an album that goes well beyond being labeled a blues record and will be enjoyed by any fan of plain old Rock n Roll as it is a timeless jam from front to back!
GA-20: Lonely Soul [Fire Note Review 10/30/19]
#17
Omni


Networker
Sub Pop Records [2019]
Over the last three years, Atlanta's Omni have built support with their post-punk Gang of Four and Wire riffs, sharp lyrics and laid-back delivery. Networker presents itself with a much cleaner production and really is about the musicianship. The vocals take a backseat here as every song has an intricate instrument manipulation that drives the listener to its individual parts. Omni didn't totally abandon their post-punk riffs here but Networker grows by keeping things more laid back with complex changes and instrument burns.
Omni: Networker [Fire Note Review 10/31/19]
#16
Mannequin Pussy


Patience
Epitaph Records [2019]
Mannequin Pussy's Epitaph debut, Patience, is their best album to date. Their turn on a dime hardcore punk is what sets Mannequin Pussy above many of their contemporaries as they offer more in an 1:55 track than some groups offer over an entire record. Patience finds that sweet spot of a blend between hitting the high notes with catchy hooks to 53 second throat shredders. Mannequin Pussy take you with them on their journey and at a total runtime of just over 25 minutes, you really have no excuse to not hit play!
Mannequin Pussy: Patience [Fire Note Review 7/2/19]
#15
Oso Oso


Basking In The Glow
Triple Crown Records [2019]
If done correct, a good emotional power pop record always wins. Oso Oso's third album, Basking In The Glow, is exactly that – a winner! Lead singer and main band component Jade Lilitri discovered that life is full of promise and Oso Oso bring an uplifted swing here that offers bright and crisp sounding emo which instantly sticks with you because his tracks connect on multiple levels. Basking In The Glow delivers catchy track after catchy track and dares you to not sing along.
Oso Oso: Basking In The Glow [Fire Note Review 9/26/19]
#14
Dumb


Club Nites
Mint Records [2019]
Fresh off an excellent 2018 album, Dumb came right back and pushed out 14 new tracks of their post-punk meets slacker rock music. Club Nites is loaded from beginning to end with some of the best post-punk music you have heard this year. Dumb are frenzied yet focused in its approach to Club Nites. The bulk of the album is fast-paced and littered with turn-on-a-dime rhythmic shifts that just make your jaw drop and then make you smile. Club Nites is an essential listen for 2019 and was certainly one of the most fun.
Dumb: Club Nites [Fire Note Review 6/18/19]
#13
Gong Gong Gong


Phantom Rhythm
Wharf Cat Records [2019]
A guitar-and-bass duo singing in Cantonese is a combination I would have never put together but Beijing's Gong Gong Gong released one of the most unique records this year. Guitarist Tom Ng and bassist Joshua Frank will enchant you from the beginning as Phantom Rhythm creates new song structures using the same three components. Phantom Rhythm is just a record you need to hear as Gong Gong Gong speak a universal language through their focus on details and dedication to their art!
Gong Gong Gong: Phantom Rhythm [Fire Note Review 10/9/19]
#12
Possible Humans


Everybody Split
Trouble In Mind Records [2019]
Australia's Possible Humans released one of the best grower albums of the year. Everybody Split gets better with each listen as you can hear the precision in each track with its subtle but driven guitar lines and the distant but intriguing vocals of Steve Hewitt. The guitar intros will remind you of early era R.E.M., while the group has a more indie song structure similar to The Clean. This classic vibe propels the album as Possible Humans are another great find from the Australian indie rock scene.
Possible Humans: Everybody Split [Fire Note Review 8/13/19]
#11
Brittany Howard


Jaime
ATO Records [2019]
Brittany Howard is best known for fronting the Alabama Shakes but it really was not a surprise on how good her debut solo release, Jaime, turned out. Howard expanded her vocal range and leaned into her soul music side here while embracing pop's group harmonies, hip-hop loops and computer fueled musical combinations. The result was a musically refreshing, experimental yet emotionally satisfying album. Regardless of what is next for Howard, Jaime proves that she can rise to whatever project is in front of her.
Brittany Howard: Jaime [Fire Note Review 10/17/19]
#10
(Sandy) Alex G


House Of Sugar
Domino Records [2019]
House Of Sugar represented (Sandy) Alex G's ninth album overall, and it continued his catchy Elliott Smith like vocals, intriguing arrangements and some out there experimental mixings which have always given Alex G his niche. House of Sugar has moments that need absorbed and dissected with blaring synths and new age beats that all tie together with the warmth of his vocals. At the youthful age of 26, Alex G is getting stronger in every way on House of Sugar and it shows great promise for his future!
(Sandy) Alex G: House Of Sugar [Fire Note Review 11/21/19]
#9
Frankie And The Witch Fingers


ZAM
Greenway Records [2019]
Frankie and the Witch Fingers has been a group on TFN radar since their 2013 debut, Sidewalks. ZAM shows great growth for the group and is an album with many tricks up its sleeve as Frankie and the Witch Fingers have captured a history of punk, psychedelics, and the psychotic sock-hop vibe while recasting them as their own unique genre. ZAM's big, wide open energies mixed with pacing and mood gives the record its addictive fast paced psychedelic trip that you will want to board and hold on tight!
Frankie And The Witch Fingers: ZAM [Fire Note Review 3/7/19]
#8
Bill Callahan


Shepherd In A Sheepskin Vest
Drag City Records [2019]
Bill Callahan is one of the best storytellers of this time and Shepherd In Sheepskin Vest tells how life really is and you know Bill means it. Since his last album in 2013, Callahan got married, had a son and dealt with the passing of his mother in 2018. Those three life events alone give Bill all the material he needs here for his fifth solo outing. Shepherd shows Callahan's comfort level is up and his guard is down with these 20 tracks as he makes every song so personal and real that you can't help but immerse yourself.
Bill Callahan: Shepherd In A Sheepskin Vest [Fire Note Review 6/27/19]
#7
Amyl And The Sniffers


Amyl And The Sniffers
Flightless/ATO Records [2019]
Amyl and The Sniffers released one of the most explosive records of 2019. Lead by the fierce voice of Amy Taylor, this Melbourne, Australia band spurs out 11 tracks of hard living which covers topics like just trying to get by, one upping and knowing when and how to move on. This is a rock record first that has muscular guitar around every corner. The energy here is infectious and never wears while the spirit is even bigger as its sweating edge and anxiety is why you will definitely come back for more!
Amyl And The Sniffers: Amyl And The Sniffers [Fire Note Review 5/30/19]
#6
Nick Cave And The Bad Seeds


Ghosteen
Ghosteen Ltd. [2019]
Nick Cave's Ghosteen is a further meditation on the meaning of life, made all the more real in the face of death, loss, and the grief that lingers long after one's beloved is laid to rest. Cave's lyrics capture everything as he seeks to make sense of it, for himself and his grieving wife. Musically, things are very dark as Ghosteen plumbs the depth of those deep, undeniable feelings, capturing moments of clarity, beauty and soulfulness amid the brokenness and chaos of daily existence. Ghosteen is a true experience to hear.
Nick Cave And The Bad Seeds: Ghosteen [Fire Note Review 10/16/19]
#5
Durand Jones & The Indications


American Love Call
Dead Oceans/Colemine Records [2019]
Durand Jones self-titled debut was a stellar release in the retro-soul movement and quickly put the Indiana band on the radar that has only grown with the group's sophomore outing, American Love Call. The record brings Durand Jones & The Indications sound forward with a much bigger scale that includes deeper lyrics, expanded musical avenues and a wider range which made it one of our favorite soul releases this year. What is not lost, is the timeless appeal of this album as its components will carry well beyond 2019.
Durand Jones & The Indications: American Love Call [Fire Note Review 3/1/19]
#4
Angel Olsen


All Mirrors
Jagjaguwar [2019]
Angel Olsen has become one of the premiere indie voices over the last several years as her momentum and style all come together on All Mirrors. This record soars musically and vocally with sophistication and excellence.
The production, the writing and the delivery all come together seamlessly on All Mirrors. The album proves the point that great songwriting is always great songwriting. In this case, full orchestra pieces help Angle Olsen tell her story and they increasingly engage the listener with every spin.
Angel Olsen: All Mirrors [Fire Note Review 11/14/19]
#3
Guided By Voices


Sweating The Plague
GBV, Inc. [2019]
Sweating The Plague was Guided By Voices third album release in 2019 and it was their best. TFN knows that statement alone could be debated for weeks but Plague represents one of the most cohesive 12 song sequences the band has released. Sweating The Plague is dark, cold and a bit abrasive right down to the isolation and distance you feel from just looking at the album's artwork but that engaged edge is pure genius! Its slow burn density of songs easily made it one of the best records to hear in 2019!
Guided By Voices: Sweating The Plague [Fire Note Review 10/24/19]
#2
black midi


Schlagenheim
Rough Trade Records [2019]
What an exciting surprise Schlagenheim turned out to be. The members of black midi are barley out of high school but sound light years older with the creative workings found on their debut. The drumming alone boosts this record to higher levels but black midi's post punk/math rock is so ripe their jams have no maps, direction, reflection or restriction. That non-conformity is what propels Schlagenheim as the album plays out with exceptional transition after transition and truly surprised anyone who listened!
black midi: Schlagenheim [Fire Note Review 7/5/19]
#1
Purple Mountains


Purple Mountains
Drag City Records [2019]
We never would have thought that 20 days after TFN reviewed David Berman's Purple Mountains that he would no longer be with us. His death clearly had us dive deeper into this fantastic album but its rich musical poetry never changed. This superb album showed Berman's pain but also his talent, as the music and rhythms moved in a way that you can not only foot tap to but also sing along with the abundance of supplied choruses. Berman's talent will forever be missed but this album will always shine as #1 in 2019!
Purple Mountains: Purple Mountains [Fire Note Review 7/18/19]
Latest posts by Fire Note Staff
(see all)