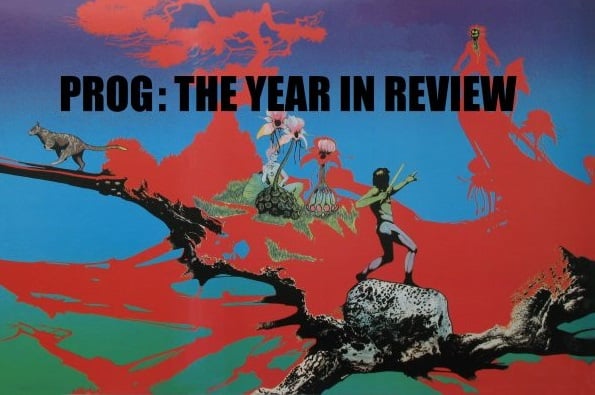 The apocryphal, and often repeated, origin story of Prog has it that in 1969 King Crimson released In The Court Of The Crimson King and a new genre had been born. This of course ignores the fact that Yes' debut came out two months earlier or the contribution and influence of acts such as Pink Floyd, The Beatles, The Moody Blues, The Nice, Procol Harum and Miles Davis – not to mention the undeniable impact Scottish band 123/Clouds had on all who witnessed their early shows at London's Marquee Club. But either way it has been 50 years since Genesis, Yes and King Crimson first came onto the scene and changed Rock Music forever. The spirit of progressive music has been with us ever since but commercial success and critical acclaim have been mostly absent. It is fitting, then, in this Silver Anniversary year that 2019 has been among the best years for Prog releases in some time. Whittling down the hundreds of albums I've heard to a concise 25 was challenging – there are many I left off for the pettiest of reasons but hey: this is my list!
#25
Devin Townsend


Empath
Inside Out Music [2019]
(Canada)
This guy has been around for ages – first in Strapping Young Lad and now with his many albums released under different name plates. It's hard to keep track. Tech, Sci-Fi Post-Metal may be the sub-genre (I don't know) but this record shouldn't be burdened with labels. It's adventurous and exciting in ways that few modern Prog albums are. I'm not usually drawn to this kind of thing but this is something else entirely.
#24
iamthemorning


The Bell
KSCOPE [2019]
(Russia)
The Prog Rock critics have really taken to this Russian duo but it wasn't until keyboard player Gleb Kolyadin's solo album was released last year that I realized how much I actually liked them. Marjana Semkina's songs of love, loss and death work brilliantly with the gorgeous melodies and classical arrangements. With each album they find new ways to expand their sonic vocabulary. Chamber music of the highest caliber.
#23
Focus


Focus 11
In And Out Of Focus [2019]
(Netherlands)
One of the great Prog bands from the seventies (remember "Hocus Pocus?") is still going strong with the return of their original drummer. The jazz improv instincts are still there but the songwriting is better than it has been for some time. It's wonderful to hear an OG band not resting on their laurels and really going for it. Runs out of steam a little towards the end but Focus is in fine shape. And that Roger Dean album cover…
#22
Karfagen


Echoes From Within Dragon Island
Caerllysi Music [2019]
(Ukraine)
The first of two Ukrainian artists to make the list, Karfagen is Antony Kalugin and whomever else he enlists to flesh out his ethereal take on symphonic Prog. There are Eastern influences to be found but it is Pink Floyd that I hear in most tracks. Romantic and melodic are perhaps the two best adjectives I can use here. Strings, horns and woodwind instruments intermingle easily with a traditional rock band and it's pretty mesmerizing.
#21
Modern-Rock Ensemble


Night Dreams & Wishes
Modern Rock Music [2019]
(Ukraine)
Vladimir Goreshchenko is the leader of this unfortunately named group. He plays keyboards, guitar, sings and wrote all of it. He, along with a handful of collaborators, have created a beautifully realized symphonic piece on this their second album. Certain passages bring to mind late era Camel or even Vangelis but the over-arching musical themes are more complex. The more I hear this record the more I appreciate how subtle it is. And how good. No sophomore slump here, comrades!
#20
Kaprekar's Constant


Depth Of Field
Talking Elephant [2019]
(UK)
I loved this band's debut LP so much that this follow up seemed like a bit of a let down. It's not. It just took a while for things to make sense. Everything that made that first record so special is still here: the great storytelling, the grand soundscapes, Van Der Graaf Generator's David Jackson on sax, the insane English wit. And we even get Ian Anderson making a guest appearance. Yeah, it's a winner. And you feel a whole lot smarter after listening to this band and their numerous historical references.
#19
The Mercury Tree


Spidermilk
Self-Released [2019]
(USA)
What happens when you take the standard 12 tones found between octaves and add 5 extra "microtones?" You get music so alien to Western ears as to make the instruments sound out of tune. Indian and Arabic music utilize similar strange tonality and it takes a while to get used to. Listening to this record is an effort, to be sure, but it is a rewarding one. Radiohead or Porcupine Tree on a really bad acid trip. (They are from Portland, after all.) Not for everyone but I love it.
#18
The Psychedelic Ensemble


Mother's Rhyme
Glowing Sky Records [2019]
(USA)
You just gotta love the old marketing ploy of secret identities, right? Apparently no one knows who this artist is (his name is Craig First) but he continues releasing quality stuff. Lots of Jethro Tull inspiration going on in these songs but way less binary. The musicianship is top-notch and his vocals are growing on me. Aware of this weakness a bevy of female singers are employed and the result is a peaceful and playful album filled with childhood imagery.
#17
Jon Anderson


1000 Hands
Opio Media [2019]
(UK)
The ex-Yes singer's solo output has been suspect (at best) over the years but this album (almost 40 years in the making) is a delight to any Yes fan. Featuring tons of guest artists – thus the name of the album – including Edgar Winter, Jean Luc Ponty, Chick Corea, Ian Anderson, Rick Derringer, Pat Travis and the Tower Of Power horns, this thing should be a mess. It's not. Jon's voice is in terrific shape, the songs are all pretty decent and, best of all, the closer finds Anderson singing over Steve Howe's acoustic guitar for what is (given their very public animosity) for likely the final time.
#16
Thieves' Kitchen


Genius Loci
Self-Released [2019]
(UK)
Based out of Swindon this band really took off once founder/guitarist Phil Mercy teamed up with vocalist Amy Darby in 2003 and their records have been getting better and better with each subsequent release. As usual various Anglagard veterans fill out the roster and give the band a surprisingly muscular spine. Mathy guitar figures, strange time signatures, tons of mellotron and gorgeous vocals all make this a great listen. What they lack in memorable hooks they more than make up for in execution.
#15
Flying Colors


Third Degree
Music Theories [2019]
(USA)
I've never been a huge fan of watered-down commercialized Prog. The 80's versions of Yes and Genesis did nothing for me so I was luke warm on this supergroup featuring Mike Portnoy, Neal Morse and Steve Morse (no relation.) But on their third album things have come together as the other two members come into their own. Singer Casey MacPherson wouldn't sound out of place in a grunge band and bassist Dave Larue puts on a clinic throughout. From Muse to Steely Dan and The Beach Boys, Flying Colors have expanded their sound to the point that there's really nothing they can't handle.
#14
Opeth


In Cauda Venenum
Nuclear Blast [2019]
(Sweden)
The death of the Cookie Monster vocals has been a godsend to Prog fans everywhere as Opeth have become a real Prog band and not just a Death Metal band with a progressive streak. Available in both English and Swedish version, Opeth may have figured out how to instill their former frantic selves into a more progressive template and thus satisfying both sides of their sizable fan base. This is probably my favorite album they have released to date and that's no small feat given their impressive back catalog.
#13
IQ


Resistance
Giant Electric Pea [2019]
(UK)
Venerable UK Neo-Prog group IQ have been with us since the 80's when the Second Wave of Prog hit. Along with Marillion (and a few others) these guys managed to keep the genre alive when the OG's were all breaking up or going commercial. Five years in the making this new album is the natural successor to 2014's Road Of Bones – an album many (myself included) consider to be a modern classic. Singer Peter Nicholls still sounds great but it's the drummer, Paul Cook, who steals the show. A tad bit long at 108 minutes, Resistance comes out of the gates strong and never lets go. As is the case with most Neo-Prog the middle 70's Genesis feel is as prevalent but it never distracts – IQ are their own thing. Here's to another 38 years, guys.
#12
The Tea Club


If/When
Self-Released [2019]
(USA)
What to make of The Tea Club? This totally modern Prog with influences as far-flung as Midlake and King Crimson all while projecting a post-rock or alternative vibe that younger listeners may gravitate towards. From their New Jersey headquarters brothers Daniel and Patrick McGowen have been laboring over their music to the deafening sounds of industry indifference. What a shame. There really isn't a band out there who can go from Cat Stevens chill out bliss to industrial freak out so skillfully. And in a very rare occurrence for the Prog genre the vocals are actually the strength of the record. Patrick's voice might resemble Al Stewart at times but he uses it as an additional instrument in the tradition of the greats from the Golden Era. This album is the very definition of a grower.
#11
IZZ


Don't Panic
Doone Records [2019]
(USA)
After a couple disappointing releases, IZZ returns to form with gusto. All the things that make this such an entertaining group are right where they need to be. Boy/girl vocals? Check. Chris Squire-sounding bass line? Check. Catchy melodies? Check. The album opens with the title track and it really should get airplay – somewhere. Next up is the long-format song "42" which is either about Jackie Robinson or a reference to Douglas Adams' Hitchhiker's Guide To The Galaxy. I have no idea. Who knows? It, like the rest of the album, is so beautifully written that it could be about Spam for all I care. What does matter is that this band has been around so long that I was taking them for granted and almost didn't give this one a chance. That would have been a huge mistake.
#10
Magic Pie


Fragments Of The 5th Element
Karisma Records [2019]
(Norway)
Muscular and melodic Prog with a strange AOR heart, Magic Pie's fifth album is easily their best. 2014's King For A Day established them as a force to be reckoned with and now with this one they kick the door all the way off its hinges. At times they can sound like Neal Morse but with a sense of humor. These guys do not take themselves (or their music) too seriously but what they do is seriously rock the hell out. There's nothing too metal here but guitarist Kim Stenberg rivals any of his Prog Metal competitors in terms of shreddage. And as if too insure their Prog credentials the album has a true epic: the 23 minute long closer "The Hedonist" which ranks among my favorite tracks this year. Full of twists and turns, Magic Pie has given us a modern classic.
#9
Asturias


Trinity
Self-Released [2019]
(Japan)
The brainchild of bass player and composer Yoh Ohyama, Asturias releases albums as "Acoustic" Asturias and "Electric" Asturias (this one falling under the latter) but the one constant is the quality of the material. Ohyama is on something of a hot streak as the last few records have been really good but Trinity is on a whole different level. Instrumental with lots of violin from Tei Sena and some really great guitar playing from Sitoshi Hirata there are elements of jazz fusion maybe more than a little early Kansas. The whole thing plays through like the best movie soundtrack never recorded. Upbeat, playful with tons of soloing it's actually surprising how memorable these songs are. And that's never a bad thing, is it?
#8
Jordsjo


Nattfiolen
Karisma Records [2019]
(Norway)
I love this band. Their first few albums were available on cassette only and. that says a lot about their ethos. Dark and foreboding, this Scandinavian act utilize an arsenal of vintage gear to create a unique and thoroughly engrossing soundscape. Acoustic guitar, flute, mellotron and Hammond organ keep things on the pastoral side but don't be fooled into thinking this is some kind of lightweight folk band. The dynamics employed within each track are stunning. The vocals are all in the native Norwegian tongue but that only adds to the sense of mystery and wonder. This album would have placed higher had they included the title track which, for some inexplicable reason, is only available on their bandcamp page. Either way, another total winner from this Viking Prog duo.
#7
Gong


The Universe Also Collapses
KSCOPE [2019]
(UK)
The band's second album without frontman/founder Daevid Allen finds Kavus Torabi (Cardiacs, Knifeworld) now firmly in control. 2016's Rejoice I'm Dead was a fine eulogy for Allen and even had his vocals on three tracks but it is here that a new Gong rises up from the ashes. The album opens with a twenty minute track that serves as a mission statement: this version of the group may not have any original members but it certainly has a lot of original ideas. The glorious "Forever Reoccurring" builds and builds but never gets boring or weighed down by its heft. If this is where Torabi sees Gong heading in the future then count me in. Side Two is comprised of three very different sounding songs – the best of which might be my Song Of The Year: "My Sawtooth Wake" is a funky slab of spaced out bliss. One can almost imagine Sherman Helmsley (an early devotee of the band) dancing around his New York apartment in the sky, finally getting a piece of that pie.
#6
Banco Del Mutuo Soccorso


Transiberiana
Inside Out Music [2019]
(Italy)
I didn't see this one coming! After the death of front man Francesco Di Giocomo in 2014 it appeared that BMS was similarly fated. Before his death he told the other original member of the band, Vittorio Nocenzi, that he had his replacement already in mind: Tony D'Allessio. It was an inspired choice. Their latest effort (and first Prog album in over 40 years) is a thoroughly modern take on the classic BMS sound from the 70's. The new singer doesn't really sound like Di Giocomo and that has been a bone of contention among fans but Tony had his seal of approval even before his death and even sang on the bonus CD for the band's recent reissue of their 1973 masterpiece, Io Sono Nato Libero. Unlike so many "comeback" albums by bands way passed their prime this one is exactly what its creators had intended it to be: a new Banco for a new generation.
#5
Hasse Froberg & Musical Companion


Parallel Life
GlassVille Records [2019]
(Sweden)
This is the fourth album by The Flower Kings' lead vocalist and his band and it is easily their best. More rock oriented than Hasse's main band, HFMC takes AOR and blasts it with large doses of keyboards and odd time signatures. Starting with the six part title suite (the last of which calls to mind the final section of "Starship Trooper") all the way through to the gorgeous closer "Never Alone" there's not a note out of place. Unlike many Prog Metal bands that don't actually sound progressive at all, this band uses heavy metal as but one of many colors to complete their sonic canvas. Their previous efforts have all had moments of exquisite beauty but this one never falters or stumbles. It all works surprisingly well. Who would have thought that the spin off project could challenge the Mother Ship? Certainly not this critic.
#4
The Flower Kings


Waiting For Miracles
Inside Out Music [2019]
(Sweden)
It's been five long years since Roine Stolt last gathered his A Team and produced a new record. In the last year we've seen a solo album (oddly attributed to Roine Stolt's The Flower King), the emergence of yet another supergroup (The Sea Within) and a tour as The Flower Kings Revisted. All good. But what the fans wanted was new Flower Kings material. Stolt has now taken that touring band (which featured two new members) and made it the new version of the band. This has always been Stolt's baby so as long as he's there it's bound to be memorable. And this is a fabulous addition to their discography. Hasse Froberg and Jonas Reingold both shine – as usual. Twitchy with new ideas, the group focuses on shorter songs but the epic scope of Sweden's finest is on full display throughout.
#3
Pattern-Seeking Animals


Pattern-Seeking Animals
Inside Out Music [2019]
(USA)
This one is definitely 2019's most surprising release. After Neal Morse left Spock's Beard in 2002 the band found that replacing his songwriting was even harder than replacing his vocals. Enter John Boegehold. He (and Stan Ausmus) helped the Beard stay strong and relevant. Now (with help from current SB members Ted Leonard and Dave Meros and former member Jimmy Keegan) Boegehold has the perfect vehicle for his songs – a band of his own! Make no mistake: this is no mere side project, this is a band led by a very talented song writer and it's a real pleasure to hear an entire LP of his work. The songs range from short and radio-friendly to the usual epic Prog work-ups but the thing is: Boegehold writes both with wry wit and a strange human touch often missing from the genre. The rare Prog album both my wife and I can agree upon.
#2
Neal Morse Band


The Great Adventure
Radiant / Metal Blade Records [2019]
(USA)
The follow up to The Fire Note's #1 Prog album for 2016 (The Similitude Of A Dream) does not disappoint. Continuing the story of A Pilgrim's Progress but this time with the son as protagonist, Neal Morse, Mike Portnoy and company deliver another double album stuffed with over 100 minutes of dark melodies and recurring themes from both albums. It's a lot to digest but the songs are direct and approachable, the production crisp and vibrant and all five members seem locked in. Heavier than its predecessor yet still highly melodic, this album is best thought of as a companion piece rather than an actual sequel. Even the artwork's the same – although this time, appropriately enough, it's in black. Neal's voice is still in great shape but it is guitarist Eric Gillette that steals the show with his soaring vocals and flashy solos. You don't need to have heard Similitude to enjoy this but odds are that if you like Neal Morse's style of comfort Prog you will end up owning both.
#1
Big Big Train


Grand Tour
English Electric Recordings [2019]
(UK)
Founded in 1990, this is one of the better known of the current crop of Prog bands and one of the most successful. In fact this latest album even charted in the UK (their first to do so.) Their rise to the top of the Prog heap was far from inevitable. In 2009 after five decent, somewhat bland records the group recruited a new singer, David Longdon (his Peter Gabriel meets Phil Collins vocals make him the perfect singer for a band with a huge Genesis jones), guitarist Dave Gregory (from XTC) and former Spock's Beard drummer Nick D'Virgilio (whose CV also includes a stint as Phil Collins' replacement in Genesis). Ever since this band can do no wrong. For Grand Tour primary songwriters (founding member) Greg Spawton and David Longdon leave the England-centric environs of previous releases and explore the world at large. In a dizzying panoply of references to Leonardo Da Vinci and the Italian Renaissance, Shakespeare's The Tempest and NASA's Voyager missions Big Big Train have expanded their sound in accordance with their larger world view. All without sacrificing the peculiar Britishness of it all. This is the record they've been working towards. This is the record where Big Big Train have finally come into their own and sound like no one else – except themselves.
-Year In Prog Review by Scot Lade
Latest posts by Scot Lade
(see all)