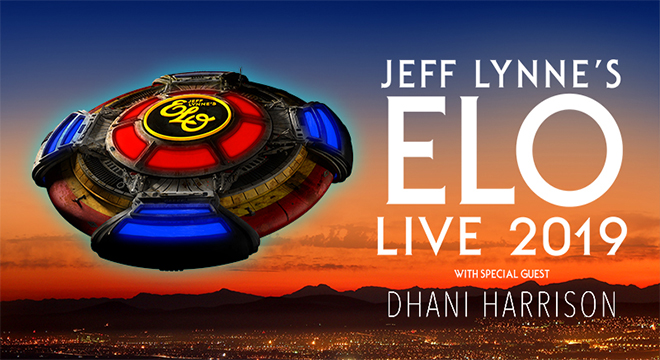 Jeff Lynne's ELO w/ Dhani Harrison; ELO Live Tour 2019; Nationwide Arena, Columbus, OH – Tuesday, July 30, 2019
When Jeff Lynne played ten shows in the U.S. in August of 2018, his first concerts with the Electric Light Orchestra in 35 years, and then announced 20 more dates for this summer it felt like this was going to be the "don't miss" event of 2019, and I'm glad I went with the feeling. When the tour stopped in Columbus last Tuesday night, with one more show on their schedule set for Pittsburgh, it was clear from the previous show reviews that Lynne was pulling out all the stops to deliver his band's greatest musical moments from the 70's in a format that fits with concert standards here, two decades into the new century. And the playlist reads almost entirely like the track listing on "The Essential Electric Light Orchestra" that I pulled out of my CD collection in preparation for the concert.
Given that Lynne is not a lively or energetic performer, and obviously doesn't have moves like Jagger, it was wise to fill the entire wall of one end of the massive Nationwide Arena, which seats 20,000, with large video screens, that contained state of the art lights and lasers, with smartly created videos designed to go along with each of the 20 songs in his set proper, and two large video screens that allowed close-ups of Lynne and members of his 12-piece backing Orchestra. But the most common image on the screen was the large colorful floating UFO carrying the ELO logo that appeared to hover high over the stage, which dates all the way back five decades.
The set opened with "Standin' In the Rain," with Lynne accomplishing the necessary orchestra sound with the help of two cellos, played by Amy Langley and Jess Cox, and just one violin, played by Jessie Murphy. To create the effect of a full orchestra, the three live string players were support by 3 electronic keyboards, played by Steve Turner and Jo Webb, as well as Marcus Byrne who also played piano and vocoder, for those times when the keyboard sounds like it's actually singing. It was followed by three ELO standards, "Evil Woman," "All Over the World," and "Showdown," which all benefitted from the full sound of an orchestra, obviously, and on that last song, Lynne played a sweet melodic guitar solo.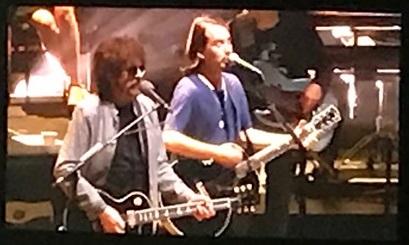 Next up was a song that predated the Electric Light Orchestra, "Do Ya," a great classic rocker that Lynne wrote with and for his earlier band, The Move, that comes out of the gate with a couple of bold crunchy rock chords on guitar. It's one of those great early rock & roll masterpieces where Lynne's lead vocal sounds more in line with the spoken rock singer style of Ian Hunter from the band Mott the Hoople, than the usual high melodic vocals he uses most of the time. And here, Lynne left some of the edgy rockier lead vocals to one of his background singers, Iain Hornel, and the guitar solo to his lead guitarist Milton McDonald. Of course, it didn't hurt to add to the band's full sound that Hornel also played a 12-string acoustic on some songs, and that joining Lynne and McDonald on guitar was also the band's Musical Director, Mike Stevens. Filling out the rock band side of the Orchestra were the powerful rhythm section, Lee Pomeroy on bass, and Donovan Hepburn on drums.
With "When I Was a Boy," Lynne leaned a bit into his autobiography and how he longed one day to make music, but then he brought violinist Jessie Murphy out to center stage for a lengthy solo intro the "Livin' Thing," another of ELO's bigger hits.
The thing you might not realize about Jeff Lynne is that after he gave up performing with ELO, he played a significant role with the supergroup The Traveling Wilbury's, albeit their least famous member behind George Harrison, Bob Dylan, Tom Petty and Roy Orbison. Lynne's out-put with ELO revealed that he was profoundly influenced by The Beatles, especially the way their producer George Martin had made use of an orchestra, so he'd been a natural to produce Harrison's solo album, "Cloud Nine," and then he co-produced the Wilbury's albums with Harrison. That connection led to his production of one of Petty's most successful solo albums, "Full Moon Fever," as well as an album for Paul McCartney, Joe Walsh, and another Petty solo album and one with the Heartbreakers.
So one of the highlights of the evening came out of Lynne's work with the Wilbury's, but the true surprise moment was when he was joined by opening artist Dhani Harrison, the only son of George, to sing the lead on "Handle With Care." It was very emotional, as Dhani's voice sounds just like his late father, it was a very satisfying concert moment not unlike the moment a few weeks back when McCartney was joined on stage by Beatles' drummer Ringo Starr, a video of which has been making the rounds. It's lovely classic rock hit, made bittersweet by the fact that Lynne and Dylan are the only two of that supergroup still with us. If anything, it would have been nice to hear another from those two fun albums.
"Rockaria!" provided a nod to opera, with soprano Melanie Lewis-McDonald getting a chance to shine, and for Lynne to mix a song with a 50's rock & roll vibe with her vocal aria. "Last Train to London" followed, which felt a bit prosaic in the current company, but the video game looking video on the screen tended to hold folks' attention. The "Eldorado Overture" leaned hard in the classical music direction that's a given when you call your band an Orchestra, and led nicely into "Can't Get You Out of My Head," another of ELO's break-out hits.
While Lynne's work is full of Beatles-isms, "10538 Overture" provided a prime example, while leaning dangerously close from Lynne's comfort zone of tune-y melodic pop/rock, into near prog-rock land… or maybe it was just the sci-fi landscape on the screen.


"Shine a Little Love" was up next, and then Lynne asked his Music Director Stevens to introduce the rest of the Orchestra, before they dove into "Wild West Hero," which, yes, had an orchestrated cinematic feel of an old school western, complete with a brief country feeling guitar solo by Lynne. "Sweet Talkin' Woman" is another of the many songs with a nice orchestra section for the violin and cellos, but you also get that weird vocoder thing where Byrne sings through that effected keyboard.
The set concluded with a string of four of ELO's biggest hits, "Telephone Line" (with that musical dial-tone thing), "Don't Bring Me Down," "Don't Bring Me Down" (a Beatlesque rocker with that weird line that ends with what the internet tells me is the word "groos," which I always thought was the name "Bruce" based on a Monty Python joke), "Turn to Stone" and the set closer, "Mr. Blue Sky," another autobiographical reference to Lynne's positivity.
Of course the obvious encore was "Roll Over Beethoven," the Chuck Berry classic, which Lynne in a fit of genius thought to mix with Beethoven's 5th Symphony, and on this night Lynne let the orchestrated intro play out with all the power and majesty that that beautiful piece of classical music history has to offer, before chiming in with those similarly iconic Chuck Berry rock & roll guitar sounds. Like the entire concert, this final ten minutes of gloriously orchestrated rock music was a delightful triumph of ingenuity, musical genius, and playfulness… the perfect end to a great concert.
-Reviewed by Brian Quincy Newcomb
Latest posts by Brian Q. Newcomb
(see all)