King's X; Summer Of Love Tour 2019; Turnbuckles & Brews, Dayton, OH – Thursday, July 18, 2019
Given that King's X has been playing essentially the same set for the last few years and I reviewed their show in Dayton nearly 3 years ago at TFN, there may not seem like there's anything new to say about this hard rock trio that I often tell people are the most musical power-trio working music today. And it's worth celebrating their longevity, as there is something to say about a band formed in 1980 that continues to labor on with the same three original members, 39 years later, and can still sell out a 350-capacity club, with folk driving in as faraway as Pittsburgh in the east, and St. Louis in the West. Add to that, the report on the band's fan page that earlier this year they returned to the recording studio for the first time since 2008, and the release of "XV." So, later this year or early next, there should be another new King's X album.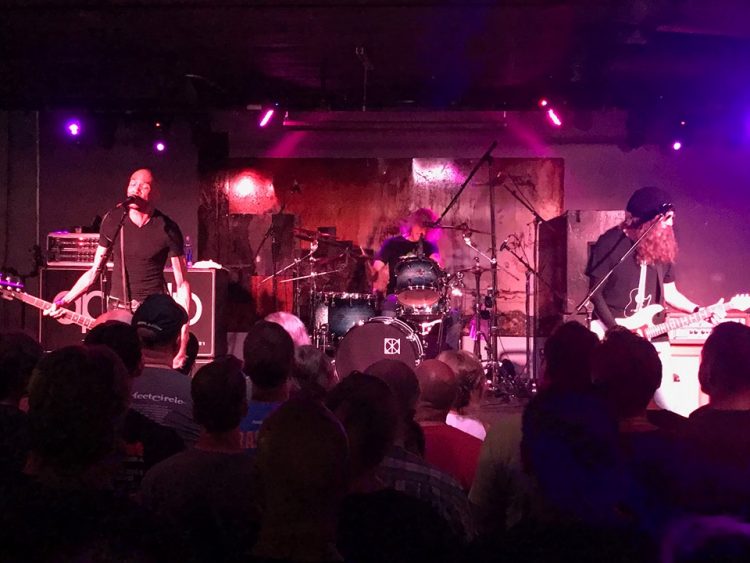 Of course, even if they played the same 17 songs as last time on Thursday night, that doesn't negate the band's innate creativity, musical prowess and the energy that was exhibited in the very hot confines of Turnbuckles on Thursday night that defied the complete absence of any noticeable air conditioning. When the band hit the stage a bit before 11 pm, after 4 openers no less, and kicked into "Groove Machine," the band's unique approach of bringing a deep, soulful, low-end, groove to pretty much a heavy metal sound. Further, add the individual virtuosity of guitarist Ty Tabor, bassist/lead vocalist Dug Pinnock, and drummer Jerry Gaskill, plus their intense combo playing which at times drifts into prog rock territory, and their surprising, yet impeccable three part vocal harmonies, and you realize you are dealing with a unique, very special band.
Ask any of the hard-core fans that surrounded me on that sweaty floor in front of the stage singing out the "welcome to the groove machine" before the band even got to the chorus, and after "World Around Me" also started singing the vocal melody of "Pillow" shortly after the song became recognizable from Tabor's chording, why this band never broke out big time, and they will shake their heads in sad wonder. The band got a lot of MTV airplay back in the early nighties with singles from their "Faith Hope Love" album, you know when the M still stood for music. The band recorded with producer Brendan O'Brien who'd worked with Pearl Jam and Stone Temple Pilots, and then toured as the opening act for folk like PJ, AC/DC, Scorpions and Motley Crue, and they had the songs, any fan will tell you.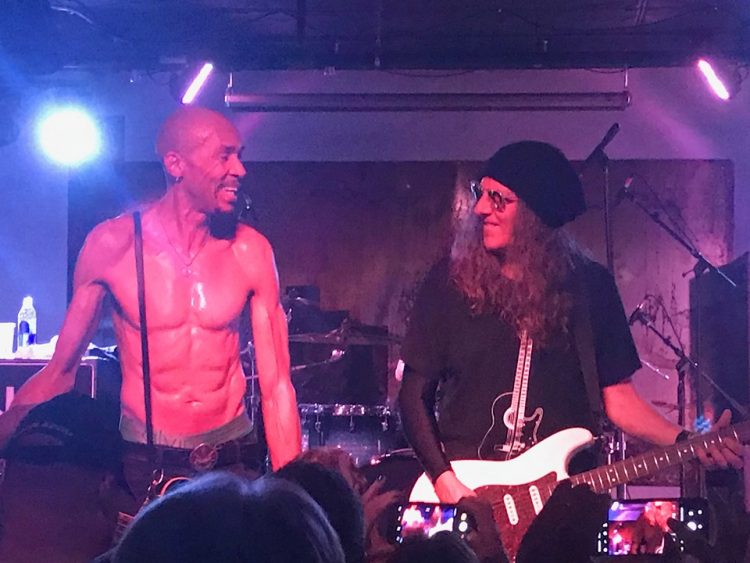 The long slow-burn blues of "Flies and Blue Skies," the funky "Vegetable" with Pinnock embracing his inner soul singer on the "give it all away chorus," Tabor's amazing guitar heroics and unique volume-control trick before his full-on blazing solo in "Cigarettes," and the obvious power when Gaskill hits his drums so hard, stand out as great early moments. The fact that Gaskill has recovered from a heart attack and double bypass surgery makes his high-energy performance all the more special, with fans showing their appreciation with several long chants of "Jerry, Jerry, Jerry" over the course of the 100-minute show.
The band closed the set proper with a string of long-favored "hits." "Summerland," again with a display of those 3-part vocal harmonies, "Over My Head," which puts the old Gospel field song into a hard rock setting with its sing-along "I hear music" chorus and Tabor's fiery guitar solo, and the final admonition that "if you like what you're hearing," "Go Tell Somebody." Something I'm doing right here. The final song has been a steadfast favorite, "We Were Born to Be Loved," with mixes it's hard rock sound with a challenging prog-rock time signature, that usually finds Pinnock and Tabor playing side by side front and center mugging at the crowd with smiles that belie the complexity and intensity of the song's stutter stop-start rhythm.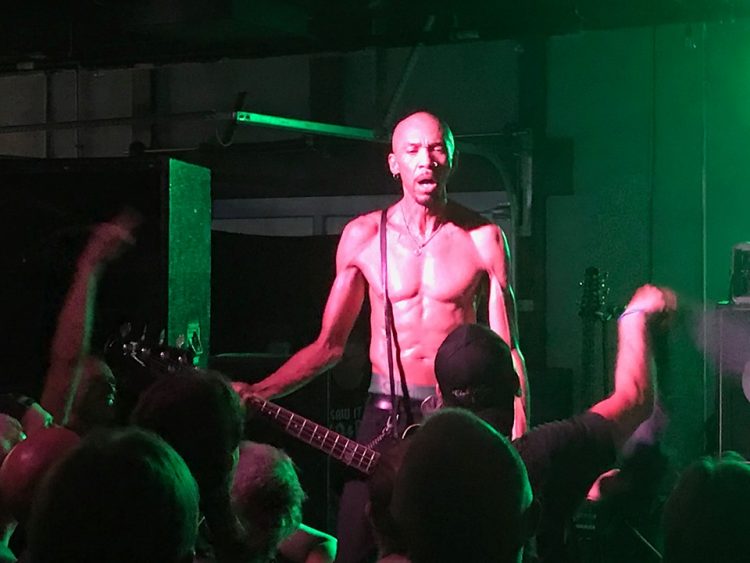 The encores were just as predictable, "King," "Dogman" and "Goldilox," the last one sung entirely by the audience… a tribute to the close bond this trio of musicians has engendered with their fan-base. Now, honestly, there are at least another dozen King's X songs that I'd love to hear live, even though their setlist does lean toward their most popular songs, but would I go see them again in a few months knowing they were still going to play these same songs? You bet. Good music played by great musicians is always going to be something that lifts my spirits, and these songs, like these players, tend to feel like old friends you're always happy to re-visit.
-Reviewed by Brian Q. Newcomb
Latest posts by Brian Q. Newcomb
(see all)