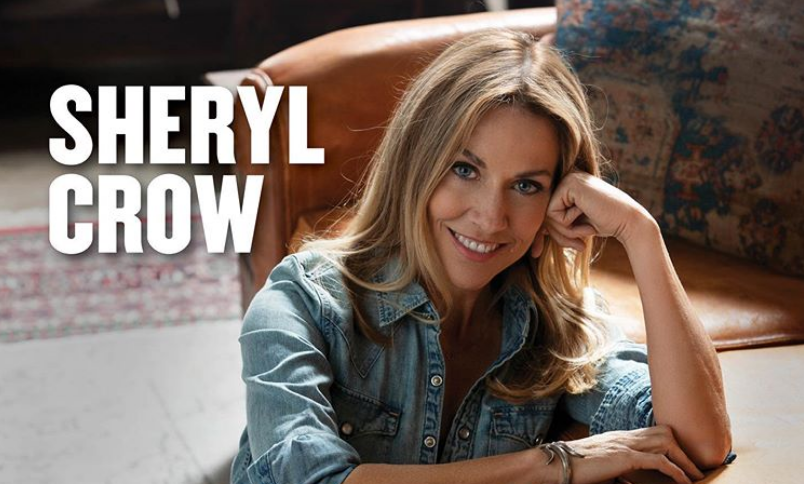 Sheryl Crow w/ Yola; World Tour 2019; Fraze Pavilion, Kettering, OH – Wednesday, July 10, 2019
When Sheryl Crow and her 6-piece band took the stage of the Fraze Pavilion on this hot and sweaty night in July, it was the ease and confidence of someone who had been here before. In fact, as she proclaimed early in her set, that it was 16 years to the day since she recorded her "C'mon America 2003" concert video in that same venue, plus she said it was also her long-time right-hand guitarist Peter Stroud's 60th birthday (she declared this was the third time he'd celebrated his BD on the Kettering stage). The band opened with "Maybe Angels" and slid immediately into one of Crow's earliest airplay favorites "Leaving Las Vegas," as the singer declared playing the Fraze was a "home away from home."
Of course, that song was a cause for controversy when the right to that story line was debated by disgruntled members of the so-called "Tuesday Night Music Club," which became the title of her 1993 debut album. Given the later movie of that same name, it's ironic to see Crow lead her audience in clapping to the beat, when the basic storyline is someone drinking themselves to death.
Staying with songs from her debut album, Crow asked the solid crowd that filled the front three quarters of the venue how many men were in the audience, by way of introducing "Strong Enough," which added just enough pedal steel guitar to the acoustic guitar picking of the original recording to remind us that while Crow is essentially a rocker at heart, she did offer up at least one album worth of country music to tap into the crossover market, and she does make her home in Nashville these days. In similar fashion, she surveyed the age of the audience, finally asking, "how many of you are still rocking in your 50's?" before strumming out the opening classic rock chords to "If It Makes You Happy" on a gold-top Les Paul. Crow would explain the significance of that guitar later in the show, but at that moment I became mindful of the overall appeal of Crow and her music as she led her many fans into a sing-along on the familiar chorus.
Given that she worked her way into recording as a solo artist by first touring and recording sessions as a backing vocalist for folk like Don Henley, and sang a duet with Michael Jackson on his "Bad" tour, some might be tempted to short-change Sheryl Crow by suggesting she's just another pretty blonde girl with a good voice who happened to be in the right place at the right time. Well, we've all seen that kind of flash in the pan talent rise and quickly fade away, but Sheryl Crow has a lot more going for her to prove otherwise, including ten studio albums many filled up not only with great singing performances, but also strong writing and smart production. Absolutely Crow has a great voice, which was on full display Wednesday night, but she is a strong musician across the board – playing rhythm guitar, bass, piano and harmonica – and a fine band leader, skills that were both entertaining and inspirational in live performance in front of her enthusiastic fans.
One of the evening's highlights came up next, "Everyday is a Winding Road," which opened with a long, funky drum intro that reminded me of The Rolling Stones' "Sympathy for the Devil," a comparison that felt even more relevant when Stroud and Crow's other lead guitarist both played extensive solos (this guy was great, and deserves name recognition, however several online searches failed to give me a listing of Crow's live band members), with Stroud playing slide. It's curious how many of Crow's rockers tend to fit that loose, bluesy rock formula that fuels many of the best Richards/Jagger compositions. Crow's guitarists sure rose to the occasion repeatedly over the course of the evening, as did she on lead vocal.
"We're going to take you back 25 years," said Crow, "all the way back to the beginning," by way of introducing the first song to breakout on the radio, "All I Wanna Do," that great party song with lines like "I like a good beer buzz early in the morning," and the great response to the title's suggestion that "all I wanna do is have some fun," that "I got the feeling I'm not the only one." If Crow's fans hadn't yet gotten into the spirit of the night, they were there now. "My Favorite Mistake" followed, the fond farewell song that may or may not be about the brief affair she is said to have had with Eric Clapton.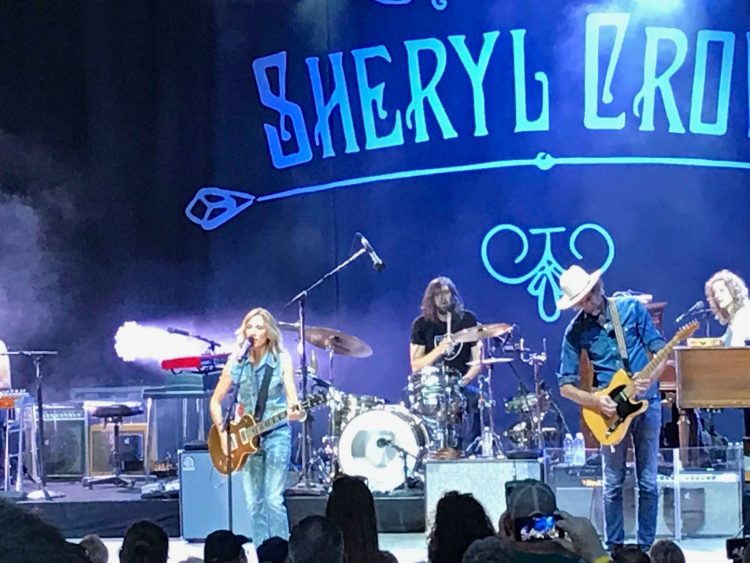 As she was introducing the country rock of "I Can't Cry Anymore," Crow indicated that it was Stroud's birthday by way of introducing what she called a "special guest" on stage with the band for one night only, that gorgeous Les Paul she'd played earlier in the show, which had been Duane Allman's main guitar during the Allman Bros. heyday. "I gotta be honest," she said of the historic instrument, "we're all just shitting ourselves up here when we get to play it." Made possible by the good people of the Allman Bros. Museum at the Big House in Macon, GA that brought that epic guitar to Dayton for this one particular night, and Stroud took the most advantage of it. That said, the band appeared to really lean into the blues-ier aspects of "Can't Cry Anymore," with Stroud and his other friend on guitar, playing in ways that suggested they've been Allman fans over the years, and Crow took advantage of this opportunity to show off her pipes, singing some of her highest and most satisfying notes of the evening.
Crow strapped on a 12-string acoustic and a harmonica in a rack that hung around her neck for "It Didn't Hurt," a great folky ballad with the memorable line, "I can sing my song again," which included a lovely mouth harp solo. Crow commented "that's a song about being dumped," as the band shifted into the Cat Stevens' cover which had been another radio hit for her, "The First Cut is the Deepest," which again the pedal steel and Crow's guitarists gave a bluesy, country feel.
Before introducing a couple new songs from her forth-coming 11th and what she's called her "final album," Crow sang the praises of her opening act, Yola, saying "she's special" and advising the crowd to "go out and actually buy her album. You know, Spotify and streaming, or whatever, are okay… well, they're really not," she admitted. How about, she said, you go out and support an artist the old fashioned way, "I predict buying albums is the next big thing. There, I've said it, let it be so…" and her voice trailed off, before she turned her attention to "Threads," an album of collaborations and duets that she's scheduled for August release.
First up was "Prove You Wrong," a song she sings with Stevie Nicks and Maren Morris on the album. "I'll do my best Stevie impression, and you try to guess which part is me and which will be her," she said, laughing. Crow said she wanted to work with "musicians I've loved" on this album, as she introduced "Live Wire," a bluesy song that includes Bonnie Raitt and Mavis Staples on the album. I think her Bonnie was a bit stronger than her Stevie, but both were good.
Crow's drummer dug into the Stones' groove of "There Goes the Neighborhood," while she played the bass-line herself and her bass player got his turn on that Allman Les Paul. The country ballad, "Home" was next, again relying on the pedal steel for tone, before she did one more new one from the upcoming release. Co-written with Joe Walsh, "Still the Good Old Days," a rock anthem for those of us later in life, with some of Walsh's usual playful lyrics, and a great hook that Crow sang her heart out on, while her bass player did his best Walsh imitation on the verses sung by the missing Eagle.
As the show was picking up speed and heading for its climax, the band gave a bluesy turn on "Best of Times," which found Crow leading the extended jam on harmonica while her piano player delivered some rockin' and rollin' up the keyboard. And the set closed with fiery guitar solos on one of Crow's strongest rockers, "Steve McQueen," which is just a great example of fun songwriting from start to finish. A very underrated rock & roll song.
Crow returned alone to encore with only her female keyboardist, and sat down to a baby grand piano that the stagehands had wheeled down front. Crow explained that she'd written the song "Redemption Day" after visiting US troops in Bosnia, but Johnny Cash had recorded it on his final album before he died, "American VI: Ain't No Grave." While the album will include Cash's voice, Crow delivered the song beautifully, playing quietly on the piano while her friend added the synthesized sounds of an orchestra. It was quite touching, lovely.
The band joined her, and again Crow strapped on a bass guitar for one more rocker, "Soak Up the Sun." Crow appeared to forget a lyric on one of the verses, but nobody seemed to care, and that melodic chorus rang out, with many of her fans singing along.
Thanking everyone for coming and telling us what a great audience we'd been (something I'm sure she doesn't say every night, ha!), Crow started out her final song, another ballad, "I Shall Believe," on acoustic guitar, but midway through moved back to the baby grand. As the song was ending, Crow kept playing the piano, segueing into the familiar melody of "What the World Needs Now Is Love," inviting the audience to sing along. After we'd sung the refrain together a few times, Crow said "the world needs love, the world needs to get rid of hate" and then started to say something that she thought better of half way through… "the world needs to get rid of…" and then she kind of mumbled, and the band brought things to a close with a big crescendo.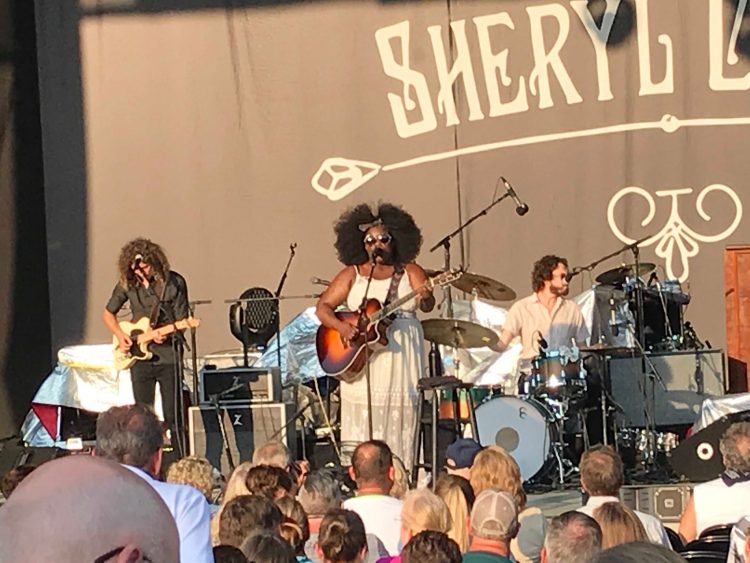 The evening's opener was a big surprise, Yola, a British singer-songwriter who's music leans strongly toward American country music. A black woman with a British accent singing her own country songs may feel a bit like an anomaly, but she had the voice and right songs to pull it off in a very natural and pleasing way. Most of the material in her ten song, fifty-minute set came from her debut album, "Walk Through Fire," which came out earlier this year on Dan Auerbach's Easy Eye Sound label. He also produced the album, co-writing most of the songs. Backed by a five-piece band, and singing directly into the western sun as it was setting, Yola's strong Bristol accent is only present when she's speaking, but not on some of the really solid songs she's worked on with Auerbach to tell her story. The title track from an actual fire that burned down her home, songs about break-ups, and one about her own commitment to her art and craft, "Love All Night (Work All Day)." Like Sheryl Crow, Yola has a very strong singing voice, and a considerable range, which was best heard for those unfamiliar with her original material, on the evening's two covers. Mid-set, she offered up Elton John's "Goodbye Yellow Brick Road," and then played a couple more originals the most noteworthy being, "It Ain't Easier," which hinted at a bit more R&B influence than her previous selections, at times revealing a vocal rawness not unlike Tina Turner's earlier years. But, then she closed her set with a funky cover of Aretha Franklin's "Spanish Harlem" that she dedicated to her mother. Now, nobody should cover Aretha unless the have the chops to do it justice, and Yola does. She sang her heart out, and won over many of Sheryl Crow's fans. Let's just hope they go out and do that radical thing Sheryl suggested, and buy the record.
-Reviewed by Brian Q. Newcomb
Latest posts by Brian Q. Newcomb
(see all)