Jenny Lewis


On The Line
Warner Bros. Records [2019]


Album Review: Jenny Lewis' fourth solo album, On The Line, recalls an era when pop music still leaned heavily on live musicians playing sessions together in the studio, and not computerized midi keyboards and drum beats per minute. Singer/songwriters like Carly Simon, Jackson Browne, and Linda Ronstadt often depended on a crew of stellar studio players that at times became as well-known as the artists themselves. Working again with Ryan Adams' producing, alongside Shawn Everett, Lewis brings her retro pop feel to life with the help of some big names like Beck and Benmont Tench (keyboard player with Tom Petty), and she gets star cameos from the folks like Ringo Starr, Don Was, and Russell Kunkel (who as part of The Section, which played on records by the 3 artists above, plus James Taylor, Carole King, Joni Mitchell, and many more). This brings a level of artful sophistication to Lewis' somewhat retro sound, supporting her natural singing voice, and tasteful mix of melody and lyrics.
On her first single her, "Red Bull & Hennessey," Lewis mixes piano chords that ring out with a nod to 60's girl group pop, while her lyrics narrate an intimate exchange fueled by, well… Red Bull & Hennessey, before a tasty guitar solo provides the outro. It's not a heart on your sleeve emotional revelation, more an astute observation about a certain kind of relationship, but it makes an impact nonetheless. Of course, by now, we should expect this from Lewis, who worked with Adams on her last album, The Voyager (2014), drawing comparisons to Fleetwood Mac due to its embrace of that old school Southern California sound. And before that, Lewis had a solid four album run with indie-rock/alt-pop band Rilo Kiley, and before that she was a child actress in the movies.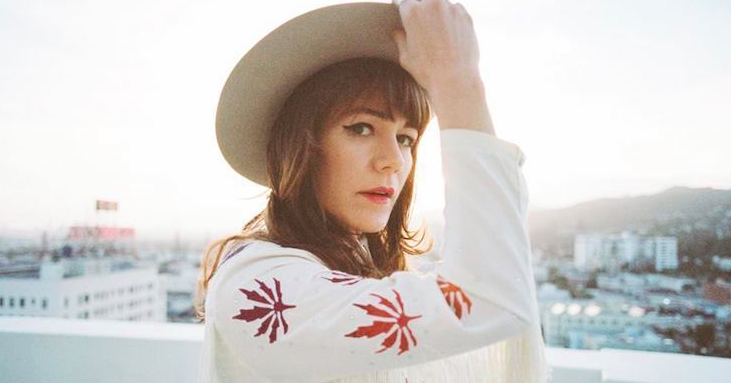 And that retro 60's girl group pop vibe keeps showing up here and there, like those "doo, doo-doo, doo-doo's" in "Wasted Youth," in "Party Clown," where bells ring out like chimes, and on the title track where the backing vocals are more fully developed. While most of the tempos are mid-tempo, not exactly made for dancing at a party, the instrumentals provide enough punch and smart soloing, like the Hammond organ on the opening track, "Heads Gonna Roll," and the sweet guitar tone in the skittery rhythm of "Little White Dove."
But more often than not, the lyrics tend toward cautionary tales, as in "Hollywood Lawns" and "Wasted Youth," where the drug in question comes from "a poppy." "Life is a disco," in "Do Si Do," but you should "Let the grown man cry/It's suicide." But Lewis balances the bleak landscapes with funny turns of phrase, like "Heads Will Roll," which concludes "Maybe a little bit of hooking up is good for the soul." In "Party Clown," she "cries like Meryl Streep." In "Hollywood Lawns," she warns, "I've had it with you trippers and drama queens/If I click my ruby slippers like Don Quixote/I'm long lost like Rockefeller drifting off to sea." So, the landscape may be full of sex & drugs and rock & roll, but she's as literate as Gatsby… or I should say, Fitzgerald.
Lewis references "the Beatles and the Rolling Stones" in the set closing, Rabbit Hole," but her inspirations run closer to The Ronettes and The Shirelles, although the orchestrated strings in "Taffy" might qualify as Beatlesque. The point here, is that Jenny Lewis has once again delivered a culturally timely album that cuts through the singer/songwriter haze of girl-folk-singer-Americana artists that are everywhere these days, with a sound that stands on its own two feet… well, six if you count the background singers.
Key Tracks: "Red Bull & Hennessey" / "Heads Gonna Roll" / "Rabbit Hole"
Artists With Similar Fire: Carly Simon / Carole King / Linda Ronstadt
Jenny Lewis Website
Jenny Lewis Facebook
Warner Bros. Records
– Reviewed by Brian Q. Newcomb
Latest posts by Brian Q. Newcomb
(see all)