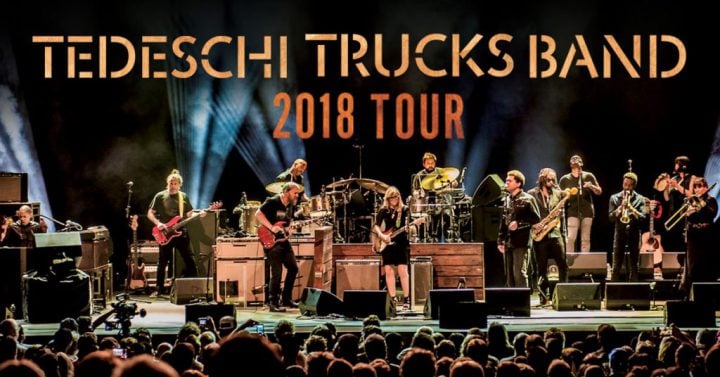 Tedeschi Trucks Band Tour; Palace Theatre, Columbus, OH – Friday, November 9, 2018
On Friday night the big band led by Susan Tedeschi and Derek Trucks took the stage at the Palace Theatre for two solid sets that would lead anyone with good ears and an awareness of the roots music of American experience to conclude they are one of the best and most versatile groups currently on the scene. And, it's not an exaggeration to call this a "big band," in both of the meanings those words suggest. With 12 players on stage – two drummers, a three-piece horn section, three background singers, keyboard player, a bassist and the two named front people, singer and guitarist Susan Tedeschi (who was celebrating her birthday on this night), and on electric slide guitar, band leader and one-time child prodigy, Derek Trucks – the evening's concert revealed that every person on the stage brought a strong musical contribution that made the whole greater than the sum of its parts. Don Henley and Joe Walsh like to tour with big ten piece bands, but it's obvious the support players are there to enhance the named front artist, whereas the TTB allows for a full and complete sharing of the stage with their numerous side-musicians that is both generous and pleasing.
Shortly after 8 o'clock, the lights dropped and the band casually took the stage, and Trucks launched the band into "Made Up Mind," playing the fast opening chords of the R&B shuffle which is the title track of the band's 2013 release of the same name. And in a pattern that would become familiar during the evening's two sets, the rhythm section fell into place, Tedeschi put her heart and soul into her vocals, while the background singers – Mike Mattison, Mark Rivers, and Alecia Chakour – delivered a vocal bed that provides a launching pad for her to soar. Solos tend to get past around the band, as if scheduled by Trucks with just a nod of his head in the direction of this player or that, but in time, the golden tone of his slide guitar rises above the rest and all eyes and ears turn toward this consummate soloist, who spent his early years playing in the Allman Bros., filling the shoes of one the late great guitarists in the history of rock & blues, Duane Allman.
Like the seasoned jam band that they are, Trucks and Tedeschi bring a wide appreciation of musical traditions and inspirations to the fore, giving their sets a smart sense of peaks and valleys that hold their fans' attention, leaning forward to see what comes next. "Don't Drift Away" followed, a soulful R&B song with a gospel feel to the vocals, where the singers offered an impressive vocal blend. A slow burning blues, "Until You Remember," from the band's 2011 debut was up next, which Tedeschi sang without her guitar. The horn section took more of a lead role on "Right On Time," which also brought vocalist Mattison forward to share lead vocals with Tedeschi, while there was an especially fun moment when Trucks and trombonist Elizabeth Lea traded solo licks.
A bluesy take on Allen Toussaint's "Get Out of My Life Woman," again featured Mattison on lead vocal, which offered Tedeschi a chance to play a guitar solo, and her approach on her Les Paul was a nice contrast to Trucks' more seasoned slide playing on his SG, and in true jam band style, keyboardist Burbridge was given a moment to shine on his Hammand B3. Burbridge turned to piano to play the opening chords of "Do I Look Worried," the second song from the great "Made Up My Mind" album, which in TTB fashion grew in energy, allowing some of Trucks' breakthrough guitar soloing to shine, while Tedeschi's vocals continued to impress, both for the strong purity of her tone, and the raw, emotion she expressed as these now familiar songs reached their musical climax.
For "Going, Going, Gone," a Bob Dylan song from his "Planet Waves" disc, vocalist Mattison, strapped on an acoustic guitar to add the song's folky roots but in the hands of the fine TTB, the song took on a brooding gospel feel thanks to the vocal blend, but built to a smoldering torch song energy which again allowed Trucks to delivers some of his blistering, high end melodic playing on the slide guitar. And they closed out the first set with a big fast take on Joe Tex's "Show Me," which brought the other male vocalist Mark Rivers forward to handle the "Show me a man that's got a good woman" verse, before Tedeschi took over for the other two verses. This time the band leaned hard on its horn section, as the song's R&B feel came to the fore, and toward the end Trucks traded fast lead sections with each individual as the circle sped up the cycle, guitar then trombone, trumpet and sax, and back to guitar, and around again, producing a real concert highlight. And then as casually as they entered, the band left for a break promising to come back for another set.
When the band returned, they opened with "High & Mighty, a bluesy song with a bit of an Allman Bros. feel, that also brought forward a strong horn blend and a solid trumpet solo from Ephraim Owens. The traditional blues standard, "Key to the Highway," a boogie that has been covered by blues greats from Big Bill Broonzy to Eric Clapton's Derek & The Dominoes, The Band and The Stones. The Tedeschi Trucks Band wasted little time putting their own stamp on it, with Mattison on vocals with Tedeschi, who also played a guitar solo and had a nice dual guitar moment with her husband Trucks.


"Part of Me," the third song from "Made Up Mind" on this evening, had a fun jazzy pop feel as it started on the bright guitar chords of Trucks, and again the soulful "oohs" from the vocal chorus gave it a unique mix of flavors. The two drummers, whose contributions throughout the night brought a strong propulsive energy, came together to launch the New Orleans funk groove of Dr. John's "I Walk on Gilded Spiders," which was another concert highlight featuring strong soloing across the board, but again notably by Derek Trucks. As the song started to reach it's end it appeared that we were in for a double drum solo but before Tyler Greenwell and J.J. Johnson could get too far into it, a couple roadies wheeled out a birthday cake with candles burning for Susan Tedeschi, and the whole crowd led by the band's horn section sang "Happy Birthday" to the vocalist, then she dutifully, although she said she was embarrassed, blew out the candles.
Eager to divert attention from the personal moment, Tedeschi led the band quickly into another high-energy blues, "I Pity the Fool," which again allowed her to play an impressive guitar solo. You come to the TTB expecting to be blown away by the one time child prodigy Trucks, but Tedeschi's playing is yet another surprising addition to this band's diverse offerings that is very impressive, especially given her incredibly strong vocal delivery.
At this point, Trucks, who never spoke to the crowd, wandered off stage, as well as the singers, horns, and one of the drummers, and pianist Kofi Burbridge played the familiar opening to the John Prine classic, "Angel From Montgomery," a song that is often associated with Bonnie Raitt. Now, I'll admit I have often compared Susan Tedeschi's voice to Raitt's when looking for an appropriate comparison for folk who have yet to experience Tedeschi, who had a strong solo career as a singer/songwriter in her own right prior to combining her band with Trucks' after they married. But on this cold winter night in Columbus, Susan Tedeschi owned that classic, beautiful song, aided by a lovely jazzy flute solo from Burbridge, and then in an unexpected turn segued into the Grateful Dead classic, "Sugaree," as the band rejoined her on stage, and she brought it all back around to "Angel" as the song ended. It was a classic jam band genius move right there.
Then in a final pay-off, after an already great night of music, the Tedeschi Trucks Band went for the dynamic set closing extravaganza, pulling out all the stops on a rousing R&B rave up of "Bound for Glory," from the band's 2011 debut, "Revelator," which included another great organ solo, and lots of energy from the full band and singer, and an especially strong solo moment from the other female vocalist, Alecia Chakour, who took us briefly to church.
The band returned to encore on "Shame," which Tedeschi said she got to pick since it was her birthday. Another new song from the band, likely to show up on the new album they are preparing for release early next year, saw the singer again sans guitar, while the band leaned into the roaring, souring R&B/jam band style that has become their signature sound, Tedeschi singing with strength and emotion, and Trucks playing a rich, beautiful lead on his guitar. Together, these extraordinary talents, combined with the strengths of the ten players supporting them makes the Tedeschi Trucks Band one of the best live bands playing live shows today.
-Reviewed by Brian Q. Newcomb
Latest posts by Brian Q. Newcomb
(see all)