Neko Case


Hell-On
ANTI- Records [2018]


Fire Note Says: Indie rock icon, chanteuse and auteur, Neko Case returns after 5 years with a strong self-produced collection of songs, her best yet.
Album Review: It's been five years since Neko Case's last album, but it's not as if she's been silent since the release of The Worse Things Get, the Harder I Fight, the Harder I Fight, The More I Love You. In 2016 she collaborated with k.d. lang and Laura Veirs on their fine trio album Case/Lang/Veirs, and last year she was back in her long-standing band, New Pornographers on Whiteout Conditions. The bio accompanying Hell-On suggests that it was work in the studio with Veirs and lang, plus Case's participation in a 2016 panel at a "Woman Producer" summit, that gave her the confidence to self-produce her own recordings for the first time, even if she continues to work with a significant group of past associates.
Case often writes such enigmatic lyrics that no matter how accessible and easy on the ears, it would be a mistake for any reviewer to suggest they have fully understood the artist's intent. Still, in the closing song of this latest effort, "Pitch or Honey," she offers up a few clues to her songwriting inclinations. "I hear overtones that make this another song," she writes in the opening lines of the lyric, perhaps explaining why sometimes she seems to write a different song right inside of another. "I write major chords to make this the saddest song/an effective manipulation," she adds, which perhaps explains why the brightest pop song on this album is titled counter-intuitively "Bad Luck," with lyrics that admit to "trying to pass riddles as poetry."
"I wrote this song for me," she admits in "Pitch or Honey," knowing full well that "now I let it go… I release it into the custody of my huckleberry friend." As the title suggests, even she may not know if she's produced something sweet and delicious or something darker, stickier and less substantial, but she knows it's worth the risk because "I love you better when you're wild."
So, it's better to encounter these songs in the "wild," while we would be errant to say what too many of these songs mean, and acknowledge the themes that arise. The record opens the title track with the sound of a simple melody played on a kalimba thumb piano before settling into a slow groove over which Case intones that "God is not a contract or a guy," before concluding instead that "God is a lusty tire fire." "There's nothing quite so poison as a promise," as she considers all the damage done to the natural world and the results are that we get back worse than we gave.
Or maybe I was right the first time, some songs are so enigmatic that we're just guessing, grabbing a lyric that seems to speak to us, a phrase that suggests an event we can relate to, a story we might guess how it ends.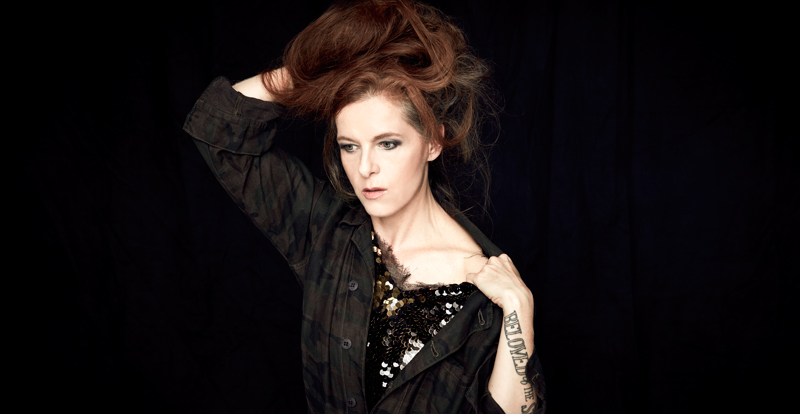 Take the 7 min. duet sung in tandem with Mark Lanegan (Screaming Trees), "Curse of the I-5 Corridor," describing the lovelorn lives of those along side the Pacific Coast highway that runs from Seattle down to Los Angeles. Is this auto-biography or an artistic rendering of universal experiences, or some mix of the two, or something else all together.
Eric Bachman's song, "Sleep Me Summer," another duet, and a song Case has been covering live for a while, is less ambiguous. A relationship is coming undone and the failed lovers ask the inevitable question, "why won't you fall back in love with me?" It's bittersweet, pitch and honey if you will.
"Winnie" celebrates the love for a woman who "sang me a song that were too sad for some," while "Halls of Sarah" seem to describe the enterprises of men "loving women as lions love Christians."
I remember once mistaking Neko Case's voice for that of Natalie Merchant of 10,000 Maniacs, and there still moments where I make that connection. Still, in the years since the live recording, "The Tigers Have Spoken" (2004), and across the course of the four strong solo albums that have charted her increasing strength and confidence as an artist with a unique voice all her own. Many of the songs were written with Paul Rigby, her long-time collaborator, and she recorded in Bjorn Yttling's (of Peter Bjorn and John) studio and enlisting him as co-producer on half the 12 tracks, and she's was joined by Bachman, Lanegan, lang and Veirs, New Pornographers' A.C. Newman, Beth Ditto of Gossip, Kelly Hogan and includes Doug Gillard of Guided By Voices and Joey Burns of Calexico on guitars, Matt Chamberlain and Barbara Gruska share drums.
The result is Hell-On, which ironically uses fire imagery on the cover, hinting at the real life tragedy of Case's home burning to the ground while she was in Sweden recording the album, talk about "Bad Luck." But there is little doubt that Neko Case continues to move to the inner voice of her own muse, and the result is unique, yet approachable indie rock with a variety of home spun flavors to match all the feels, from crisp, fun pop to more organic folk and rock vibes. She's been a critic's favorite on year end best-of lists, and I anticipate the streak continues with Hell-On.
Key Tracks: "Bad Luck" / "Curse of the I-5 Corridor" / "Sleep All Summer"
Artists With Similar Fire: Natalie Merchant / New Pornographers / Laura Veirs
Neko Case Website
Neko Case Facebook
ANTI- Records
– Reviewed by Brian Q. Newcomb
Latest posts by Brian Q. Newcomb
(see all)