La Luz


Floating Features
Hardly Art Records [2018]


Fire Note Says: The surf is just right with La Luz's third LP, Floating Features.
Album Review: There is a reason that you should always listen to a record more than once before putting it aside. I have been a big fan of La Luz since their 2013 debut It's Alive but after one spin through Floating Features I thought the band might have regressed some instead of taking all the momentum from their Ty Segall produced sophomore album Weirdo Shrine (2015). I am glad I changed my setting and let Floating Features play through again because it is a true wave of surf lounge that has La Luz sounding tighter and more boasted than ever before.
La Luz keep their surf/garage beginnings in tact here but with the help of producer Dan Auerbach (The Black Keys), Floating Features has a more polished sound. It starts right away on the opening instrumental title track that sets the tone with La Luz's guitar wizardry and if one song could sit you on the beach with the sun sitting high and the waves rolling in – this is the track. The pulsing "Cicada" is next and it brings the earthly vocals of singer/guitarist Shana Cleveland out front as the song moves quickly with a sense of urgency while still letting you drift off on a raft. This up and down vibe continues throughout Floating Features as the album never takes off but never dies down. Floating Features takes you to place in your head that you want to arrive at your destination but are ok if you never do.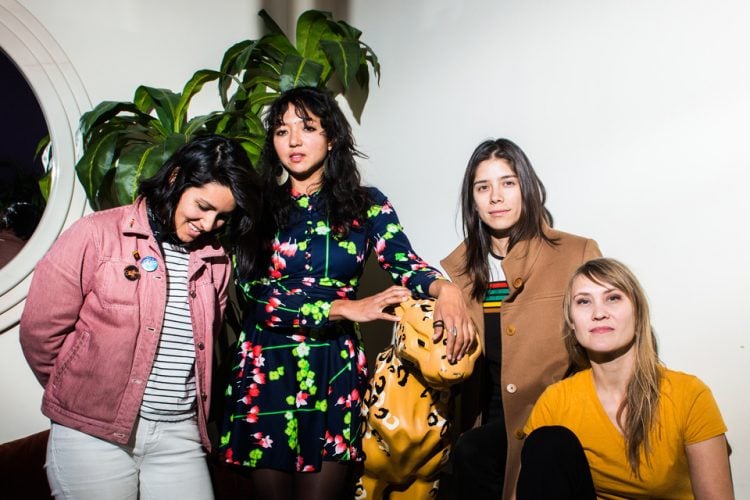 This controlled environment works well for La Luz at this stage. The 11 songs here are still very similar to their previous output but it's the tiny elements that really make this record pop. From the swaying backing vocals that whoosh in and out on "Greed Machine" to the multiple guitar solos and organ melodies that spring up consistently, La Luz have created their own oasis environment on Floating Features that only gets better every time you spin it.
Key Tracks: "Cicada" / "Mean Dream" / "Greed Machine"
Artists With Similar Fire: Bombón / Tijuana Panthers / Dead Coast
La Luz Website
La Luz Facebook
Hardly Art Records
– Reviewed by Christopher Anthony
Latest posts by Christopher Anthony
(see all)