Laura Veirs


The Lookout
Raven Marching Band Records [2018]


Fire Note Says: Laura Veirs is indie folk's best-kept secret, and she delivers one of her most rewarding records with The Lookout
Album Review: Laura Veirs music effortlessly evokes the cool, misty forests of her Pacific Northwest home-base of Portland, Oregon. Her music has always been closely tied to nature; whether on breezy folk-pop tunes like those that fill Year of Meteors (2005) and Saltbreakers (2007), or more subdued efforts like her 2010 masterpiece July Flame, Veirs has always imbued her songs with writing that evokes the natural world both musically and lyrically. That same feel is carried over into her latest efforts on The Lookout, an album that follows her excellent 2016 collaboration with Neko Case and K. D. Lang as Case / Lang / Veirs.
While Case / Lang / Veirs combined each artist's strengths into a varied tapestry of folk- and country-inflected songs, The Lookout mainly circles back to the straight folk side of things, though there are a few tunes that demonstrate a departure from Veirs' usual sound. One of these is the opening track "Margaret Sands," a track with cryptic lyrics that might describe either a place or a person (or both), and which contains some slightly creepy backing vocals (presumably from Veirs' husband/producer Tucker Martine). Another example of Veirs departing from the trail is the following track, "Everybody Needs You," which simmers with keyboard textures, a prominent rhythm track, and layered vocals, all of which recall the experimentation of the Case / Lang / Veirs album in a positive way.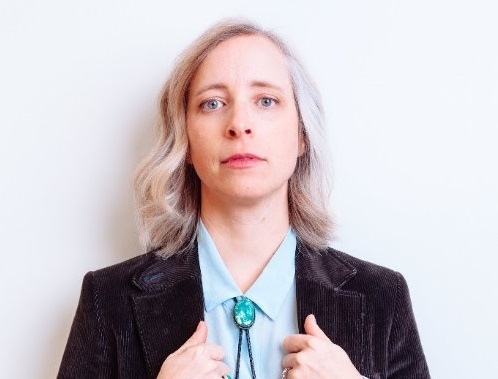 After these first couple of tracks the album settles into a comfortable groove, but that doesn't mean there are no surprises. One of the biggest is a fantastic cover of the Grateful Dead's "Mountains of the Moon," one of the standouts on their 1969 transitional acid-folk record Aoxomoxoa. Veirs' take on the track strips back some of its trippier elements in favor of the song's core essence, which is prime Jerry Garcia/Robert Hunter acoustic balladry. Veirs' version would have fit right in on the massive Dessner brothers-curtated Dead tribute Day of the Dead, though the Lee Ranaldo/Lisa Hannigan version on that album is great too. Other highlights abound: "Watch Fire," a hypnotic yet upbeat track, features Sufjan Stevens on background vocals, while the title track is a poppy, harmony-laden tune with a string section providing some additional texture to Veirs' usual acoustic plucking. "When It Grows Darkest" is a moody, spellbinding mini-epic with a dramatic, almost cinematic arrangement. "The Meadow," meanwhile, exchanges acoustic guitar for a piano and more string accompaniment, and "Canyon" starts simply before expanding into an extended instrumental coda with electric and slide guitars. All these experiments work, but Veirs is just as good when she sticks to the basics, especially on the gorgeous "Heavy Petals" and closing track "Zozobra," which features just electric guitar, bass, and layers of Veirs' vocal harmonies, finishing out the album on a true high note.
The Lookout is a subtle, deliberate record that takes a little time to sink in—but once it does, it proves itself to be one of Veirs' best records yet. And given her track record, that's saying something. If you aren't yet familiar with Veirs' work, The Lookout is a great place to start.
Key Tracks: "Heavy Petals" / "Mountains of the Moon" / "Zozobra"
Artists With Similar Fire: Neko Case / Denison Witmer / Sandy Denny
Laura Veirs Website
Laura Veirs Facebook
Raven Marching Band Records
-Reviewed by Simon Workman
Latest posts by Simon Workman
(see all)