Barrence Whitfield & The Savages


Soul Flowers Of Titan
Bloodshot Records [2018]


Fire Note Says: Barrence Whitfield & The Savages play oldschool R&B with the energy of garage-rock punkers, serving up passion and intensity, giving life to familiar blues riffs.
Album Review: Soul Flowers Of Titan, the fourth album from Boston-based R&B soul shouter Barrence Whitfield with his old mates in the raw, garage rockers The Savages since re-forming in 2010, after over a decade of recording and touring in the 80's and 90's. This is the first album of this new millennium to not include the word "savage" in the title, but don't let that fool you, this band remains as potent as a rocket fueled up and aimed at the largest moon of Saturn.
Whitfield, who remarkably was born as Barry White and changed choose his stage name to differentiate himself from the more famous deep voiced soul man, is a blues screamer in the tradition of Howlin' Wolf, Solomon Burke and Wilson Pickett. Together with original Savage guitarist Peter Greenberg and bassist Phil Lenker, B.W. & the Savages has the same energy and potency of the original Blues Brothers Band a la Aykroyd and Belushi if the players they gathered together were as schooled in garage punk as they were old school R&B. The result is a sound that leans on all the usual blues riff vocabulary, but remains raw and vital due in no small part to the energy Greenberg and the rhythm section of Lenker and drummer Andy Jody, and especially Whitfield bring to these performances.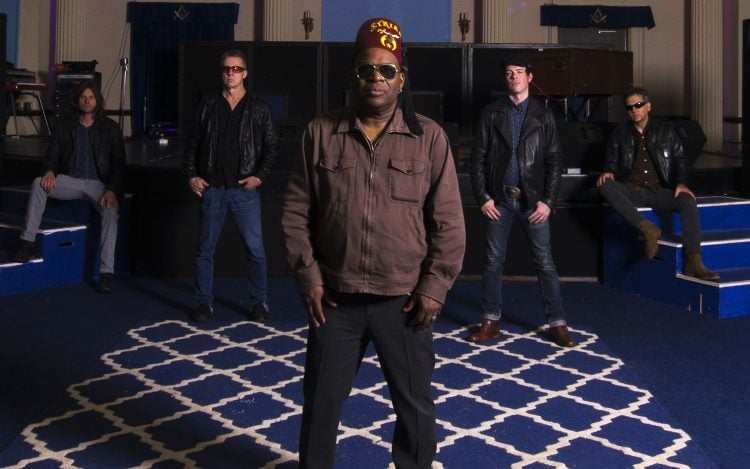 Soul Flowers is recorded in a Cincinnati studio, and the band has breathed life into some of the classics from the old indie labels, like Federal and King, leaned toward a raucous take on 50's and 60's R&B a la tracks here like "Slowly Losing My Mind, "I'll Be (Coming) Home Someday" and "I'm Gonna Leave You Baby." "Pain" gets the full horn section treatment to the song's benefit, but often its just the band members themselves, including organ/pianist Brian Olive and sax player Tom Quartulli. While some of these tracks fall easily into conventional party blues territory – I love you baby, I lost my baby, I'm leaving my baby – but "Tall, Black and Bitter" is either an ode to his coffee or a metaphor for something darker, while like the title a couple tracks look for inspiration further out in the musical and actual universe. "Let's Go to Mars" and "Sunshine Don't Make the Sun," are originals written as a tribute to the Afro-retrofuturist musician Sun Ra, and the latter song ends with one of those larger-than-life noisy chords associated with Ra.
Most of Soul Flowers of Titan feels like pretty traditional blues, relying on tried and true riffs, chord patterns and song structures, and even turns of phrase. But it would be a mistake to stop paying attention, as you'd miss the weird lyrics in "Adorable" about buying a gun, drinking with your friends, and "shooting at a moving target, even if it doesn't move," or "Tingling," which insists that if you can't feel it in your nervous system, it's not love. There's a bit of old school "doo- wop" in "I'll Be Home Someday," and there are lots of familiar riffs are resurrected here, so the real magic trick of Barrence Whitfield & The Savages is the energy and passion of these performances. If they can rock a recording studio with such intensity, one has to imagine their lives shows are transcendent.
Key Tracks: "Pain" / "I'll Be Home Someday" / "Tall Black and Bitter"
Artists With Similar Fire: Sharon Jones & The Daptones / Solomon Burke / The Cramps
Barrence Whitfield & The Savages Website
Barrence Whitfield & The Savages Facebook
Bloodshot Records
– Reviewed by Brian Q. Newcomb
Latest posts by Brian Q. Newcomb
(see all)