Brian Fallon


Sleepwalkers
Island Records [2018]

Fire Note Says: A surprisingly joyful outing, Sleepwalkers makes clear that while Brian Fallon is certainly interested in evolving, it's not likely that he ever really will.
Album Review: Brian Fallon occupies a singular place in today's rock and roll landscape.
Like fellow folk-rock travelers Dave Hause and Chuck Ragan, Brian Fallon is the former lead singer of a punk rock outfit with a cult following that survived the band's heyday, and like any front man who strikes out on their own, he's trying to find that musical sweet spot between nostalgia and progress; between what's safe and what's next.
But unlike his peers, Fallon has long been caught in a swirl of Springsteenian mythology and anticipation of rock and roll greatness; his evolution into the Next Savior of Rock and Roll ™ has been foretold by favorable critics for over a decade now. But after five records with The Gaslight Anthem, one with The Horrible Crowes, a rare EP with Molly and the Zombies and two solo releases, Fallon, now in his late thirties, has made one thing clear to detractors and champions alike: while he's certainly interested in evolving…it's not likely that he ever really will.
That hesitation is more apparent than ever on Sleepwalkers. It's a surprisingly joyful outing, littered with light, jangly, up-tempo tracks, crunchy classic rock guitars and soaring organs, but even as the record emerges as Fallon's most progressive and experimental to date, it doesn't stray far from the consistent songwriting structures, blue collar themes and honest poetry that Fallon has dependably delivered for years.
As usual, he wears his influences right on his sleeve, tossing lyrical and thematic shout outs to classics like Etta James, The Beatles and The Clash alongside more contemporary artists like Florence and the Machine, Counting Crows and other familiar Fallon favorites along the way. He summons a vintage Jersey Shore Sound infused with soul, rhythm and blues and doo-wop; the warm organs and plucky, reverb-drenched guitars of "If Your Prayers Don't Get to Heaven" and "Come Wander With Me" lend those songs an air of mystery and drama, while the percussion dares listeners not to tap their foot to the rhythm. A distinct, gospel and Motown-tinged vibe permeates nearly every track, binding them together to create an intoxicating environment of sound tailored for both somber reflection and shameless dancing; a record comprised of "melancholy songs that somehow [make] us feel a whole lot better," as Fallon sings on lead single "Forget Me Not."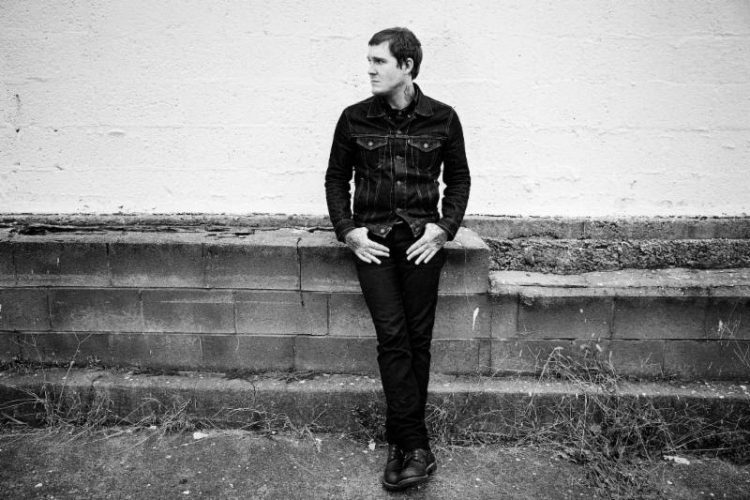 On Sleepwalkers, as on each of his records, Fallon rarely strays from writing two types of songs: ones about the stories of struggling everyday people, and ones about the agonies of love and death. "Proof of Life" and "See You on The Other Side" are distinctly members of the latter camp, with "See You on the Other Side" finding the songwriter at his most lyrically vulnerable since The Horrible Crowes' heart wrenching 2012 release Elsie. "And when we both grow old and there's nothing left to say / I want you to know that I loved you all my days / and when we close our eyes on this lifetime / I'll see you on the other side," Fallon tells his lover, summoning the plain spoken ghost of Leonard Cohen to elicit the most complicated emotions with the simplest selections of words.
"Little Nightmares" is a bit of a fake-out, starting herky-jerky and disjointed before bursting into a thrilling headlong sprint that doesn't let up until the song reaches its zenith. It's followed by the title track, a genuinely bizarre brass-lead number that finds Fallon at his wackiest; there are few places fans won't follow Fallon, but this track will push even his most loyal listeners to their limits as it unfurls like a needlessly beefed up B side from Tom Waits' Closing Time or The Heart of Saturday Night. "Neptune" would be standard Fallon fare if not for the delightfully hokey bass-drums-and-organ main riff that throws the song out of its predictable rhythm and laces it with an unexpected, creepy fun. Cohen's subtle lyrical touch again appears in spirit on "Watson," on which Fallon croons "I worry when I get old I'll be lonesome / chasing all the umbrellas in London," lyric-checking The Magnetic Fields and treating listeners visual, evocative Fallon storytelling at its best and its least dramatic – an accomplishment for which this heavily romantic and typically indulgent songwriter deserves great praise.
But while Fallon's lyrics are more poignant and restrained – and thus to greater effect than usual – Sleepwalkers, like its predecessor Painkillers, is almost unbelievably overproduced. Fallon's best work is marked by abject vulnerability, honesty and rawness, and Ted Hutt makes many of the same mistakes Butch Walker did on Painkillers by smoothing over most of Fallon's wonderfully rough edges. That being stated, it's clear that Hutt's instincts are a far stronger match for Fallon than Walker's ever were, and overall, his approach encourages Fallon's best habits, even if moments of real emotion are blunted in the process. It's possible that Fallon would be best served in the future by working with a fellow punk traveler like Against Me!'s Laura Jane Grace or Blind Melon guitar player Christopher Thorn, whose work on Chuck Ragan's 2014 release Til Midnight captured all of Ragan's raw strength and none of his weaknesses.
It's not likely that Sleepwalkers will convert any new hardcore believers, but there's more than enough feel-good rock and roll nostalgia, evocative writing and fun, finger-snapping rhythms to earn Fallon's follow up a spot in any record player. Though Fallon may never end up meeting the soaring expectations adoring fans and favorable critics have thrust upon him, he has produced an incredible body of work in the meantime, and Sleepwalkers' careful progress and safe genre experimentation lands itself a strong position in that discography.
Key Tracks: "If Your Prayers Don't Get To Heaven" / "Come Wander With Me" / "See You On The Other Side"
Artists With Similar Fire: Dave Hause / Matthew Ryan / Jason Isbell
Brian Fallon Website
Brian Fallon Facebook
Island Records
– Reviewed by Dylan Gallimore
Latest posts by Dylan Gallimore
(see all)