Black Rebel Motorcycle Club


Wrong Creatures
Vagrant Records [2018]


Fire Note Says: Black Rebel Motorcycle Club delivers another solid outing shaped by riff-rock and post-punk distortion.
Album Review: There are those bands that you just want to root for, they may not yet have produced that breakthrough album you know they are capable of, but you just sense they have it in them. Black Rebel Motorcycle is one of those bands for me. First off, they have a kickass name (borrowed from Marlon Brando's gang in the movie, "The Wild One"), second they made smart riff rock that suggested classic rock influences like Led Zep, but they had an affinity for noisy distorted guitars ala The Jesus & Mary Chain and shoe-saze bands like My Bloody Valentine, and third, "Whatever Happened To My Rock & Roll" on the band's debut was one of the best rock songs of 2001.
Also, probably a factor, bassist Robert Levon Been is the son of Michael Been of The Call, a band I also thought would one day breakout in a very big way, and although they made albums I thought were great, the closest they ever came to a hit song was "Let The Day Begin," which seemed to attract the Frat Rock crowd for all the wrong reasons. With The Call inactive in recent years, Michael traveled on tour with BRMC doing sound for the band, but died off a heart attack when they were in Belgium to play the Pukkelpop Festival (Aug. 2010). As a tribute, BRMC recorded "Let The Day Begin" on their 2013 album, Specter at the Feast, putting their own heavy, distorted spin on the familiar guitar hook, Robert giving his own take on his father's melody.
If tragedy doesn't follow BRMC, it's stayed a close companion over the years. The band formed when Been and long-time high school friend, guitarist Peter Hayes, decided to play together after Hayes finished a stint in the Brian Jonestown Massacre. From 1998 to 2008, drummer Nick Jago completed the trio, but in his later years there were issues with addiction and conflict. He was eventually replaced by Leah Shapiro who, had toured previously with The Raveonettes, and she has played drums on the band's last two fine albums, Beat the Devil's Tattoo (2010) and Specter (2013). In 2014, Shapiro had brain surgery, but has fully recovered and plays on the new one, Wrong Creatures.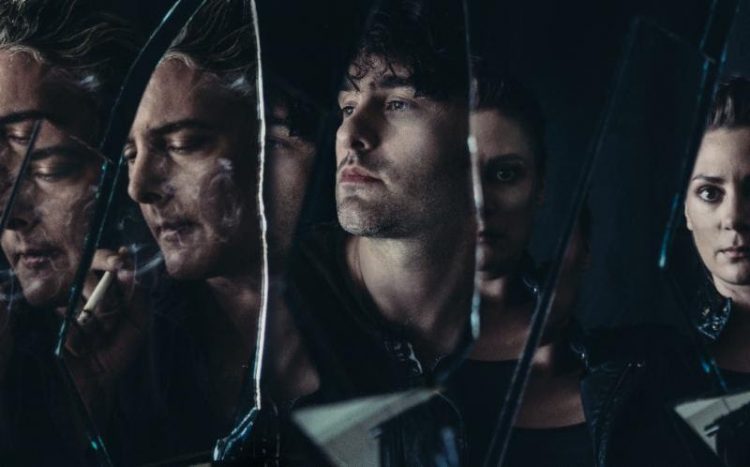 Early on, you get a sense for the band's knack for building a solid rocker out of a catchy guitar riff, in "Spook" and "King of Bones." "Haunt" follows with a slower, bluesy sound to match its title, but in "Echo" BRMC sounds like they are making a nod toward U2, with the most pop-friendly melody on the record, and a guitar sound from the Edge songbook. The mid-section of the album finds BRMC playing loose and in their own unique groove on "Ninth Configuration," "Question Of Faith," and "Calling Them All Away," all longer songs, with plenty of distortion and that big, thick, noisy sound that feels most natural for BRMC.
"Little Thing Gone Wild" is back in riff rock territory for a quick, fun burst of rock & roll, but then comes "Circus Bazooko," which has a quirky calliope keyboard thing going on that feels pretty out of place on the album. The superfluous "Carried From the Start" and the too long piano closer "All Rise" finish up the album.
Twenty years in, Black Rebel Motorcycle Club have produced eight solid albums, they have a solid live show (they're on tour now), and plenty of strong material, but that breakthrough I anticipated, both artistic and commercial, eludes them still.
Key Tracks: "Spook" / "Echo" / "Ninth Configuration"
Artists With Similar Fire: The Verve / The Jesus & Mary Chain / Love and Rockets
Black Rebel Motorcycle Club Website
Black Rebel Motorcycle Club Facebook
Vagrant Records
– Reviewed by Brian Q. Newcomb
Brian Quincy Newcomb has found work as rock critic and music journalist since the early 80's, contributing over the years to Billboard Magazine, Paste, The Riverfront Times, and The St. Louis Post-Dispatch.
Latest posts by Brian Q. Newcomb (see all)