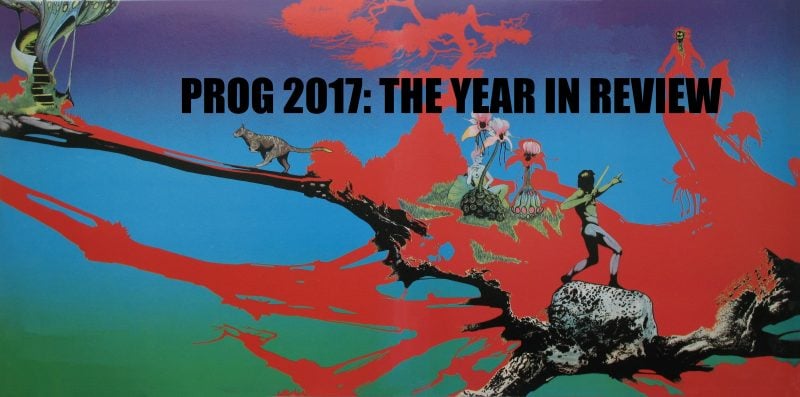 Progressive Rock is not dead. It's been relegated to the back of the line but it refuses to go away. And this is the time of year I get to reflect on all of the previous twelve month's worth of proggy goodness that my ears have received. Yeah, it's a dirty job but someone's gotta do it.
There's an endless supply of records and bands from around the globe – more so each year, it seems. This is curious as Prog has not had anything like a renaissance. If anything, its outsider status is more deeply entrenched than ever. Despite the attention Yes got for being inducted into the Rock 'N Roll Hall Of Fame (and for their being two bands out there calling themselves "Yes"); despite Steven Wilson's latest album debuting at #3 in the UK; despite Washington Post political writer Dave Weigel's book, The Show That Never Ends, on the subject (which opened some mainstream eyes to the genre); despite it all Prog is still a niche category. It's still the object of scorn and endless misinformation. I think Weigel put it best though: most Rock is simple and stupid; Prog is complex and stupid. That statement sums it all up for me.
More than just a relic of a by-gone era, progressive rock is an underground cottage industry today. Self-released albums, independent labels, small venues, themed Caribbean cruises, but no radio play – it's all about the music, all about the art. Very few of the artists on this list can "do" music full-time. There's just not enough money in it. Although this is a travesty, it is also a blessing. These bands have not sold their souls for fame or fortune. Why bother? It wouldn't do any good. Might as well write and record the best, most interesting music you can. That is reward enough. At least for some of us. So with that in mind – here are my top picks for the year.
#20
Deluge Grander


Oceanarium
Emkog Records [2017]
I'm sure this would have landed higher had it come out earlier in the year and thus giving me more time to let it sink in. This is their fourth LP (and second in a planned seven album series). The basic template is symphonic but not in the traditional Yes/ELP/Genesis sense. The songs are intricately composed with a wide array of creative instrumentation. Textured and highly nuanced, this is adventurous music for those not afraid to go on a sonic journey.
#19
Gentle Knife


Clock Unwound
BAJKA [2017]
Ten piece act out of Norway (of course) brings to mind King Crimson, Pink Floyd and Van Der Graaf Generator but have the writing chops to keep those comparisons at bay. Distorted guitars make room for flutes and saxophones. There are some really nice boy-girl vocals pulling it all together. The songs take time to develop and build organically at their own pace. With so many members it is a testament to their cohesion as a band that things never get messy. Nobody wants that.
#18
Maxophone


La Fabbrica Delle Nuvole
AMS Records [2017]
Back in 1970's an Italian band called Maxophone released their one and only album. Now, forty-two years later, comes the follow-up. Same singer and keyboard players, same impeccable ear for melody but in a slightly updated version. Modern recording techniques help bring this into the here and now as the debut sounded a bit dated even back in '75. A beautiful reminder of how great the Italian scene was (and is). Comebacks aren't supposed to be this good.
#17
Motorpsycho


The Tower
Stickman Records [2017]
Absurdly prolific band from Norway continue to defy the odds and all expectations with their twenty-second album. From classic rock touchstones like Zeppelin and Floyd to krautrock-influenced stompers, The Tower plays like a geologist's core sample: it's all in there somewhere. They're at their best when streamlining the jam band aspects of their sound and concentrate on songwriting. This release does that and then some. An excellent entry point into an important artist's discography.
#16
Pain Of Salvation


In The Passing Light Of Day
Inside Out Music [2017]
Another Swedish act makes the list. Much like Opeth, Anathema and Riverside (all bands that turned down the volume), POS gets better the less metallic their songs are. Daniel Gildenlow is one of the most talented vocalists in the genre today and his health issues are dealt with throughout this terrific album. He was very close to death with a flesh eating bacteria and maybe that focused his mind towards the creative process. There's a special magic that happens when you know the lyrics are more than mere words. And this is a special album.
#15
Steven Wilson


To The Bone
Caroline International [2017]
There was much hand-wringing about Wilson's supposed descent into Tears For Fears territory. Some fans were upset that he turned his back on Prog but Wilson never hid his love of Kate Bush, XTC and the prog-lite that came out of the 80's. This is just a very good album with very good songs on it. But to all the haters out there: Prog comes in many forms. All the above-mentioned acts were progressive. Just in a different way. And as an added bonus: the title track was co-written by Andy Partridge.
#14
Sons Of Apollo


Psychotic Symphony
Inside Out Music [2017]
Progressive metal supergroup reunites Mike Portnoy with his former Dream Theater mate Derek Sherinian and makes a strong case for best metal album of 2017. Also in tow are: Billy Sheehan (Mr. Big), Bumblefoot (Guns 'n Roses) and Jeff Scott Soto (Journey). Yeah, it sounds similar to Dream Theater but without that band's newfound fondness for Disney-like story lines. Like most bands in this category I only wish there was more Prog and less Metal but really anything with Mike Portnoy on it is likely worth owning.
#13
Thinking Plague


Hoping Against Hope
Cuneiform Records [2017]
Colorado might be the last place on earth music this complex should originate from. Really. Definitely the most challenging record on this list, Thinking Plague grab hold of your brain and don't let go. Frank Zappa, Henry Cow, Art Bears and Univers Zero are easy identifiers but that doesn't comment on their unique ability to make the strange sound gorgeous. Dark horns, odd scales and time signatures, this is their best effort since 1998's high water mark In Extremis. Play this late at night with the lights down low.
#12
Nad Sylvan


The Bride Said No
Inside Out Music [2017]
This guy first came to my attention while performing in a Genesis wannabe band (Unifaun) where he gave the best Gabriel impersonation around. Later he teamed up with Roine Stolt for three great LP's as Agents Of Mercy. All this led to his touring with Steve Hackett for his Genesis revisited dates. Now on his second solo album, Sylvan has matured into so much more than a sound-alike vocalist. One thing he does indeed share with Peter Gabriel: an innate ability to create interesting characters in his songs.
#11
Magenta


We Are Legend
Plane Groovy Records [2017]
I was really looking forward to this one and Robert Reed, Christina Booth and company did not disappoint. Booth has one of the finest female voices in Prog today and Reed's compositional skills are unquestioned. Three long tracks make up this album's entire length and they are all solid but the twenty-six minute "Trojan" serves as an excellent primer to the world of Magenta – a world where Reed can play guitar like Howe, Hackett and Gilmour all wrapped into one dude. And the rest of the band ain't bad either.
#10
Barock Project


Detachment
Artalia [2017]
With refined hunger for detail these Italian lads (who mercifully sing in English) are at the cusp of greatness. Blending contemporary sounds with 70's sensibilities may not be a new idea – merely one that no one (besides Haken perhaps) has really done satisfactorily. They are a rock band first but the proggy flourishes aren't tacked on afterthoughts; they are integral parts of each song's structural framework. Nothing feels forced. The result is an album that is very easy on the ears but has surprising depth.
#9
The Tangent


The Slow Rust Of Forgotten Machinery
Inside Out Music [2017]
I like pretty much everything Tangent front man Andy Tillison has ever done so it comes as no surprise that the band's ninth album lands on this list. On their previous record Tillison was complaining about the state of Prog in the 21st Century. This time out he's back on a political soap box as Immigration, Brexit and Trump are never far from view. Subtle he is not but the arguments are delivered with conviction of a man who just survived a heart attack – which he did last year. Modern Prog done right – as per usual.
#8
Cheer-Accident


Putting Off Death
Cuniform Records [2017]
There's a special place in the pantheon of American rock bands for Chicago-based act Cheer-Accident. Led by drummer Thymme Jones, they trade in the kind of eclectic, avant garde Prog that is impossible to pin down. Every album is different in spirit but never lost is the sense of experimentation. At times their work can be difficult but they always bring to it something memorable. There are actual melodies here, sure, but so much more lurks beneath.
#7
Kotebel


Cosmology
Musea Records [2017]
This Spanish band has been making some great records for a while now but they've finally captured everything they're good at in one, achingly beautiful album. Purely instrumental (which is often enough for me to steer clear) Kotebel's music effortlessly morphs throughout each piece without ever feeling cluttered or unnecessary. All the pieces fit together with an emphasis on piano and flute with both acoustic and electric guitars providing texture and counter-point. This is a record worth tracking down.
#6
Jordsjø


Jord
Self-Released [2017]
Oh boy. Two bands from Norway in the Top Ten? Why not! This cassette-only release (well, it's available on their bandcamp page too) has been turning more than a few heads. The duo's brand of "forest prog" incorporates Scandinavian folk into a symphonic rock template that emphasizes melody over technique to brilliant effect. Too often I discount any band that doesn't sing in English but this is an exception. This is the type of album that made me fall in love with Prog in the first place. One complaint: it's too damned short!
#5
Comedy Of Errors


House Of The Mind
Plane Groovy Records [2017]
Not usually my cup of tea, the Neo-Prog sub-genre wets its collective beak into the waters of mid 70's Genesis a bit too often but every now and then a record like this arrives. These guys have been getting better and better with each record and have finally hit their stride. Singer Joe Cairney has just enough versatility to his voice to carry these songs. I only wish he sang with a Scottish accent! I always enjoy that. But the star of this show is Jim Johnston who gets the keyboard sounds just right – even if they're Tony Banks-influenced. Who cares? It's brilliant.
Karmakanic: Dot [Fire Note Review 10/31/16]
#4
Kaipa


Children Of The Sounds
Inside Out Music [2017]
Sweden has been at the forefront of the nascent Prog revival. This band, however, began in the 70's and was reborn after a 21 year hiatus in 2002. Now on album number eight of this incarnation, Kaipa is the musical equivalent of a unicorn pissing rainbows on the vernal equinox – all sunshine and positive vibes, man. Yeah, it's indebted to Jon Anderson's mystical ruminations but they somehow make it all feel new. Unlike recent Kaipa albums, this one is a true grower – it gets better with each listen as themes reappear in varied forms without a hint of darkness. Or irony.
#3
Big Big Train


Grimspound
Giant Electric Pea [2017]
It's been an eventful year for this quintessentially British act. After last year's stunning Folklore they had so much material left over that they released not one but two new albums – the first (and superior) of them is this life-affirming set. Once again BBT prove that they are storytellers of the highest order. The musicianship is top notch as well. The songs here reach for the heart of Englishness and exactly what that means in the twenty-first century. If one married Genesis to XTC it would sound a lot like Big Big Train. And if you're like me then you know that's a very good thing.
#2
Discipline


Captives Of The Wine Dark Sea
The Lasers Edge [2017]
Detroit band known for taking forever between albums delivers a near masterpiece. A perfect album to play for a newcomer to progressive rock as it never goes too prog-freaky. The band has been together for 30 years and this is only their fourth proper release. The Van Der Graaf Generator comparisons are still valid but Matthew Parmenter and company try their hand at a variety of styles. Some purists don't like that – there's only one song over ten minutes?! But ultimately it's about the songs and once again Discipline prove they're one of the best bands in America today.
#1
Wobbler


From Silence To Somewhere
Karisma Records [2017]
These Norwegians have been putting out some of the best Prog around for a while now but they've always felt slightly derivative. Their first two albums sounded like Anglagard meets Gentle Giant while 2011's Rites At Dawn had a distinct Yes vibe to it. Not only have they found their true authentic voice but they've just gone and released the best album of 2017. The hooks are bigger and more visible. The format is familiar – a side-long track and two other songs over ten minutes (with a short interlude tune thrown in). Kinda like Close To The Edge or Relayer. From this time-tested format they mount an impressive assault on the listener's expectations. Keyboard player Lars Fredrik Froilie (who also plays in the band White Willow) rocks the Mellotron, Moog and Hammond like it's 1972. His tones are spot on but this is no mere retro act. Wobbler is not attempting to recreate the music from that era but rather they use it as a point of departure. One can hear the influences but they enhance the songs, they don't rule them. Most Prog LP's take time to sink in. Not so here. Immediately entertaining and thoroughly inventive, From Silence To Somewhere is our clear winner.
Among the artists considered but did not ultimately make the cut, here are a few that deserve a mention as they all released quality recordings this year: PFM, Tusmorke, Von Hertzen Brothers, Mike Oldfield, Once & Future Band, Cast, White Willow, Ayreon, This Winter Machine, Hidden Lands, Magic Bus, Anathema, The Watch, Samurai Of Prog, Mostly Autumn, Bubblemath, Soup, Bent Knee, Unreal City, Gungfly, Drifting Sun, Schooltree, Threshold, Lifesigns, Soul Enema, Agusa, Sky Architect, Mogador, Machines Dream, Siiilk, Lunatic Soul, Brother Ape, Siena Root, Hadal Sherpa and Steve Hackett.
-Recap by Scot Lade
Latest posts by Scot Lade
(see all)