The Menzingers


After The Party
Epitaph Records [2017]


Fire Note Says: Bursting with big guitars, sweeping storytelling and endlessly catchy melodies, After the Party is a bold realization that finds The Menzingers' raising the bar yet again.
Album Review: From the crunchy guitars and lightning-fast drums of their debut record A Lesson in the Abuse of Information Technology to the fat, driving baselines that populate Rented World, it's hard to understate just how thoroughly The Menzingers have remade melodic punk rock in their image. Their essential third release, On the Impossible Past was hailed by DIY Magazine as "almost flawless," and now-defunct Absolute Punk described their fourth record as "stacked top to bottom with can't-miss tracks." For the literary songwriters from Scranton, it's been a one-way journey to the top.
That journey continues with After the Party. The Menzingers' fifth record is a career achievement that blends Sprinsteenian storytelling, AC/DC guitars and genuine lyrical reflection on aging, identity and the loneliness of the punk lifestyle. Opening with a flourish of monster guitar riffs on "Tellin' Lies," detouring through endless American tundra on "Midwestern States," laughing at the confusion and misdeeds of youth on "Bad Catholics" and closing with a somber melody on "Livin' Ain't Easy," After the Party is a record as sprawling and intricate as its lyrical landscapes and complex characters.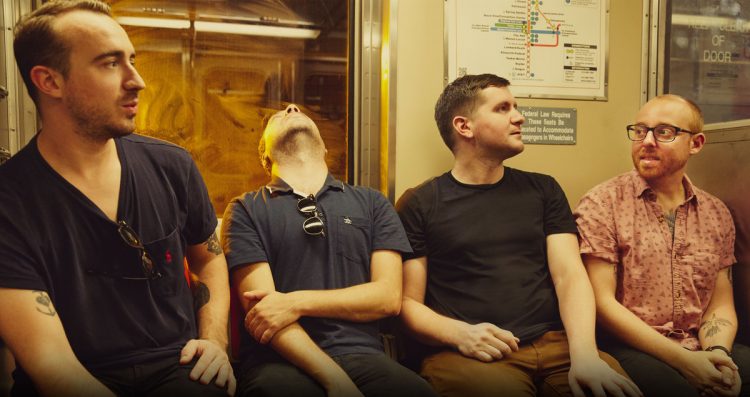 Frontmen Greg Barnett and Tom May — who write, sing and play guitar on the record — decline to revisit the wistful nostalgia and raw pain of On the Impossible Past and instead tread down new lyrical avenues, recalling The Hold Steady's Craig Finn at his brightest and The Gaslight Anthem's Brian Fallon at his most desperate. Songs like "Charlie's Army," "Lookers" and "Thick as Thieves" effortlessly weave together instantly-memorable guitar licks, poppy choruses and compelling stories, filling the record with an infectious sense of fun rarely found on punk releases today.
But it's the title track that proves to be the centerpiece of the record: "After the Party" is a head-banging, heart-pounding anthem, meant to be blasted on freeways and belted in front rows. It's a sad story about growing up and getting old, but it's also a rollicking promise to continue, to soldier on, to be there when the lights come up and the crowd clears out. It's a guarantee that, through it all, "after the party, it's me and you."
This Saturday, have some friends over, crack a PBR and listen to After the Party, start to finish. The Menzingers are on a rocketship to stardom, and we're all along for the ride with them.
Key Tracks: "After the Party" / "Lookers" / "Tellin' Lies"
Artists With Similar Fire: The Hold Steady / The Bouncing Souls / Alkaline Trio

The Menzingers Website
The Menzingers Facebook
Epitaph Records
– Reviewed by Dylan Gallimore
Latest posts by Dylan Gallimore
(see all)