Weezer


Pacific Daydream
Crush/Atlantic Records [2017]


Fire Note Says: Weezer's Rivers Cuomo continues his infatuation with the Beach Boys while mixing his power chord anthems with mellower pop inclinations.
Album Review: You can't say Weezer's Rivers Cuomo doesn't wear his influences on his sleeve. On last year's self-titled (White Album) everything pointed to the Beach Boys, from "California Kids" and "L.A. Girls" to "Endless Bummer," and that Brian Wilson spark can still be heard on Pacific Daydream. On "Beach Boys," Cuomo admits it's a hip hop world, but he still wants to "turn it up… keep cranking them Beach Boys," complete with those stacked harmonies, and production touches like ringing bells and other tips of the hat to Pet Sounds. Which feels like a winning combination for Cuomo & Co., as "Feels Like Summer" was the band's most successful alternative radio single in over a decade.
The challenge though, once you get passed your infatuation with Cuomo's infatuation with Wilson, there's not much more Weezer magic here to hold your attention. The record of course kicks of with those big expected power chords of "Mexican Fender," which tend to mark Weezer's biggest songs, and that "loves me, loves me not" hook is pretty irresistible. Cuomo continues his name-dropping ways, mentioning Stevie Ray Vaughan and Monty Python at the front end of his song "Happy Hour," which like much of the rest of the record lacks the passion of the former and the humor of the latter.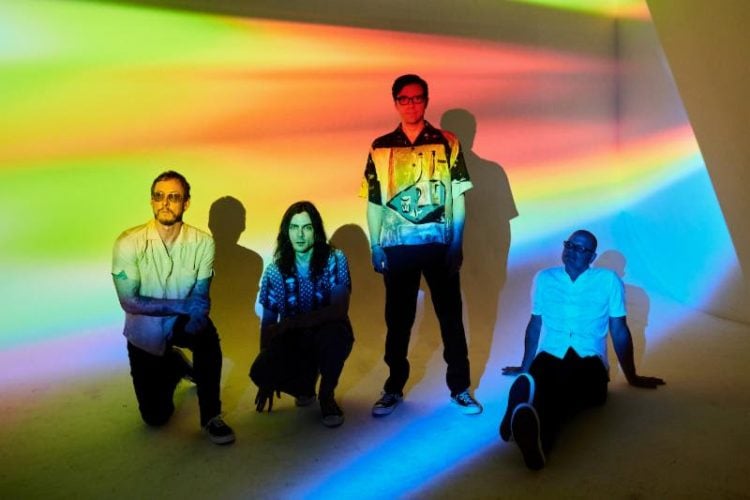 The second half of this 10-song collection finds the band producing a series of superfluous pop songs, melodic and pleasant, with tasteful guitar solos, a nice acoustic run in "Any Friend of Diane's," but these feel like lightweight efforts at the most. Cuomo has said a couple things about his recent work with Weezer that would tend to raise one's expectations, first saying his band's sound was like The Beach Boys with Marshall amps, and that his new songs were like the Beach Boys and The Clash met by the ocean and had a baby. Well… Pacific Daydream is missing two important things from those statements: The Marshalls, and more importantly the influence of The Clash.
Key Tracks: "Mexican Fender" / "Feels Like Summer" / "Beach Boys"
Artists With Similar Fire: Nada Surf / Beck / Fountains of Wayne
Weezer Website
Weezer Facebook
Crush/Atlantic Records
– Reviewed by Brian Q. Newcomb
Latest posts by Brian Q. Newcomb
(see all)